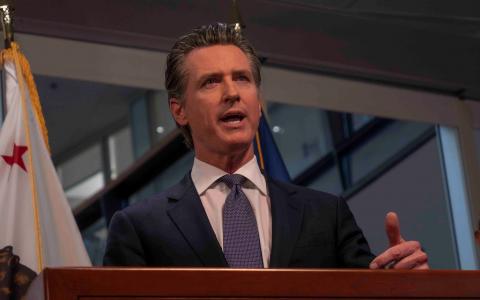 March 22, 2021
The on-air bulb lit red. Strains of the Red Hot Chili Peppers' "Californication" rolled through the introduction. And inside the studio at KABC-AM in suburban Los Angeles one recent Friday night, the three people at the center of the campaign to recall California's governor, Gavin Newsom, settled in for the latest episode of "Friday Night at The French Laundry, " the call-in show they created for the sole purpose of humiliating him.
The $2,000 an hour that the campaign pays the station for the block of time is cheaper than advertising, said Orrin Heatlie, the recall's lead proponent.
In a normal political environment, none of this would be happening. Not the radio program. Not Susan, the caller on Line 2, referring to Newsom as "Gavin Mussolini." Not the signature-gathering booths that sprung up outside Wal-Marts, Targets and Hobby Lobby stores from San Diego north to Crescent City, or the rallies that followed up and down the state. Not the millions of dollars pouring into the campaign to remove Newsom.
Not long ago, no one involved in California politics had ever heard of Heatlie, or of Mike Netter, a co-founder of the recall effort. Randy Economy – the campaign's self-described "superhero pirate," owing to the eyepatch he wears as a result of blindness in his right eye – is the only one of the three men with any political experience. And he only joined the campaign in the fall.
Early last year, Heatlie, a retired sheriff's sergeant who runs the signature-gathering effort out of an aluminum Airstream trailer in his driveway in Folsom, Calif., was having difficulty even persuading his bank to add the names of other committee members to his campaign account. It was just a paperwork problem, but they hadn't done anything like it before. Six of them loaded into Heatlie's truck and one other vehicle and caravanned from branch to branch in the Sacramento suburbs pleading their case. They held an impromptu meeting in a bank's lobby, scribbling out minutes in an effort to prove they were a legitimate group. Eventually, Netter said, did they find a banker who relented.
Yet by the time California's deadline for submitting recall petitions struck on Wednesday, Heatlie, Netter and Economy had announced that the campaign had amassed more than 2 million signatures, likely enough to qualify it for the ballot in the fall.
Even in a national political universe that seems to get upended every year or two—by Donald Trump, by the Squad, by Marjorie Taylor Greene and Lauren Boebert—the story of the California recall effort stands out. To look at how it rose, and grew, and hit the point that it might take down the powerful, connected, immaculately groomed governor of the nation's most populous state is either a triumph of democracy, or a confirmation that there are no rules anymore. Absolutely anything can happen. 
Already, the recall campaign is wreaking havoc on California politics, generating an off-year bonanza of enthusiasm for Republicans long adrift in this heavily Democratic state, and still stinging nationally from their loss of the White House in November. It has put Newsom, the Democratic governor, on defense. The Republican National Committee is sending money. The recall has opened an unexpected door for a host of would-be replacements: John Cox, the wealthy Republican businessman Newsom battered in 2018, is running, as is former San Diego Mayor Kevin Faulconer and former Rep. Doug Ose. Richard Grenell, a staunch ally of Trump and a celebrity in MAGA politics, is considering entering the race, too.
The recall wasn't purely the work of Heatlie, Netter and the superhero pirate; if not for a professional signature-gathering operation funded by more traditional Republican donors, it's possible the recall would not have qualified. But Heatlie's volunteer corps was still responsible for the large majority of signatures collected. And the origin of the entire enterprise was, essentially, a series of flukes.
Heatlie, who filed the initial recall paperwork, was off work and laid up with a bad back when he said he became "engaged in social media and Facebook-ing and YouTube and all that stuff." It was only when he came across a 2019 video of Newsom advising immigrants of their right to refuse to open their door to anyone without a warrant that he began researching the possibility of a recall. Netter, a former office product sales executive who now sells real estate, said he initially "got a hair up my ass" not because of Newsom, but because of then-Senator Kamala Harris, who he saw as rising too fast through politics. When he found out senators couldn't be recalled, he volunteered instead with a previous, failed effort to recall Newsom.
Netter and Heatlie met through that campaign, and another connection there introduced them to Economy. ("He's our media consultant," Heatlie said. "Or our senior adviser, as he likes to be called.") "None of us had ever done anything like this before," Heatlie said, adding, "Sometimes, you just have to wing it."
Looking back, Heatlie said he never doubted his approach would work. But the political establishment has been stunned. "It's unbelievable," said Tom Del Beccaro, a former state Republican Party chairman who is helping to raise money for the effort. "It's not like some normal phenomenon."
California is now poised to get a gubernatorial recall election for the first time since Gray Davis was removed from office in 2003. And in the Los Angeles area, AM radio listeners get "Friday Night at The French Laundry," the program named for Newsom's notoriously bad decision to attend a dinner party at an upscale Napa Valley restaurant last November while discouraging the state's residents from gathering for the holidays.
The show, Economy beamed, is "a little hokey" and "kind of schmaltzy," but also "brilliant."
As the three men piled into the studio last week, the announcer blared, "This is your 'Friday Night at The French Laundry,' with Chef Orrin Heatlie, maître d' Mike Netter and head cashier Randy Economy."
Netter, 64, pumped his fist and barked out the 800-number. Standing at the doorway, Daryl Messina, an account executive at the station, shook his head at the proficiency of the amateurs.
"It's like they've been doing it for 10 years," he said.
To get this out of the way: Newsom isn't likely to be recalled. His approval ratings, despite tumbling in recent months, are still far higher than Davis' were in 2003, and the state has swung almost insuperably to the left since then. Democrats now outnumber Republicans nearly two to one in California. There's a reason Newsom beat Cox by about 3 million votes in 2018, why Democrats hold supermajorities in both houses of the state legislature, why Trump lost to Joe Biden by nearly 30 percentage points here last year and why no Republican presidential candidate has carried California since George H.W. Bush in 1988.
The coronavirus hurt Newsom's popularity when it was raging in California last year. But the weight of the pandemic appears to be lifting, with vaccinations up, caseloads down and restaurants and gyms reopening. The mood of the electorate is widely expected to improve by the time a recall election would be held, likely in October or November. And unlike in 2003, when the magnetic and well-funded Arnold Schwarzenegger was waiting in the wings to replace a damaged governor, there is no clear Republican successor.
Davis, the former governor, said in January that "nobody has been dealt a tougher hand than Gavin Newsom," suggesting Newsom had it harder even than he did. "Look, I had the energy crisis and a recession. He has a pandemic we haven't seen for 100 years. He has the fallout from that pandemic, racial injustice, wildfires, and I think I'm leaving something out. But nobody, no living governor, has had to experience as many crises as him."
Given all that, Davis predicted then that Newsom had "done a remarkable job" and that the public would come around. And today, he senses it already has – and that Californians will be even more content with the state of the state by the time the recall election arrives.
"If you look at the big picture," Davis said in an interview, "people will feel better about their future, kids will be back in school and life will be returning to something close to normal."
But unlikely is not impossible. For Republicans searching for relevance in California, the governorship has long seemed like the most tempting target—a powerful job that's just one Hail Mary election out of reach. Republicans here cite Larry Hogan, the governor of Maryland, and Charlie Baker, the governor of Massachusetts, as proof a Republican can win in a Democratic-leaning state. And the unpredictable nature of recall elections may be more favorable to the GOP than a traditional general election. For one thing, turnout will likely be lower. And on the ballot, Newsom will be up against himself – not, expressly, a Republican challenger. On the ballot, voters will first decide whether they want to recall Newsom and, if they do, which person from a multiparty menu of candidates they want to replace him. Among Republican strategists, the recall is seen as a much better chance to take the governor's mansion than a traditional election.
"A Democratic governor running for reelection has not lost in California since 1966," said Dave Gilliard, the Republican strategist who helped orchestrate Davis' recall in 2003 and is advising the paid portion of the Newsom recall effort. "So, the chances of winning in 2022 or any general election are very slim. The recall provides a golden opportunity, I think, for a Republican to get into the governor's office."
"This," Gilliard said, "is the shot."
Republicans acknowledge the long odds. "Newsom probably won't lose the recall, let's face it," said Edward Ring, co-founder of the conservative California Policy Center. However, he said, "It's still a chance to put him on trial."
And what's "truly unique," Ring said, is that Heatlie and his organization got the recall on the ballot at all.
Nineteen states allow for the recall of state officials, and the bar for qualifying a recall for the ballot in California is relatively low, requiring the signatures of only 12 percent of the number of voters in the last election. Still, in a state the size of California, 12 percent of the turnout in 2018, or roughly 1.5 million signatures, is more than most activists can muster. Since 1913, California has seen 179 recall attempts of state elected officials, of which 10 qualified for the ballot. Newsom had been the subject of five failed recall attempts before the current one.
For that reason, few people initially took Heatlie and Netter seriously, or were even aware of what they were doing. The chairwoman of the California Republican Party, Jessica Millan Patterson, said she "had never heard of them before June of last year." Del Beccaro, one former party chairman, said the same, as did another, Jim Brulte. "But obviously," Brutle said, "they have something going."
What Heatlie and Netter had, initially, was $500 each in seed money, a network of connections from their participation in the previous recall campaign, Heatlie's familiarity, through his law enforcement training, with the National Incident Management System – a management tool he said he applied to the recall – and a prolific presence on social media.