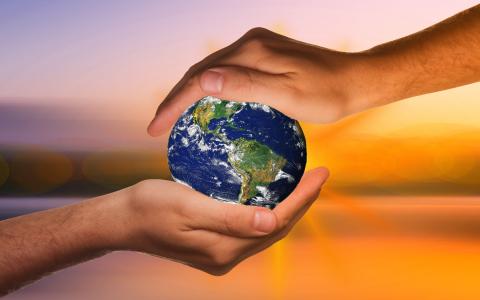 July 29, 2022
(Devex) - The world faces a number of challenges due to changing political and economic circumstances that threaten to lead to conflict and autocracy, attendees at the Devex World conference heard earlier this month.
Billionaire financier and philanthropist Ray Dalio spoke to Devex Editor-in-Chief Raj Kumar for the event and outlined conclusions from his recent book "Principles for Dealing With the Changing World Order: Why Nations Succeed and Fail." The book examines patterns in wealth and power over the past 500 years.
History has gone through a series of cycles that often lead to periods of instability, such as the current one, Dalio said, and these cycles can end in a battle for control of the world order.
He identified three major factors that have brought about dangerous conditions again and again in the past: the creation of an enormous amount of debt; growing conflict between entrenched groups as a result of heightened inequality; and the rise of a great power — in today's case, China — that challenges the existing world order. All of these conditions exist at present, Dalio said.
Here are some takeaways from the conversation:
On the connections among inequality, populism, and conflict
A rise in populism has been seen many times over the past 500 years, including the previous upswing about a century ago and another one now, according to Dalio. He said this tends to occur when parts of the population feel disenfranchised as inequality increases. Traditionally, he added, these disenfranchised groups — whether their politics lean left or right — seek a leader who will fight for them.
"If you look back in the 1930s, four major democracies chose autocracies because there was internal conflict. Germany, Italy, Spain, and Japan were all democracies. And they chose autocracies," he said.
Populism is part of a cycle leading to a war that ushers in a new world order dominated by a new power, he said.
On whether the US is headed for civil war
Dalio focused on particular risks within the partisan environment of the United States and warned that while military conflict is unlikely, some level of civil conflict is likely to occur.
"There's something like a 40% probability that you will have … irreconcilable differences by the system, leading to a type of civil war — meaning that law and democracy, and our system as we know it, doesn't rule things," he said.
That could result in a situation where "neither political party accepts losing" and where state and local governments decide that they will no longer follow the decisions of the federal government — which could "fragment the country."
On the probability of international conflict
Dalio warned that the world is "right at the brink" and "dangerously close" to international conflict in areas such as trade, technology, geopolitics, and economics. Again, he estimated a 40% chance that global turmoil could occur, based on indicators from previous episodes in history.
To avoid that, the different sides of both international and domestic conflicts need "a strong middle" to bring people together.
"If the parties involved really understand these patterns, and understand the cost of … war, then perhaps we can avoid them," he said. "I'm just trying to make people aware of the story that's repeated over and over again. And [it] looks like where we are is … almost a brink of a very bad situation."
On 'deglobalization'
Amid the current political and economic environment, countries are worried about international security concerns, according to Dalio.
He said this threatens to lead to a process — what Kumar noted is often referred to as "deglobalization" — that is harmful to nations in the global south, potentially hindering their ability to strengthen their economies.
On the shortcomings of philanthropy
Dalio also spoke about the role of his own philanthropy and the importance of giving as a tool to improve the world. But he said that current levels of philanthropy are insufficient.
"There's … inadequate infrastructure. My generation has given the next generation a lot of debt, a broken down education system, and a broken down infrastructure," he said. "So that's going to require a lot. So my general reaction is, philanthropy is woefully inadequate."
By David Ainsworth
July 28, 2022

David Ainsworth is business editor at Devex, covering funding trends, procurement issues, and fundraising strategies. He was previously editor at Civil Society News, a U.K. publication specializing in nonprofits, and he has worked for a number of U.K.-based charities. He is located in London.