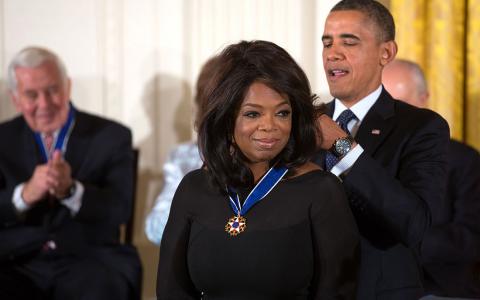 December 11, 2019
(the grio) Oprah Winfrey is hitting the road with an all-star lineup of celebrity rock stars early next year.
Included in "Oprah's 2020 Vision: Your Life in Focus" wellness tour will be our forever FLOTUS Michelle Obama, Tracee Ellis Ross, Dwayne Johnson, Jennifer Lopez, Lady Gaga, Amy Schumer, Tina Fey, and Kate Hudson, according to The USA Today.
Winfrey will kick off the nine-city tour in Fort Lauderdale, Florida with a sit-down interview with Gaga on January 4, 2020. She will also visit St. Paul, Minnesota and hold a conversation with Fey; Charlotte, North Carolina, where she will meet up with Schumer; Atlanta, Georgia to converse with Johnson; Brooklyn, New York, where she will talk with Obama; Dallas, Texas where she will have a conversation with Ellis Ross; San Francisco, California and Hudson; and in Los Angeles, Winfrey will converse with Lopez. The media mogul will conclude her tour on March 7 in Denver with her best friend, Gayle King.
Oprah is sponsoring the tour along with WW (Weight Watchers Reimagined) and hopes to make next year "the year of transformation and triumph," according to Parade Magazine.
In a letter to O Magazine readers, Winfrey said the conference will help attendees "say goodbye to procrastination, denial, feeling stuck and wishing for a better life. This is going to be a day-long party for everyone, celebrating all that you are — and all that you're meant to be."
The Nuss family has experienced the importance of jumping in to support Colorado kids. Curious about adoption? Learn more.
She said attendees will be guided through self-reflection exercises and will put together their very own 2020 action plans.
Talk about living your best life!
In addition to the celebrity sit-downs, the tour will include Winfrey discussing what she's learned from her own wellness path with Weight Watchers, a choreographed dance exercise from Julianne Hough, and a discussion each leg of the tour with inspirational guest speakers. Winfrey will also introduce a Weight Watchers-customized box lunch.