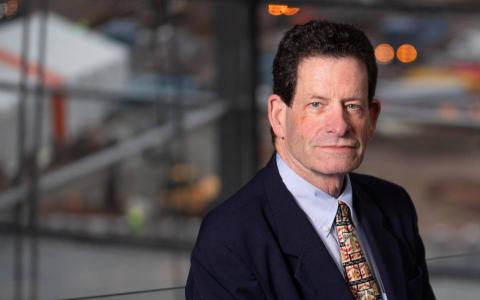 October 10, 2019
(Bloomberg) First Ken Fisher shocked his audience with sexist and off-color remarks. Then the billionaire said he didn't understand why.
After stunning the crowd at a San Francisco conference Tuesday by talking about genitalia and likening winning money-management clients to "trying to get into a girl's pants," Fisher said he was surprised by how people reacted. He said he's spoken like that plenty of times in the past.
"I have given a lot of talks, a lot of times, in a lot of places and said stuff like this and never gotten that type of response," Fisher, 68, said in an interview Wednesday with Bloomberg, adding he thought his comments were taken out of context. "Mostly the audience understands what I am saying."
Over the last four decades, Fisher has built a money-management giant that oversees $112 billion, has written 11 books and has been a prolific columnist and commentator. He's also gained a reputation for being blunt-spoken. Yet in the interview, he expressed some regret and said he's an "easy guy to dislike" because he manages so much money.
Financial industry executives who attended the event organized by Tiburon Strategic Advisors said they were appalled by Fisher's remarks. Fisher acknowledged having dropped acid in the past and made a reference to loyal employees being tattooed with his firm's name -- which also struck some listeners as offensive.
'Outrageous'
 
"I was floored," said Rachel Robasciotti, a founder of wealth management firm Robasciotti & Philipson. "For me and some of the women sitting nearby we were kind of in shock. We were like: 'Wait, did that really just happen?'"
Several others in attendance said they were astounded by the remarks. Consultant Sonya Dreizler said Fisher's talk was "outrageous." Alex Chalekian, the founder of Lake Avenue Financial, was so upset he posted a video on Twitter recounting what he heard, calling the remarks "absolutely horrifying."
The revelations cast a remarkable light on Fisher and the Camas, Washington-based firm that he built into a powerhouse, with offices across the U.S. and Europe. Founded in 1979, Fisher Investments has become a key money manager for 175 institutional clients, as well as high-net worth individuals.
His firm's investors include pensions for teachers and other public employees in Georgia, Iowa, Mississippi and Ohio, according to their most recent annual reports. The $630 million public school system pension in Kansas City, Missouri, has about $75 million with the firm.
Fisher Clients
None of them spoke out on Wednesday when contacted by Bloomberg News. "I'm not aware of this situation and I don't want to speculate," Christine Gierer, executive director of the Kansas City system, said about Fisher's comments.
But it's no secret to some of his industry peers that Fisher can shock. At an investing conference in Dana Point, California, last year, he gave some stark advice on how not to sell a mutual fund.
"The most stupid thing you can do is what every mutual fund firm in the world always did" and that's "brag about performance in a direct mail piece," Fisher said, according to a tape of the event. That's "a little bit like walking into a bar and you are a single guy and want to get laid and walking up to some girl and saying: 'Hey you want to have sex?' You just turn yourself into a jerk."
Fisher didn't stop there. When asked what he would have done differently in his life, he said he would "have more sex." He added a vulgar remark comparing his waning virility to the seasonality of a Christmas tree.
On Wednesday, Fisher was remorseful -- to a point.
"I regret I accepted that speech invitation because it was kind of a pain in the neck," Fisher said in an interview. "I wonder if anybody will be candid at one of these Tiburon events again."