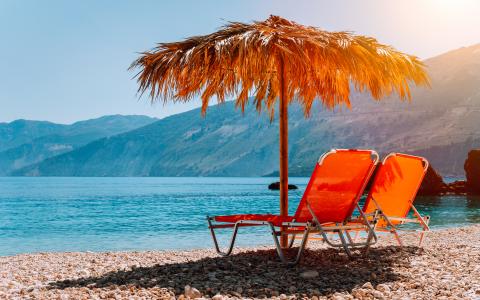 February 7, 2019
(Forbes)-- In an increasingly competitive world, corporate leaders and professionals around the globe are seeking out havens of respite from the pressures of their hectic work schedules.
For many, this global search for wellness has taken them to ashrams and spas across India that offer various traditional treatments; including Ayurveda, Yoga, Siddha, and Naturopathy, among others.
Eschewing artificial elements and chemicals, these centuries-old systems of natural health and medicine resonate strongly with global jetsetters looking for a better balance in their lives.
In response to growing demand from this sophisticated clientele, India's wellness players are transforming themselves into destinations that offer holistic physical, emotional and spiritual healing in a premium setting. 
This has resulted in a boom in India's health and wellness industry in recent years. Today, one can find numerous award-winning luxury wellness destinations alongside more traditional ashrams spread across all parts of the country. 
A Union with the Divine
Most well-known among India's wellness approaches is Yoga, which can be described as the science of achieving a union with the divine. However, while Yoga in the West focuses on the physical postures and sequences (known as asana), India's ashrams place a greater emphasis on meditation, breathing and cleansing techniques, as well as devotional practices such as mantra chanting, philosophy, and even community service.
The city of Rishikesh in the state of Uttarakhand is widely recognised as the 'Yoga Capital of the World'. Parmarth Niketan is the largest ashram in Rishikesh, hosting thousands of Yoga devotees every year in on its spacious grounds in Swargashram, on the banks of the sacred Ganges River. With over 1,000 rooms, the ashram's facilities combine spiritual simplicity with modern amenities.
For a more grounded experience, one can try the Bihar School in the city of Munger in Bihar state. At this ashram, Yoga is not merely practiced, but lived. Beyond classes, guests are also expected to devote hours to chores such as gardening and working in the kitchen.
Mind, Body, and Spirit 
Another of India's popular traditional wellness systems is Ayurveda, one of the world's oldest holistic healing systems. It was developed more than 3,000 years ago in India and is based on the belief that health and wellness depend on the fine balance between the mind, body, and spirit. Ayurvedic medicine aims to promote good health, as opposed to fighting disease. It also offers a philosophy to help people stay vibrant and healthy, while realizing their full potential. Many Ayurvedic destinations today are located in more luxurious settings.
Seated in the Himalayan foothills, the Ananda is one of the best luxury Ayurvedic retreats in India, combining Ayurveda and Yoga with fitness routines and nutritious organic diets to restore one's balance. Located on a 100-acre Maharaja's Palace Estate, this spa destination is surrounded by forests and overlooks the town of Rishikesh and the Ganges river valley.
The AyurvedaGram Heritage Wellness Centre in Bengaluru is another top destination for  authentic Ayurvedic treatments. Filled with old world charm, this resort sits on 7 acres of herbal gardens, and is made up of antique wooden cottages that have been transplanted from Kerala. Guests are offered tailor-made treatments for a variety of ailments using medicine, specific diets and a prescribed routine of activity.
Meanwhile, over in Goa on India' western coast is Devaaya Ayurveda and Nature Cure Centre. Situated on Divar Island about 10 km from Goa's capital city, Panaji, the resort is set on a lush five-acre property amid swaying palm trees. Devaaya is comprised of 60 luxurious rooms in Goan-style cottages. The center offers pure Ayurveda and Naturopathy treatments to help rejuvenate the body, mind and spirit; as well as advanced yoga courses.
For those looking to disconnect from the material world in order to enhance their well-being amid stunning surroundings, India should be at the top of your travel list.