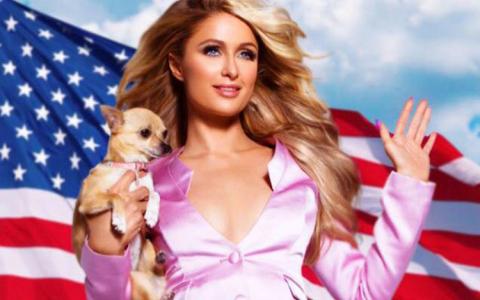 July 7, 2020
Only a meager mind could find the relationship between the Trump and Hilton families as fascinating as I do. But to a gawping foreigner, they're the same kind of American.
The families share a number of superficial similarities, including the same social circles, development-related wealth, and a fondness for naming their heirs Barron. Even their origin myths are alike.
The Hilton founding patriarch, Augustus, was a 19th-century Norwegian immigrant who married a German American. Donald's grandfather Friedrich was an exact contemporary who emigrated to the United States from Germany.
Both families got into the hotel business early. Friedrich Trump reportedly ran a cathouse called the Arctic Restaurant and Hotel during the Yukon gold rush, while Augustus profitably added rooms to his general store in New Mexico. His son, Conrad, launched the Hilton empire proper when he bought the Mobley Hotel in Cisco, Texas, in 1919.
Around the same time, after Friedrich's death in 1918, his son, Fred, went into partnership with his widowed mother. They founded a home construction business in Queens, New York, that would later be known as the Trump Organization.
While the Trump fortune accumulated slowly, the Hiltons more quickly hit it rich. Seduced by Hollywood, the wealthy Hilton men embodied a new archetype of martini-swilling, nightclub-going 20th-century playboy. They became staples of an emerging media form, gossip magazines, which chronicled the explosion in celebrity created by the American film industry.
In the 1940s, Conrad married the Hungarian-born screen siren Zsa Zsa Gabor, becoming the second of her nine husbands.
In 1950, his son Conrad Jr. (known as Nicky) wed the actor Elizabeth Taylor, who was then just 18 years old. He became the first of her seven husbands—or eight, if you count her two marriages to Richard Burton separately.
That marriage lasted less than a year, after which he cycled through many of the Hollywood beauties of the day, including Natalie Wood and Joan Collins. He even bedded his former stepmother, Zsa Zsa—or so she would later claim.
While all this boudoir-hopping was taking place in Los Angeles, Fred Trump was keeping his head down in Queens, building houses. He could not have been less like the Hiltons, who were drawn to show-business glitz and defined in the tabloids by their excesses of money and libido.
But such inherited glamour must have been attractive to Fred's ambitious son, Donald, who was desperate to move the family operation out of marginal Queens and into the center of power. With his equally flamboyant young wife, Ivana, by his side, he befriended Rick and Kathy Hilton after making the jump to Manhattan in the 1980s.
The Hilton family had managed to slip in an extra generation since Augustus and Friedrich got their start on different sides of the new continent. Rick's father, Barron—who was worth $2.3 billion when he died in 2019—was the son of Conrad Sr. and younger brother to Nicky.
(Rick and Donald both have sons called Barron—the maiden name of a Hilton matriarch. Such ersatz nobility may also have resonated with the president, who in the 1980s used the alias "John Barron" with journalists when he was pretending to be his own spokesman.)
Both the Hilton and Trump families also experienced a history-diverting shake-up in the order of succession after losing an eldest son to alcoholism. Barron became the Hilton heir after Nicky suffered a fatal, alcohol-related heart attack at age 42. Donald's older brother, Freddy, died from alcoholism at 43.
In some ways, the Donald Trump and Rick Hilton generation of the dynasties would prove to be mirror images of each other, even as the same cultural tide that was turning the rich into celebrities was lifting the profiles of both families.
Donald was constantly having affairs and getting divorced but had children who seemed relatively well-adjusted. Rick and Kathy, by contrast, enjoyed a placid marriage while presiding over a brood who ran riot.
But the families' outrageous behavior created beneficial synergies, and their escalating antics provided a cultural context and platform for each other's increasing fame. The Hiltons were the Trumps before the Trumps became the Hiltons.
The Hiltons were playboy celebrities first. Then Donald won the '80s and '90s, rocketing to tabloid fame with his divorces and showy lifestyle. By the 1990s, a teenage Paris Hilton was taking the game to the next level, eclipsing everyone who had come before.
Donald did not fail to notice Paris's sex tape, nor the remarkable brand platform it provided. New York magazine later reported he went as far as "encouraging" his own daughter, Ivanka, "to follow Paris's lead." (A White House spokeswoman called that suggestion "untrue and… disgusting.")
And then, for his next act, he scored the political coup that outdid them all. The louche, moneyed Hiltons anticipated Donald Trump, who set the stage for Paris Hilton, who created the conditions for President Trump.
To a close student of the tabloids, such seemingly disparate events are in fact highly connected. A gossip culturalist understands how the trashy stuff connects to the bigger picture, and that we ignore it at our peril.
At different times I have spoken with each of Donald's three wives. Most often it has been Ivana, the mother of his three oldest children, who is an endearing oddball.
In 2017 she jokingly called herself Trump's "first lady"—earning an official rebuke from the East Wing of the White House, which issued a tart press release reminding the world that Melania was the true first lady of the United States. In Trumpland, uneasy is the finger that wears the wedding ring.
In fact, the Slovenian-born Melania and the Czech-born Ivana have a lot in common. A New York City resident since 1976, Ivana never shed her almost-impenetrable accent, which turns every sentence she utters into thick alphabet borscht.
But that didn't stop her from talking. She learned the art of publicity from her ex-husband and spoke to me often over the years for articles on subjects ranging from gossip to fashion.
I once visited her town house in the East 60s for a squib on one of her vintage frocks—a heavily beaded Bob Mackie fantasy from the 1980s. Behind its sober facade, Ivana's home was decorated in a mix of patterns and fabrics not seen outside Chaka Khan's underwear drawer.
There were acres of leopard print and pale green silk and gold tassels, paired with flocked wallpaper and ormolu and gold-accented tortoiseshell picture frames. A mural behind the curving staircase depicted a lush European garden with Roman statuary, with a trompe l'oeil wrought-iron railing painted to match its real-life counterpart.
Her assistant presented the dress in a plastic dry cleaner's sheath, which weighed a good 20 pounds.
"Yes, it's very heavy, but nothing ever stops me from having a great time," Ivana cooed, staying on brand for her image as a nightlife-loving femme fatale. "In fact, that's my slimming tip of the day: wear a heavy beaded dress and go dancing every night."
Separately, I had become close with Ivana's best friend, Nikki Haskell, who ran with an elderly girl gang that also included Joan Collins and Beverly Johnson, the trailblazing Black model. Nikki had been one of the first women stockbrokers on Wall Street, married and divorced the same man twice, and created a seminal 1980s cable-access show about New York nightlife called The Nikki Haskell Show.
Nikki thrived around celebrity of any kind and through her show formed friendships with stars like Liza Minnelli, Jeremy Irons, and even Imelda Marcos, the Philippines' dictator's wife against whom she would not hear a word.
She was also the indefatigable pitchwoman for StarCaps, her own brand of diet pills, which were formulated with a proprietary blend of miraculous ingredients in Peru. Nikki credited them for her never having budged a dress size and frequently appeared in sequined cocktail dresses that she had worn for the first time at Studio 54, 30 years earlier. Like Angelyne before her, she rented billboards on Sunset Boulevard and plastered them with images of herself, wearing those same spangled frocks, to keep StarCaps moving.
Nikki was my Virgil in the Trump Inferno. She adored all the family, particularly Donald, whom she recalled as being just another colorful rich guy until the mid-1990s.
What changed him, she believed, was the publication of an autobiography by the former chief executive of the Chrysler Corporation Lee Iacocca, which became an unexpected business phenomenon. Iacocca: An Autobiography was a best seller for two years after its 1984 publication.
According to Nikki, Donald saw that and wanted the same credibility—as well as the fame that came with it—for himself. So, he hired a ghostwriter, and in 1987 published Trump: The Art of the Deal, a memoir-cum-advice guide for would-be captains of industry.
Something that may not have been obvious to those who observed the saga of Donald and Ivana from a distance—particularly after the fireworks of their divorce—is how fond of each other they remained. Their children cemented a bond between them, and Donald's divorce from his second wife, Marla Maples, who broke up his marriage to Ivana, probably also made relations easier.
So, when Ivana announced her intention to marry for a fourth time—to a ribbed and lubricated sheath of Italian manhood named Rossano Rubicondi—Donald made his Palm Beach club available as the venue.
Ivana's divorce from Donald had been tabloid performance art, and she applied everything she learned from that spectacle into optimizing her wedding for the media. Two weeks before the ceremony, the New York Post published a story that laid bare all the calculations that had gone into putting the event together.
Richard Johnson landed a scoop that on March 17, less than a month before the wedding, Palm Beach police had gone to Ivana's mansion on Jungle Road, responding to a 911 call for a disturbance. The cops cuffed Rossano but unshackled him after speaking with Ivana—a liberal "catch and release" policy that is certainly not shared by their counterparts in the NYPD.
Page Six went on to allege that the fight was over the groom's dragging his feet about signing the prenuptial agreement, which had been drafted by Donald's legal team. Nobody quite knew what Rossano did for a living—the couple had met in St.-Tropez, where the wealthy and the attractive are known to go fishing for each other—but he reportedly seemed not to have much money of his own.
Finally, the column said that OK! magazine had paid $1 million for exclusive rights to the wedding photos.
As a gossip item, it was a masterpiece, containing everything a reader could possibly want to know about the hidden lives and moneymaking motives of the super-wealthy. It also got the Post, my chief competition, disinvited from the wedding—leaving me with the exclusive.
Mar-a-Lago, built in the late 1920s by Marjorie Merriweather Post, a cereal heiress, is a mishmash of ersatz Venetian, Spanish, and Portuguese styles. It looks like a hacienda that would belong to the villain in a period telenovela.
Most of the wedding events took place on the terrace overlooking the pool and surrounding gardens. At the rehearsal party on Friday, Champagne stations dotted the lawn, and waiters carrying trays circulated among the hundreds of sharply dressed guests.
The hors d'oeuvres were pigs in a blanket and caviar, both available in large supply. Its abundance impressed even this well-heeled group, most of whom were not used to lining up for food. But soon, small trails of people formed in front of the great silver urns filled with crushed ice to chill the kilogram tins of sturgeon eggs.
In the caviar line, I chatted with Lisa Gastineau, the former wife of a professional football player and costar—along with Brittny, her daughter from that marriage—of an E! network reality series called The Gastineau Girls. (Although it ran for only two seasons, the show is interesting for being an early iteration of the female-driven, glamourous-family formula that the network got right with its next attempt, Keeping Up With the Kardashians.)
Lisa stiffened when Brigitte Nielsen, a muscular Danish actor, appeared at the top of the stairs. Brigitte was also having a moment as a reality star but, worse, had taken up with Lisa's footballer husband back in the late '80s.
She turned away and remarked disapprovingly that the caviar was being served with metal spoons, which would taint its flavor.
Dotted around the lawn were familiar faces like Neil Sedaka; Robin Leach; Rick and Kathy Hilton; Dr. Ruth Westheimer; George Hamilton;Janice Combs, mother of the rapper Diddy; and South African billionaire Sol Kerzner.
I spotted Nikki Haskell chatting with Catherine Saxton, the plummy British woman who worked as a longtime publicist for individuals in the Trump and Hilton families, as well as many of the Trump properties. They were with Ivanka, who was reliably smart and funny, so I went over to get a quote for the column.
"I don't know what to get her for the wedding," Ivanka said about her mother. "It's not like she needs a microwave."
A few hours before the ceremony the next day, Donald Trump flew in on his private jet. We were not at that moment on the best of terms.
One of the quirkier characters around New York was Baird Jones, a freelance gossip stringer who went to parties every night and had an encyclopedic memory for celebrity trivia.
Baird ran into Donald just before a gala for the Save the Music Foundation, which raised money for music education in public schools. He remembered an anecdote about Donald once clobbering his music teacher and asked him about it.
"Not true," Donald replied. "I had altercations with everyone, but I never punched him. I did not like him and he was not a very good instructor. He had a major mental deficiency."
After Baird called the item into "Gatecrasher," I set about tracking down the source of the original story. It turned out to be Donald's own book, The Art of the Deal.
"In the second grade, I actually gave a teacher a black eye," he wrote. "I punched my music teacher because I didn't think he knew anything about music, and I almost got expelled."
I contrasted the two statements in my item, and concluded with a fairly tame kicker: "Isn't it crazy how these rumors get started?" But Donald preferred his press to be fawning and did not appreciate being called out.
He arrived at the wedding from Las Vegas, where he had attended the previous night's final of the Miss USA pageant, which he owned. I had heard he was mad at me, so when I saw him standing on the terrace of his club, I approached gently and tossed a softball question: "Do you have a message of support for Ivana on her wedding day?"
When Donald saw me, his face changed color from orange to red like the highway signs in Australia that warn of the risk of bushfires. He let loose with a stream of bluster, his spittle making rainbows in the Florida sun. Perhaps if I had known that one day he would be president, I would have paid more attention to what he said before he turned on his heel and stomped off. As it was, I recorded his response in my column as: "Of course I do. Why wouldn't I?"
Donald did not sit with the guests on the lawn for the ceremony but could be glimpsed with his arms crossed on the terrace above. Melania was upstairs in the family's private quarters with their toddler son, Barron, sequestered like the new Mrs. Maximilian de Winter in the west wing of Manderley.
The wedding was something to see. There were 24 bridesmaids, plus Nikki as the matron of honor, and 24 groomsmen. Each group filed down a different side of the twin staircase in the garden, like two columns of ants headed to the same picnic.
Ivanka was the maid of honor, in a column of yellow, while Ivana wore crystal-studded pink chiffon, hence the ban on guests' wearing those colors. The bride walked down the stairs to "Unchained Melody," accompanied by her sons, Donald Jr. and Eric, who gave her away. The groom jogged in, smirking, to the theme from Rocky.
Maryanne Trump Barry, Donald's sister and a federal judge, conducted the ceremony under a 20-foot garlanded trellis. Her Honor was solemn to the point of being severe, which was in contrast to the groom, who made constant wisecracks and generally behaved like an adolescent throughout the ceremony.
This behavior was not lost on Ivana's sons, who had no doubt also read with great interest the report on the domestic disturbance that had led to their new stepfather's being handcuffed by the police. At the reception that evening, Don Jr. delivered the toast customarily made by the father of the bride.
"We are a construction company and we have job sites, we lose people," he said from the microphone in front of the 300 guests. "You better treat her right, because I have a forty-five and a shovel."
Like a true Trump male, he also managed to comment on his mother's "great boobs," while his father watched from the sidelines. Then Neil Sedakasang and the couple cut into a 12-foot-tall wedding cake, which weighed 770 pounds and had been sent from Germany.
Notebook in hand, I buttonholed the bride to get a quote for the column.
"What have I learned about love?" she asked rhetorically. "That it's more about trust and friendship and support. And love. But it's a combination, you know?"
The couple split months later. But the wedding was bonkers and absolutely everything I had wanted it to be.
Most of the guests had left the reception by midnight. Around that time, I came across Kathy Hilton, alone in a corridor. She was standing in front of a full-length mirror, holding the hem of her dress in an outstretched arm, and dancing with her own reflection like a happy teenager in her room.
The image was so sweet and uncynical that it was almost jarring. And I felt that it said something about the strange, intertwined relationship between the Trumps and the Hiltons, how differently the two families experienced their money, and where they found their pleasures.
I thought, At least all this silliness is making somebody happy.
This article originally appeared on Vanity Fair.