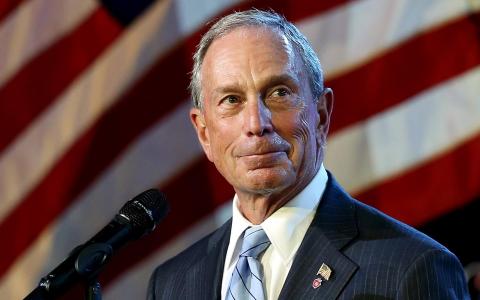 January 13, 2020
Mike Bloomberg's campaign is very quickly playing catch-up with the rest of the Democratic field.
The former New York City mayor's campaign went from zero staff just a few months ago to over 500 today across 30 states. It became the highest spending campaign of the 2020 cycle after just a few weeks on the air.
And it's the same with Bloomberg's policy rollouts: on Wednesday his campaign released the first part of its "All-In Economy" agenda.
The plan is a grab bag of proposals to raise the minimum wage, ensure gig workers have collective bargaining rights, and give more help to start-ups and small businesses.
Bloomberg's agenda contains measures aimed at both urban and rural areas as well as formerly industrial communities. Mayor Bloomberg himself is traveling to Illinois and Minnesota and Ohio throughout the day Wednesday.
​"We need to elect someone who can actually deliver real change – not just talk about it – and create more good jobs, with good salaries, all across America. That's what I've done running my company. It's what I did leading the largest city in the country. And it's what I'll do if I have the honor of serving as the next President of the United States," said Bloomberg in a statement.
Bloomberg released his slew of initiatives but provided few details about how he would pay for them.
President Trump has made the strong economy a focal point of his re-election bid. But despite the low unemployment rate and stock market at record highs, Bloomberg said Trump has "over-promised and under-delivered" on his promises to create jobs.
"Americans are working harder and earning less under Trump. Mike will change that," the campaign said in a factsheet.
Increase minimum wage to $15 an hour
The billionaire said if he becomes president he would "enhance the Earned Income Tax Credit, pay it monthly and pay more where it's most needed." He would also work to increase the minimum wage to $15 an hour and index it to inflation. According to the proposal, Bloomberg would support legislation to expand access to child care and institute a federal standard for paid family leave.
The minimum wage issue has been a key one that Bloomberg's rivals have talking about since the race began. The fight for $15 movement has gained the support of nearly the every Democratic contender as it pushes for a national $15-an-hour minimum wage.
"Mike is really focused on making work pay" says Sam Liccardo, Mayor of San Jose, Calif., and a Bloomberg 2020 CA co-chair, who appeared on Yahoo Finance's "On the Move" to discuss the plan. While he acknowledged that many of the ideas in Bloomberg's plan have been part of the Democratic primary for months, Liccardo noted as a point of distinction that "Mike is really focused on research and development" to find solutions in places across the country where people have been left behind.
The Bloomberg plan would also grant all workers — including gig, contract and franchise employees — the right to bargain collectively. Bloomberg also calls for limits on controversial mandatory arbitration agreements and non-compete clauses. He also wants to outlaw "no-poaching" agreements, in which franchisees agree not to hire each others' workers.
Bloomberg said he would encourage businesses to locate and hire people in distressed communities through a "place-based EITC that lowers costs for employers."
The report was originally published by Yahoo! Finance.