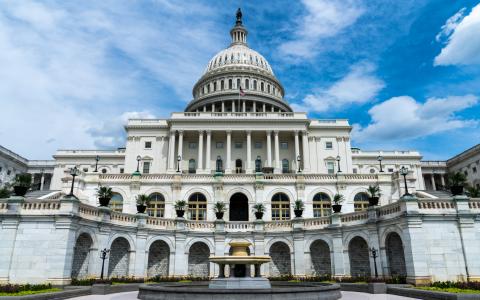 November 23, 2022
(Bloomberg) - Two Democratic senators want former CEO Sam Bankman-Fried and other FTX executives to be held accountable for the company's collapse.
Mike Novogratz, the CEO and founder of Galaxy Digital, said in an interview with CNBC on Wednesday that what happened at FTX is an indictment of the company, not crypto. He also said the fallout will push crypto users to other institutional players like Fidelity Investments, which will offer custody and trading services.
Crypto markets steadied as Bitcoin climbed for a second day, trading back above $16,000. Still, investors remain alert for contagion from FTX and long-term predictions for the coin differ wildly, underscoring the uncertainty that's rife in the industry. Novogratz told CNBC that he still sees crypto as a long-term buying opportunity.
Top partners at Sequoia Capital apologized to investors for backing FTX, whose bankruptcy had its first US court hearing Tuesday. Bankman-Fried in a letter outlined a crash in collateral to $9 billion from $60 billion.
Senators Want Executives to be Accountable (10:49 a.m.)
Democratic senators Elizabeth Warren and Sheldon Whitehouse have asked the Justice Department not to pull any punches as it investigates and seeks to hold accountable the executives at FTX who contributed to the crypto company's demise.
Custodians Like Fidelity Will Attract Users: Novogratz (9:45 a.m.)
Crypto billionaire Mike Novogratz said the "crisis of confidence" in the digital asset world will drive more cryptocurrency users to seek out institutional players like Fidelity Investments.
The founder of Galaxy Digital Holdings Ltd., a crypto financial services firm, told CNBC that more people will put their money in "safe and trusted custodians."
Novogratz Says 'Bitcoin Is Not Going Away' (8:48 a.m.)
Mike Novogratz, the CEO and founder of Galaxy Digital, tells CNBC in an interview that while there was a "bubble" in crypto assets this is a long-term buying opportunity because "Bitcoin is not going away."
He says that what happened at FTX is an indictment of the company and other similar firms that are poorly run, however it is not an indictment of crypto itself.
Serving Humble Pie This Thanksgiving (8:00 a.m.)
Polite company never talks politics or religion. This Thanksgiving, it might be wise to avoid crypto, too.
Last year's digital asset investors basted themselves in Bitcoin riches. Then, the token traded just below the almost $69,000 all-time high set weeks earlier. By dessert time, the crypto hopefuls may have even sold the Baby Boomers on a token or two.
This holiday season, the Bitcoin bulls have less to be grateful for. The largest digital asset has plummeted about 70% since last Turkey Day. That drop might annoy the guests who bought in, including the Baby Boomers persuaded by their younger relatives.
Jane Street Alums Ditched Wall Street Firm's Risk Focus at FTX (7:49 a.m.)
Jane Street Group is known among peers for its obsession with risk and preference for stealth. The more-than 2,000 employee powerhouse based in lower Manhattan digs into the health of trading partners, models potential catastrophes, autopsies losses and restricts staff from commenting publicly, because even that poses a danger.
The easiest way to describe the culture that Sam Bankman-Fried and a cadre of Jane Street alumni created at FTX: The opposite.
Crypto Crash Offers a Path to Recovery for Damaged Relationships (6:58 a.m.)
Devoting days and nights to a gamified digital economy left a mark on some people's relationships, turning partners into crypto widows and widowers.
Now they have some emotional work to do: in the aftermath of the digital-asset mayhem, believers are trying to heal what Bitcoin and Bored Ape obsessions did to intimacy.
Wild Divergence in Bitcoin Predictions Highlights Uncertainty (4:32 a.m.)
Over the past few days, long-term targets for the world's largest token by market value have ranged from $5,000 at strategists BCA Research Inc. to $1 million by 2030 for Ark Investment Management's Cathie Wood.
The cavernous spread reflects the gnarly question of what further contagion may or may not lie ahead following the evisceration of Sam Bankman-Fried's FTX exchange and trading house Alameda Research, onetime crypto darlings.
El Salvador Closer to Issuing Bitcoin Bonds (12:05 p.m. HK)
The country's presidency dispatched a digital-securities bill to lawmakers, taking the nation a step closer to raising $1 billion via the world's first sovereign blockchain bond.
The legislation calls for a digital-assets commission and a Bitcoin Fund Management Agency to oversee crypto-related debt sales. The proposed blockchain bonds, with a minimum investment of just $100, are meant to help finance the construction of the Bitcoin City project.
New York Governor Signs Moratorium to Curb Crypto Mining (11:10 a.m. HK)
Kathy Hochul signed one of the most restrictive laws in the US on regulating cryptocurrency mining, with the bill triggering a two-year moratorium on new permits for crypto-mining companies.
"I will ensure that New York continues to be the center of financial innovation, while also taking important steps to prioritize the protection of the environment," Hochul said in a statement.
Bankman-Fried Says Collateral Crashed by $51 Billion as FTX Fell (8:30 a.m. HK)
Bankman-Fried, disgraced founder of the now collapsed crypto exchange FTX and trading house Alameda Research, apologized to staff in a letter that outlined a crash in "collateral" to $9 billion from $60 billion.
"I didn't mean for any of this to happen, and I would give anything to be able to go back and do things over again," he wrote in the message sent to employees Tuesday and obtained by Bloomberg News.
Sequoia Capital Says Sorry for FTX But Defends Vetting Process (7:20 a.m. HK)
Top partners at the venture capital firm apologized to their investors in a conference call Tuesday for backing FTX, according to people familiar with the meeting.
Roelof Botha, the firm's global leader, opened the call, and he and his colleagues were repentant for backing the company, with investments totaling $214 million in FTX.com and FTX.us across two funds. Alfred Lin, the partner who led the FTX deal, provided an update on the situation. Shaun Maguire, another partner who focuses on crypto, gave an overview of the sector.
Cathie Wood Holds On to $1 Million Target for Bitcoin (7:10 a.m. HK)
"Bitcoin is coming out of this smelling like a rose," said the ARK Investment Management CEO as she defended her forecast.
Wood also said that crypto infrastructure is "working beautifully." She added that digital-asset manager Grayscale Investments is now the crown jewel of Barry Silbert's once-$10 billion Digital Currency Group conglomerate.
Crypto ATM Operator Coin Cloud Discussed Equity From Genesis (6:30 a.m. HK)
Genesis had provided an unsecured loan of around $100 million to Coin Cloud, according to people with knowledge of the situation. In the latest discussions, Genesis had considered injecting equity into Coin Cloud, said the people.
Coin Cloud recently hired advisers to help rework about $125 million of the ATM operator's debt.
FTX Allowed to Hide Identity of 50 Biggest Creditors (5:40 a.m. HK)
US Bankruptcy Judge John Dorsey agreed to let FTX redact the names of the 50 biggest unsecured creditors owed a total of $3.1 billion.
The US Bankruptcy Code normally requires the names be filed in documents available to the public. Representatives for FTX argued those creditors are also customers and disclosure would allow rivals to steal their business.
By Bloomberg News