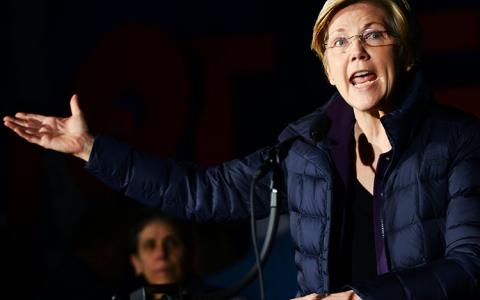 October 15, 2020
In a letter sent to the Walt Disney Co. released Wednesday, former presidential candidate Sen. Elizabeth Warren (D-Mass.) said the company's dividend payments, stock buybacks, and massive executive compensation packages before the pandemic depleted cash reserves that the entertainment giant could have used to retain employees during the ongoing economic crisis. 
Key Facts
Disney announced in late September that it would lay off 28,000 employees (about two thirds of whom were part-time) in the United States because of capacity restrictions and lower attendance in the company's parks. 
In her letter, Warren said Disney's prioritization of payment for its top executives and shareholders has "significantly weakened Disney's financial cushion."
In the second quarter of the 2020 fiscal year, Disney paid $1.6 billion in dividends to its shareholders.
In 2019, Disney's then-CEO, Bob Iger, took home nearly $48 million, and between 2009 and 2018, it spent $47.9 billion on stock buybacks, CNBC reported.  
"It appears that—prior to and during the pandemic—Disney took good care of its top executives and shareholders—and now is hanging its front-line workers out to dry," Warren wrote.
Disney suspended dividend payments in March after five consecutive years of biannual payments to shareholders, and it paused its stock buyback program in 2018.
Crucial Quote
A Walt Disney Company spokesperson said Warren's letter contains "a number of inaccuracies." In a statement, the spokesperson said Disney has "unequivocally demonstrated our ability to operate responsibly with strict health and safety protocols in place at all of our theme parks worldwide, with the exception of Disneyland Resort in California, where the State has prevented us from reopening even though we have reached agreements with unions representing the majority of our Cast Members that would get them back to work."
Tangent
Warren isn't the only one to call attention to this issue. In July, Abigail Disney, who is the granddaughter of Disney cofounder Roy Disney, criticized the company for putting "profits ahead of workers." Earlier this month, activist investor Dan Loeb spoke out about Disney's $3 billion annual dividend—but for a different reason. He argued that Disney should suspend the dividend permanently and then reinvest that $3 billion in Disney's streaming business, CNBC reported. 
Key Background
Disney isn't the only company to draw criticism for prioritizing shareholders over employees during the coronavirus crisis. After furloughing thousands of workers, U.S. oil giant Halliburton paid its normal March dividend to shareholders, Reuters reported in April. Caterpillar laid off employees but also continued its dividend payments, the Washington Post reported in May. Dave & Buster's had furloughed nearly all of its employees by April, according to the New York Times, but that same month raised money by issuing new stock. 
This article originally appeared on Forbes.