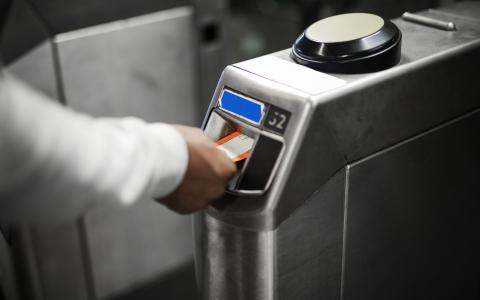 September 16, 2022
(PlanSponsor) - Wilmington Trust has launched BoardingPass, an application designed to digitize and streamline the onboarding of collective investment trusts for employer-sponsored retirement plans.
CITs are an alternative to mutual funds for employer-sponsored retirement plan investments.   
"Especially after the height of the COVID-19 pandemic, we realized that paper-only solutions would no longer work for most businesses operating in a digital or hybrid environment," says Rob Barnett, head of Wilmington Trust retirement distribution and product leader for CIT business. "Typical CIT onboarding processes can be time-consuming, so we developed a single digital tool in which all documents and information are centrally located, thereby streamlining communication."
Barnett says BoardingPass was launched to increase the availability and use of CITs for employer-sponsored retirement plans by removing paperwork and implementing a digital onboarding process.
The paper-based onboarding process is onerous for employer-sponsored plans wanting to use CITs, explains Barnett, because a plan's eligibility to invest in CITs must be confirmed through a retirement plan participation agreement.

"To invest in a CIT, a plan sponsor or its delegated fiduciary has to complete a participation agreement that really represents and warrants that they're eligible to invest in this tax-qualified vehicle," he says. "That has left a lot of people to believe that the onboarding process for CITs must stay paper-based, and while we all work continually to try to make the paper-based process better, it really doesn't allow for the democratization of the use of CITs. BoardingPass brings to pass the democratization of the retirement plan onboarding process, as well as adding CITs as plan options."
CITs and Mutual Funds
A CIT is a bank-administered trust offered by banks and trust companies for retirement plans, and unlike mutual funds are not available to the public. Like mutual funds, CITs provide several investment options for retirement plan participants, across a basket of assets. CITs are pooled-account investments that hold commingled assets that must meet certain requirements.
Unlike mutual funds, which are regulated by the Securities and Exchange Commission, CITs are overseen by the Department of the Treasury Office of the Comptroller of the Currency. They can be less expensive to administer than mutual funds for plan sponsors, because while CITs are plan asset vehicles under the Employee Retirement Income Security Act, investments are not subject to the prospectus and financial reporting requirements and expense rules of the Investment Company Act of 1940.
"CITs provide a vehicle with lower fees to ensure low-cost alpha for investors," Barnett says. "Advisers can work with plan sponsors to detail the benefits of CITs and identify the cost structure differences between CITs and mutual funds."
Plan sponsors and advisers using CITs have attendant fiduciary duties to participants, as with mutual funds.
Unlike 401(k), 401(a) and 457(b) plans, 403(b) plans are barred from using CITs. A legislative package working its way through Congress known as SECURE 2.0, as it would build on the 2019 Setting Every Community Up for Retirement Enhancement—aka SECURE—Act, proposes to allow 403(b) plans to invest in CITs.

All Aboard

A press release announcing the app's launch says BoardingPass users will likely reduce the time spent on onboarding because the app serves as a central hub for all plan information. Rather than requiring an employer-sponsored plan to manage reams of paperwork, which can lead to errors and takes an average of one to five business days to submit, users of the web-based platform can shorten the timeline by up to 80%, the release claims.
"Previously, the process was stagnant, intimidating and far less accessible due to the onerous amount of paperwork involved," Barnett says.
Plan adviser users of the tool can automatically pull key data for the plan they are advising into the system from the data contained in the IRS Form 5500 database; a Form 5500 is the annual report filed by employer-sponsored plans with the Department of Labor. The tool prepopulates the correct form fields with information on a plan's financial condition, investments and operation. Plan sponsors may be able to gain the benefit of real-time information-sharing and a digital connection to their critical service provider partners, according to the press release. 
Plan sponsors "can sort and monitor all fund requests pending approval and sort by plan name, recordkeeper or even adviser name," says the release. "They can view all fund requests that need action (e.g., missing signature) and quickly address them."
Barnett adds, "We have learned that the trend among all users, including consumers and businesses, is for a more user-friendly and less intimidating process when it comes to signing documents. As a result, the digitization of the plan onboarding process was necessary. This is the future of retirement planning."

By Noah Zuss