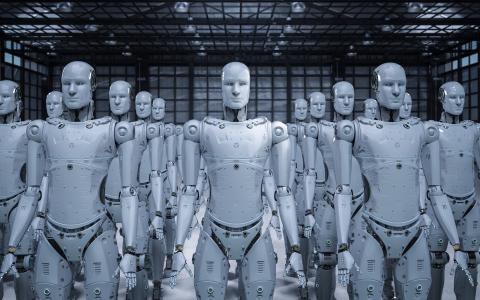 January 15, 2020
Are robos in trouble? That's seems to be the word on the street as pricing pressure from the U.S. passive investing giant may hit other areas of the investment industry harder, with robo advice possibly being the first inline.
The world's largest provider of mutual funds--and the second-largest provider of exchange-traded funds behind BlackRock--reported last week that they had received Financial Conduct Authority approval to provide retail advice in the U.K.
Keep Calm And Carry On
This doesn't mean financial advisors should be shaking in their boots. It's early stages still and even Vanguard knows it's "too early to speculate" about the impact the movie will have on fees in the U.K., explained a spokesman for the $5.6trn asset manager.
Vanguard isn't eating anyone's lunch quite yet. The passive behemoth is trying to snare business from lower value investors. Old school wealth managers, as well as the financial advice business in general, left harbor awhile ago, heading upriver where they could target wealthier and older clients.
All The Robots Look The Same!
Asimov's Laws didn't say anything about differentiating one robot from another and they certainly didn't say anything about it being a profitable enterprise. On the other side of the Atlantic, robo advice is still struggling away.
Nutmeg, the UK's largest robo adviser, still hasn't turned a profit and lost £18.6m ($24.3m) last year as they attempted to differentiate themselves from the crowd and attract new customers--where there's a crowdfunding campaign, there might be smoke.
Many think that's because there's a lack of brand recognition when it comes to robo advice. And this is probably true, as many robos don't offer anything close to the full-package that even boutique firms bring to the table, making it impossible to tell there somewhat limited strategies, with somewhat similar results, apart.
That being said, UBS--that's a name we all know--closed its robo adviser after just 18 months. And Investec's version lasted only marginally longer. So the problem might be bigger than just marketing.
The Robots Still Aren't Afraid Of Vanguard
John "Vanguard" Connor be damned! Despite the heavy losses last year, Nutmeg says they don't see the U.S. passive giants posing a threat to their business model: "It's traditional advisers that will be fearing Vanguard's announcement the most," said James McManus, director of ETF research at Nutmeg. Despite what seems to be evidence to the contrary.
No matter what, it does seem likely that such a massive player will likely have an effect on the entire industry… even if those effects are minimal in the beginning.
Let's Get Digital, Digital!
This doesn't have to be negative for every wealth manager in the UK. In fact, it might just get everyone to up their game.
A huge player like Vanguard entering the field should push advisors to up their customer experience and improve their digital offerings. Necessity is the mother of innovation after all, and maybe Vanguard's foray just means everyone across the pond is about to show their hands.