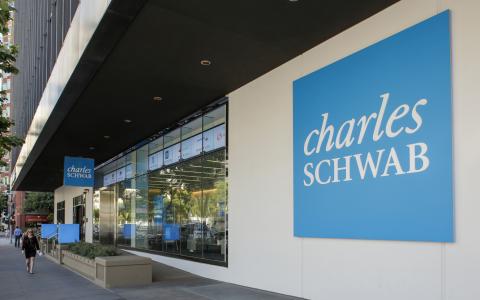 November 25, 2019
It's official, Charles Schwab will acquire TD Ameritrade in a $26 billion all-stock deal. According to participants at a recent ETF conference, this could mean more competition among exchange-traded funds (ETFs), with smaller issuers fighting or attention and big names being forced to put more skin in the game.
Currently Schwab's ETFs have $150 billion in assets under management, the fifth largest share of the market, and has recently been pushing its own ETFs. "Schwab doesn't make any secret of highlighting its own ETFs," said the founder of BlueStar Global Investors Steve Schoenefeld on Thursday during the Fall ETP Forum. "For smaller issuers and sponsors, the challenge will be mixed."
According to Schoenefeld, Schwab's recently announced "no fees" will help ETFs overall, and the power of Schwab's own ETFs will be magnified by it.
TD Ameritrade doesn't offer its own family of ETFs.
This could provide a challenge to the $4 trillion ETF market's biggest player, BlackRock, who are unaffiliated with a particular platform. Schoenefeld suggested that BlackTock will "have to work harder to be on a platform." Otherwise, "Schwab will dominate and have greater disruption capability." This may for the global investment management corporation to buy or build their own platform.
Vanguard, the ETF market's second biggest player,  has its own commission-free brokerage, so the merger should have less of an effect on them.
Adam Bernstein, an analyst at Gitterman Wealth Management, believes the merger should make life easier for wealth management professionals, saying, "It has been a nightmare for RIAs to have multiple execution platforms."