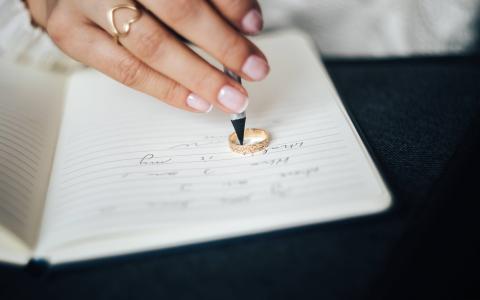 March 8, 2023
(VA Lawyers Weekly) - A circuit court upheld the validity of a premarital agreement after ruling that the document could corroborate an adverse party's testimony under Virginia's "Dead Man's Statute."
After her husband died of COVID-19 while intestate, the plaintiff challenged the validity of a premarital agreement that waived her claim to his $6 million estate.
When the decedent's son testified that his father declared his intention to marry the plaintiff for immigration purposes and executed a premarital agreement to protect his assets, the plaintiff argued that was inadmissible under Virginia's Dead Man's Statute without corroboration.
Fairfax Circuit Court Chief Judge Penney S. Azcarate disagreed, and found corroboration for the decedent's statements in the premarital agreement itself and admitted the son's testimony.
The opinion is Munhuu v. Joiner (VLW 023-8-014).
 
The prenup
Oyunchimeg Munhuu and Bernard Joiner met at a dance class in 2015. They began dating and decided to marry in 2019. Bernard was sponsoring Munhuu's application for a green card, which Munhuu acknowledged at trial had something to do with their decision to wed.
Discussions about a premarital agreement led them to meet with Bernard's attorney, Karen Leiser, in August 2019.
Munhuu claimed she thought all American couples needed to have a premarital agreement to be married, and believed it to be a form of licensure. Leisner, however, insisted that she told Munhuu the nature of the agreement and that she only represented Bernard.
Later that month, Bernard copied Munhuu on an email to Leisner asking for a copy of the draft agreement. After Bernard told Leisner that Munhuu wasn't in favor of disclosing assets in the agreement, the attorney finalized the draft and sent a copy to both parties.
The next day, Bernard confirmed that the agreement looked good and asked when he and Munhuu could come sign it.
In early September 2019, Munhuu and Bernard signed the premarital agreement at Leisner's office. Leisner wasn't there, so a staff member presented the agreement for them to sign.
The agreement provided that each party had fully disclosed their financial conditions and waived their rights to equitable distribution and estate assets from the other.
Among other things, the agreement said both parties fully disclosed their financial condition and waived each party's right to equitable distribution. It also said that, upon either person's death, the "surviving spouse shall have no claim or right to receive any asset of the decedent" unless provided otherwise in the decedent's will.
Munhuu and Bernard married at the courthouse six days later. But in January 2021, Bernard succumbed to COVID-19, leaving behind an intestate estate worth more than $6 million.
Bernard's son, Andrew, qualified as administrator of his father's estate. He listed himself and Munhuu as heirs, but said she was disqualified under the premarital agreement.
After transferring most of the estate assets to himself, Andrew agreed to be removed as administrator pending the resolution of Munhuu's complaint for declaratory judgment to invalidate the premarital agreement.
At a January 2023 trial, Bernard's sister, Anne Westley, testified that her brother said he wanted to marry Munhuu for immigration purposes and that he had discussed with Munhuu his desire for a premarital agreement to keep their assets separate. Andrew's testimony echoed Westley's.
Munhuu objected, arguing that their uncorroborated testimony about Bernard's intentions was inadmissible under Virginia's Dead Man's Statute.
Challenged statements
Under Virginia's Dead Man's Statute, testimony against a person incapable of testifying must be corroborated if it's offered by an adverse or interested party and presents an essential element which would be fatal to the case, Azcarate explained.
While an adverse party is a party of record who asserts or defends against a claim, the judge said an interested person has a pecuniary interest in the result of the suit, but they needn't be a party to the suit.
Here, Azcarate found that Westley wasn't an adverse or interested party and overruled Munhuu's objection to her testimony.
"While Ms. Westley may ultimately benefit if more money is secured for Defendant rather than Plaintiff, it does not render her testimony 'interested' under the Dead Man's Statute and does not require corroboration," the judge explained.
On the other hand, Andrew's testimony required corroboration because he was a party of record against whom judgment was sought. Andrew took a novel approach by offering the premarital agreement as corroboration of his father's statements.
"There is no case law directly on point to whether a premarital agreement can operate as corroboration under the Dead Man's Statute, making this issue one of first impression," Azcarate noted.
The judge analyzed the agreement itself to determine if it confirmed and strengthened Andrew's testimony.
"Ms. Leiser, Mr. Joiner's attorney, prepared the agreement waiving the parties' right to equitable distribution upon dissolution and providing each party released claims to the separate estate of the other," Azcarate wrote. "The agreement further stated neither party was obligated to provide for the other in their will or had the right to receive any assets of the decedent upon their death."
The judge said these provisions directly supported Andrew's statement about what his father told him about his inheritance.
"As the premarital agreement 'tends to confirm and strengthen' Defendant's testimony, it is sufficient to corroborate Defendant's testimony about Mr. Joiner obtaining a lawyer to ensure Defendant's inheritance remained separate," Azcarate said.
Valid agreement
Having overruled Munhuu's objections to Westley's and Andrew's statements, the judge moved on to decide whether the premarital agreement was enforceable.
Azcarate was unpersuaded by Munhuu's claims that she didn't voluntarily sign or understand the premarital agreement and that she was ignorant of her fiancé's assets.
While acknowledging a gross disparity of assets, the judge said the evidence didn't establish oppressive influences.
"The evidence sufficiently shows no language barrier prevented Plaintiff from understanding the agreement or communicating any questions," Azcarate wrote. "No other oppressive influences identified by Plaintiff would impact the unconscionability of the premarital agreement."
Nor did Munhuu show overreaching influences on Bernard's part, the judge said, noting Munhuu's failure to obtain independent counsel before signing the agreement.
"Nothing indicates that Mr. Joiner acted in bad faith, purposefully misled Plaintiff, or concealed material provisions of the premarital agreement," the judge wrote. "In fact, the correspondence between Mr. Joiner and Ms. Leiser indicates Mr. Joiner openly discussed the agreement with Plaintiff, including the question of whether to include their disclosures of assets. Plaintiff could have obtained independent legal counsel but declined to do so, instead signing the premarital agreement."
As such, Azcarate found the premarital agreement valid and enforceable.

By Nick Hurston
March 6, 2023