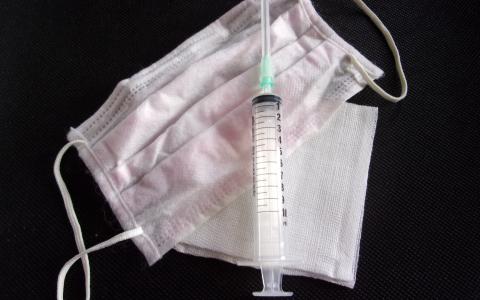 November 2, 2021
(Yahoo!Finance) - Within days, the White House is expected to publish an eagerly anticipated directive requiring employers with at least 100 workers to ensure their employees are either vaccinated against COVID-19 or tested weekly. 
The White House's regulatory office has completed its last steps before publishing the directive that will be issued by the Labor Department, according to Bloomberg Law. Many private and public employers have issued their own vaccine and testing mandates, which will likely overlap with the federal directive.
Workers have already sued over these existing mandates, and state officials have even filed preemptive challenges to the upcoming White House directive. Once that federal mandate comes down, constitutional law experts say, the Supreme Court will likely decide at some point the legality of it, and potentially, the legality of other mandates that require workers to submit to COVID vaccines, or weekly testing — or else risk losing their jobs.
'The right kind of case'
Around the U.S., some workers' suits claim the mandates lack appropriate exemptions for workers who say a disability or religious belief precludes them from getting vaccinated; others claim the mandates violate union contracts. With so many challenges, courts may issue rulings that conflict with one another that can be settled by the Supreme Court.
"For a lot of us, it's a question of when rather than whether the Supreme Court will get involved with what they think is the right kind of case," Northwestern University Law School professor Daniel Rodriguez told Yahoo Finance.
The "right kind of case," as Rodriguez called it, would likely be one that asserts that a vaccine mandate conflicts with workers' religious beliefs. The high court has in recent years issued rulings in favor of those who say their religious rights were violated, including when it unanimously ruled for a Catholic social services agency that refused to work with same-sex couples who wanted to foster children.
"I think it's likely that before this pandemic is over the court will hear a highly momentous case on public health powers and religion," said Georgetown University Law professor Lawrence Gostin, while stressing that it's too soon for the high court to take up the matter right now. "The Supreme Court is highly partial to religious claims and tends to bend over backwards to protect the freedom of religion."
Religious-based objections to COVID-19 mandates are no slam dunk for workers who sue over them, though. For more than a century, federal courts have followed the 1905 Supreme Court precedent in Jacobson v. Massachusetts holding that states and other entities, like private businesses, could legally mandate vaccination. The court did not carve out a requirement for religious exemptions.
However, Rodriguez notes that while most state and local mandates appear to stand on solid legal footing, protections for religious liberty have expanded significantly since the Supreme Court handed down the seminal decision about 116 years ago.
"That was well before the kind of scrutiny given to individual rights, Constitutional rights, that we see commonly today," Rodriguez said. "In 1905, most of the Bill of Rights — the first 10 Amendments of the Constitution — were not extended to apply to the states." For that reason, Rodriguez says, "It's really hard to draw these massive conclusions from a case decided at such a different point in time."
'You're going to see all kinds of lawsuits getting filed'
On Friday, 10 states led by Republican governors filed a lawsuit in Missouri federal district court claiming the White House overstepped its constitutional authority by requiring vaccination for all federal contract workers. On Thursday, Texas and Florida filed separate lawsuits with similar claims. Meanwhile, Georgia, Alabama, Idaho, Kansas, South Carolina, Utah, and West Virginia joined in a suit with parallel arguments in Georgia federal district court.
State governors and attorneys general have also preemptively filed legal challenges and adopted executive orders in anticipation of the Biden administration "Shot-or-Test Rule" expected to be issued within days by the Labor Department's Occupational Safety and Health Administration. 
Michael Schmidt, a labor & employment attorney with Cozen O'Connor, expects immediate challenges to the new federal mandate. Moreover, cases claiming the federal government is interfering with states' rights can be fast-tracked to the Supreme Court, he said.
"You're going to see, I think, challenges from all different walks of life, from governors, from business and trade associations, within hours of this...[ETS] being issued. I think you're going to see all kinds of lawsuits getting filed," Schmidt said.
So far, the Supreme Court has weighed in twice on COVID 19 vaccine mandate challenges, first in August declining to take up an appeal from students of Indiana University who lost a lower court bid to carve out exceptions to the school's mandate. Then on Friday, it declined to take up an appeal from health care workers challenging Maine's requirement that they get the COVID-19 vaccine.
Though the Supreme Court declined to hear the cases, three conservative justices wrote dissents, disagreeing with the court's refusal to hear the health care workers' case. In a dissent issued Thursday, Justice Neil Gorsuch expressed cynicism about what he views as the government's protracted suspension of liberties due to the pandemic.
"...I accept that what we said 11 months ago remains true today — that [s]temming the spread of COVID–19 qualifies as 'a compelling interest.' At the same time, I would acknowledge that this interest cannot qualify as such forever," he wrote.
Still, there's no way to know if the court will ultimately intervene in the fight over vaccine mandates. As Gostin, the Georgetown professor, said "Nobody has a crystal ball to say what the Supreme Court will do."
By Alexis Keenan · Reporter