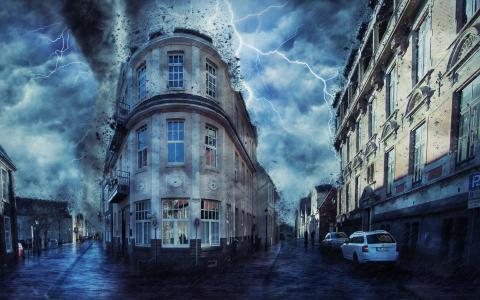 January 24, 2023
(UpJobsNews) - Ceres, in collaboration with the ESG Initiative and the Wharton Climate Center at the Wharton School, today released a new report finding that US weather-related disaster insurance is often inaccessible, unaffordable, or does not meet the needs of certain populations .
Inclusive Insurance for Weather-Related Disasters: A Roadmap for the United States examines the role of insurance in recovery from weather disasters across all socioeconomic groups in the US. In particular, the analysis found that households in Low to moderate income and communities of color are disproportionately affected by weather disasters and are more likely to experience financial shocks, but do not have financial savings or insurance to cover them.
The report provides practical guidance for federal, state and local leaders, as well as insurers, to expand insurance financial protection for those whose needs are currently not covered by the market and make disaster insurance more affordable. , accessible, transparent and people-focused. , And alone.
The frequency and severity of natural disasters, such as wildfires, floods, and hurricanes, are increasing in many parts of the country due to climate change. According to the National Oceanic and Atmospheric Administration (NOAA), weather disasters have inflicted $2.3 trillion in costs since 1980. Over the past five years, major disasters cost the US on average nearly a record $150,000 million annually. Between 2012 and 2021, these events cost the US at least $1 trillion in total.
These events translate into financial shocks for households in underserved communities, which are more likely to bear the brunt of weather-related disasters. Costs attributed to disasters include direct damage to property, including homes, contents, and vehicles; evacuation expenses and temporary housing during repairs; expenses for generators, fuel, or other items when utilities or transportation are interrupted; and loss of income from business interruption.
The authors of the report are Carolyn Kousky, Associate Vice President for Economics and Policy at the Environmental Defense Fund and Karina French, Manager, Climate Resilience Research at the Environmental Defense Fund.
dr kousky noted, "Many low-income households and communities of color are disproportionately affected by weather-related disasters. Without financial safety nets, disasters can be tipping points for households, worsening financial insecurity and forces households to engage in coping mechanisms that can have short-term negative effects. – and long-term consequences Insurance can provide the necessary financial protection.
"Extreme weather occurrences have now become annual events, and unfortunately those who need insurance the most are the least likely to have it," he said. Steven M. Rothstein, Managing Director of the Ceres Accelerator for Sustainable Capital Markets at Ceres. "Unfortunately, this is due to the tragic history of racism and discrimination in our country's economic system that spills over into the insurance industry. While progress has been made, overall, the insurance industry is not meeting the needs of low- and moderate-income households. We hope this report helps regulators, policymakers, and the insurance industry create a more equitable and inclusive system for all."
There are five principles necessary to establish a more inclusive insurance system. This system should strive to be affordable, accessible, transparent, people-centered, and fair. The analysis provides guidance that is useful for expanding insurance financial protection against the accelerating number of weather disasters to those whose needs are currently unmet.
The report recommends that US federal, state, and local lawmakers and regulators, along with the private sector, adopt new policies, regulations, and new product offerings, including:
Introduce new types of coverage in both private and public formats so that insurance is fully inclusive.

Insurance subsidy for the most vulnerable households by both the public and private sectors.

Create a "Community Reinvestment Act" for the insurance sector to extend insurance coverage to underserved and underserved populations.

Develop public/private partnerships to design new types of insurance coverage and disaster mitigation programs.

Develop regulations to cover new types of insurance coverage.

Simplification of claims processes and declarations of coverage for all policyholders.

Make insurance coverage and claims data public for research purposes.

Develop new regulations to prevent discrimination in insurance.
This report was produced in consultation with organizations in various affected communities. It also includes studies from New York City, Portland, Oregon, and Puerto Rico describing the provision of inclusive insurance to underserved and underserved communities.
"Environmental justice is an increasingly contested concept, but is rarely developed as fully as in this report, which also offers specific prescriptions for actions by public and private sector actors that can improve the resilience of the social, economic, and political in the face of the growing threats posed by climate change," said Witold Jerzy Henisz, Vice Dean and Faculty Director of the ESG Initiative at the Wharton School.
At 1 pm ET on February 22, Ceres will host a webinar with the report authors and partners to delve into the findings and recommendations. Click here to register for the webinar.
About Ceres
Ceres is a nonprofit organization that works with the most influential capital market leaders to solve the world's biggest sustainability challenges. The Ceres Accelerator for Sustainable Capital Markets is a center of excellence within Ceres that aims to transform the practices and policies governing capital markets to reduce the worst financial impacts of the climate crisis. It stimulates action on climate change as a systemic financial risk driving the large-scale behavior and systems change required to achieve a net-zero economy through key financial players, including investors, banks, and insurers. Ceres Accelerator also works with corporate boards to improve governance of climate change and other sustainability issues. For more information, visit ceres.org and ceres.org/accelerator and follow @CeresNews.
Media Contact: Reginald Zimmerman
January 24, 2023