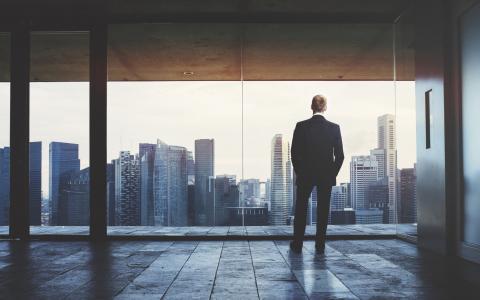 March 8, 2020
The post-crash decade reinforced the industry's zero-sum competitive posture. But now it's time to surround yourself with people willing to reach for the next level of success.
You're a survivor. If you've been in the wealth management business any length of time at all, you've figured out how to navigate a professional landscape that gets harder to predict year by year.
That's an achievement. A net 15,000 advisors have left the industry over the past decade and the rest of us have gotten a decade closer to retirement.
But for many, that means fighting account attrition while we wait for the clock to tick down. Business development has gotten lost while we spend more than half of every week talking to existing clients.
When you're busy playing defense, it's easy to lose sight of the big picture. There's no time and no incentive to make plans and carry them forward.
That's when it's good to talk to a visionary. Jim Combs, CEO of National Advisors Trust, never forgot how to dream big. And he sees great things ahead . . . for advisors willing to embrace something better than the status quo.
Finally some dynamism
Finance is all about planning around disruption. We don't like to rock the boat. Risks are for hedging. Reliability and predictability are virtues.
But sometimes risk aversion sets you up for catastrophic failure when the landscape shifts around you. That's where Combs thinks we are now. And he welcomes it.
"Change is constant," he says. "This is a fact I learned early in my career. The changes, and the challenges that accompany them, have always been a source of motivation for me. It's one of the primary drivers that lead me to a career in financial services, specifically wealth management."
You don't have to look at challenges as opportunities. You just have to be motivated to work on real solutions instead of kicking the can down the road.
It's all about having faith that we can make life better and not simply delay an inevitable decline. When disruption is inevitable, you don't hide. You grab the levers of change and steer the future in the direction you choose.
Look at National Advisors Trust. A lot of independent trust companies are on autopilot, content to drift until industry conditions get in their way.
Combs and his team are actively steering against that drift. They've expanded the number of advisory firms they work with 60% and boosted their overall reach 40-fold since 2013.
That kind of growth doesn't come from simply capturing vulnerable accounts from other trust companies. Any advisor knows that unless you're aggressively reaching out to new categories of client, you're really just trading assets back and forth with your competitors.
In that zero-sum world, retention is everything and it gets progressively expensive as we need to provide more value or cut fees in order to capture more clients than we lose. Many advisors have already scaled back their compensation, reducing the resources available to expand the service platform.
National Advisors Trust recognizes that competing on fees is a race to oblivion. The more crowded the marketplace gets, the faster that race will result in forced consolidation and ultimately a world of utility providers.
That's not what Combs wants. Growing the service network is not just about scale for its own sake. The objective is to strengthen and support as many advisors as possible in order to get better outcomes for everyone.
Beyond the winner-take-all world
A stronger industry can actually mean more money to go around. After all, very few advisors even incorporate trust and estate planning into their day-to-day client relationships. This is still exotic territory for many.
But for Combs, reconceptualizing the "client" in multi-generational terms becomes the foundation of a new approach to financial planning. In this model, the trust is the client and individual beneficiaries fit into that framework.
The more the advisor focuses on the trust, the easier retention gets. Individual clients are fickle. When the trust documents spell out who will manage the money, that AUM can remain in place for decades if not centuries.
And once that AUM is assured, the advisor can relax a little. Competition becomes more of a one-sided process of prospecting accounts away from rivals while remaining confident that the trusts are a lot stickier than individual accounts.
A more relaxed advisor can look toward the future, dream big again. There's room in that world for strategic planning, business development, figuring out what the service platform of tomorrow looks like and where the partners fit in.
I could talk a lot about how that world works and how good it feels after a decade of jumping at hypotheticals. But that's me. You'll chart your own destiny, provided of course that you manage to lift your gaze from the day-to-day grind.
The important thing here is that Jim Combs and his team already have their eyes on that future. They're building a new financial planning orientation that in many ways inverts all our assumptions on how wealth relationships should work.
It starts with the ultra-long-term view. That provides both confidence and resilience.
The alternative is remaining a hostage to disruption. Winners will consolidate. Technology leaders will build their own new markets and cannibalize legacy channels. People who are unwilling to play to win are planning for a life of (at best) slow attrition.
"The emergence of platform providers and digital marketplaces, the formation of mega-RIAs, breakaway advisors seeking independence and entrepreneurship, the race of trading fees to zero, and the convergence of intermediary channels are some of the powerful forces reshaping the industry," Combs predicts.
"These changes will test the strength and integrity of business models and relationships for all industry participants."
In other words, it's going to be interesting times. You can embrace the opportunities and try to build something great, or you're free to get ready for retirement.
Life is too short to spend drifting. And after a decade of drift, I'm eager to see what you can do. So is Combs. National Advisors Trust was chartered by advisors who saw a brighter future ahead. It's here to share that vision.