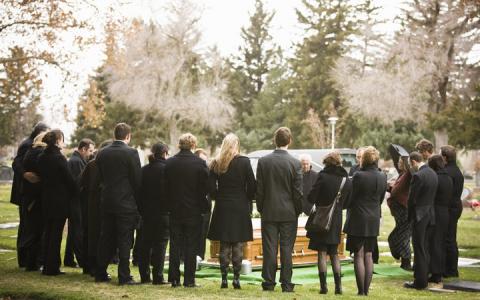 June 10, 2018
The tragic suicides of Kate Spade and Anthony Bourdain last week may have some advisors wondering whether there's anything they should be doing to plan for suicide as a contingency.
"This is a wake-up call – financial advisors need to be paying attention to depression," says CFP Carolyn McClanahan, who is also an MD, a former emergency room doctor. "There's a much bigger issue here – and that's what these two high-profile suicides should be saying to us in general."
McClanahan, director of financial planning at Life Planning Partners in Jacksonville, Fla., has long advocated the need for advisors to understand health and psychological issues to better serve their clients. That does not mean that advisors need to be therapists or psychologists – nor do they have to think about being on suicide watch.
"We're not going to fix clients," she says. "But it's important for advisors to recognize the signs of depression so they can help the client get help."
And advisors may be in a better position to help than they think, she suggests, "especially if some of their clients' depression is around financial issues."
The only way to confront these issues is to develop deeper relationships with clients, say advisors who have experience dealing with client suicides and mental health issues. 
Even then, it's extremely difficult because clients may feel ashamed to discuss mental illness, says CFP John Napolitano, CEO and president of U.S. Wealth Management in Braintree, Mass.
"Unfortunately, this behavior with troubled people who take their own lives isn't something that most advisors are even really going to sense," he says.
Napolitano says that he's encountered instances of one spouse trying to cover up mental health issues for the other. And even after clients come to the realization that they have an illness, it can take a long time to talk about it. 
"And when they do tell us," he says, "it's frequently under the a shroud of secrecy -'No one knows this but my wife and me and our close family.' Their lawyers, accountants, their insurance people, don't know."
Life insurance can be the most direct problem. Napolitano had one client, a doctor, who took out a life insurance policy, and then took her own life 22 months into the term. Because of the standard two-year claim exclusion, death benefits were denied, but the premium was returned.
"The estate got around $30,000 rather than the $2 million they expected." Napolitano says.
The more common problem, however, is that premiums can be more expensive for clients being treated for mental illness – and sometimes, they'll be denied policies altogether.
Napolitano says that when new clients come to him or when current clients apply for insurance, he always wants to see not just the contracts but the applications, as well.
"When we do a comprehensive risk review, the application is where issues of concern would be disclosed, whether it's family history or the client's current medical condition, or any meds they need to take," he says.
A recent history that includes many changing medications can be a problem, he says. 
"That means they haven't really figured it out yet, and will probably cause a very high rating on the policy, or a denial," says Napolitano.
The good news, says McClanahan, is that with changing attitudes about depression over the past few decades, it's easier for clients whose illness is controlled to get life insurance.
"They may have to pay higher rates, but they can still get it," she says.
McClanahan helps clients to get insurance by helping to shape their applications.
"If they're already depressed, they're just going to be further depressed about not being able to get life insurance," she says. "You've got to learn how to put the story in the best light – but of course don't tell lies."
Never try to hide anything, she cautions; the insurance companies will see if a patient has been taking medications. On the other hand, insurers are not likely to look at medications alone.
"They're going to look at the records, too," she says. "So make sure clients get their medical records before they apply for life insurance – make sure the latest entries say the depression has been well controlled – you've got to create your narratives before you let them read the book."
McClanahan says it's also a good idea for advisors to learn how to discuss suicide, because it's likely to affect people their clients know. 
"That way, if a client brings it up, you're not blindsided," she says. "I might say to a client that I can't imagine ever having to go through that, and ask them what the experience was like for them – that gives them permission to talk about it, validates that it was a horrible thing for them, and it lets them know that you're willing to listen."
And McClanahan says that once advisors learn to listen, they can overcome their own reticence in discussing tough issues – and become better at asking open-ended questions ("How are you feeling?" "You seem a little down?") that in turn make clients comfortable enough to talk about themselves. 
"You can do it without it being an inquisition," she says. 
If clients sense that advisors really care, they'll open up.
Advisors might ask if clients are feeling sad, or if they've thought about talking to a therapist.
"If they seem really despondent, then it's important to ask, and, yes, you could help to save their life: Are you thinking about hurting yourself? People who are suicidal will tell you yes, and then all you've got to do is pick up the phone and get help," McClanahan says.
Of course, advisors need to make sure that they have a network of professionals they can refer clients to. 
When clients open up to Napolitano, he often finds that they've already seen therapists. He thinks counseling may have helped them realize that it's much harder to go it alone – a lesson that advisors might learn from.
"I almost wonder," he says, "whether they decided to tell us because the counselor told them, 'You don't need to carry this on your shoulders: there's a big support network out there for you. Don't be afraid to use it.'"