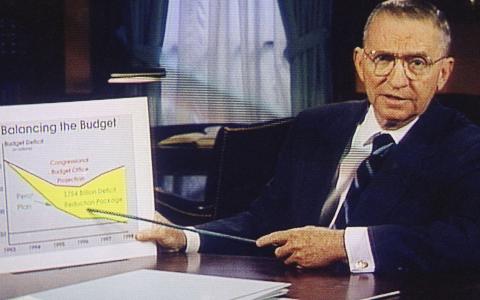 July 9, 2019
(Dallas News) Ross Perot, self-made billionaire, renowned patriot and two-time independent candidate for U.S. president, has died after a five-month battle with leukemia.
He was 89.
The pioneer of the computer services industry, who founded Electronic Data Systems Corp. in 1962 and Perot Systems Corp. 26 years later, was just 5-foot-6, but his presence filled a room.
"Describe my father?" Ross Perot Jr., his only son and CEO of the Perot Group, asked rhetorically in an interview. "Obviously a great family man, wonderful father. But at the end of the day, he was a wonderful humanitarian.
"Every day he came to work trying to figure out how he could help somebody."
Perot was diagnosed with leukemia in February. A massive secondary infection the next month nearly killed him, according to the family.
In true Perot fashion, he fought back, showing up at the office most days in his dark suit with the omnipresent American flag on his lapel.
Strong roots
Family influence and an East Texas upbringing molded Perot.
The third child of Lulu May Ray and Gabriel Ross Perot was born in Texarkana in 1930.
When Perot was 25, he dug his father's grave with a shovel and filled it as a final tribute to him.
Bill Gates of the '60s
As of July, Forbes estimated Perot's wealth at $4.1 billion, making him the 478th-richest person in world. That didn't include the riches he bestowed on his family and community.
Forbes ranked Perot's self-made quotient as a full-fledged 10. That's because he started his empire on his 32nd birthday as a one-man operation financed with $1,000 borrowed from Margot.
Perot came up with the name Electronic Data Systems while attending Sunday service at Highland Park Presbyterian Church, where he and Margot have been members since moving to Dallas in 1957. He scribbled it down on the back of a pledge envelope.
Perot became a multimillionaire when he took EDS public in 1968.
In a 2018 interview, Perot Jr. described the family's dinner the night before the company's IPO. "Dad said, 'Now tomorrow, we're going to take EDS public, and a lot of people are going to write about the money that we have. But remember, none of this is important. The only thing that's important is our family and how we take care and respect our family.'
"That's the first time we ever had a money conversation in the family.
"Then we watched Dad become the Bill Gates of the '60s. As I tell the children, Fortune said he was 'the fastest, richest Texan ever.' "
Fortune added the "H." to Perot's name when it put him on its cover after EDS went public. "The media took to it, and it stuck," said Perot Jr.
Perot became a billionaire in 1984 when General Motors Corp. bought EDS for nearly $2.6 billion.
But the marriage of titans was short-lived, with Perot and GM chairman Roger Smith at loggerheads over such things as GM's two underfunded employee pension plans while top management's retirement plan had no such deficit.
GM wanted to make acquisitions. Perot wanted to make better cars.
In 1986, the automaker shelled out $750 million to buy back Perot's stock. Perot agreed to sever all ties with GM and EDS and end his public haranguing of Smith.
Unfortunately for EDS, GM didn't get a noncompete agreement.
In 1988, Perot, Perot Jr. and a handful of former EDS loyalists launched Perot Systems in Plano. The information technology services company grew to more than 23,000 employees and had an annual revenue of $2.8 billion when Dell Inc. acquired it in 2009 for $3.9 billion.
Father and son pocketed another $1 billion in that deal.
"Ross had an uncanny ability to think about six moves ahead," said former EDS executive Tom Meurer, trustee of the Perot Family Trust. "He saw things that most people didn't. It was a sixth sense."
Betting on newbies
In 1968, Perot tapped Ken Langone, a 33-year-old Wall Street up-and-comer, to handle EDS' first public offering. The pair went on to become billionaires and lifelong best buddies.
Orson Swindle, who shared a cell with Sen. John McCain in North Vietnam, said Perot was "one of the most truly patriotic Americans" he'd ever met. "His affinity for veterans and people who serve the country was beyond description. He was brilliant. He had instincts that defied imagination."
The retired U.S. Marine lieutenant colonel and former Federal Trade Commissioner said a mutual buddy pegged Perot perfectly. "My friend said, 'You know what? Ross is a Boy Scout who knows how to street fight.' "
Dallas attorney Tom Luce was 34 in 1974 when Perot hired him for his personal and EDS' legal business.
Their close relationship lasted for 45 years.
"Ross was Churchillian in his tenacity," said Luce, founder of Hughes & Luce LLP and now chairman of the educational initiative Texas 2036. "His favorite quote was 'Never, never, never, never give in.' And he never did."​​​​​​​​​​​​​
Perot the pack rat
Perot collected everything from whimsical toys to priceless artifacts.
A 10,000-square-foot library that's part of the Perot Group's headquarters features a mind-boggling array of memorabilia, including Osama bin Laden's walking cane, which was given to Perot by the special forces who killed the terrorist.
Perot was particularly fond of Norman Rockwell and important American history paintings. In later years, he had many of these treasures reproduced in China and then sold the originals to fund the Perot Foundation's philanthropic efforts.
"He was a horse trader. He loved to trade," said Perot Jr. "If it was a slow day, he wanted to sell something."
Carolyn Rathjen, vice president and executive director of the Perot Foundation, said her mother put her foot down when her dad tried to repurpose some of the art in their home.
"There's a beautiful Remington watercolor in their house of a cavalry officer that kinda looks like Dad," said the Perots' third daughter. "I saw it in a Sotheby's catalog, so I called my mom and I said, 'Mom, I didn't know you were selling that watercolor.' She said, 'I'm looking at it right now. We're not selling it.' I said, 'I think you've got a fake one in your house.'
"She got that one taken back from the auction."
Perot owned the only Magna Carta ever allowed to leave Great Britain. He loaned it to the National Archives in Washington, D.C., and in 2007, the Perot Foundation sold it for a tidy $20 million profit.
The new owner donated it to the archives, where it remains on display with the Declaration of Independence and the United States Constitution.
Drugs, education and veterans
In 1982, Perot led Gov. Bill Clements' unorthodox Texas-size war on drugs.
Two years later, Perot was the driving force behind Texas' landmark schools package passed by the Legislature in the summer of 1984. It included the no-pass, no-play rule, a 22-pupil limit in elementary schools, prekindergarten classes for disadvantaged children and high school graduation tests that still shape education in Texas today.
The University of Texas Southwestern Medical Center was a major recipient of the Perot Foundation's largesse.
"Ross wanted to understand the projects and approve the overall plans before committing his funds, and he kept tabs on what was going on," said Kern Wildenthal, president of the Children's Medical Center Foundation, who retired as president of UT Southwestern in 2008. "But he never interfered or second-guessed. He was an ideal philanthropist in that regard."
Over the decades, Perot, his family and the Perot Foundation have made more than $90 million in direct philanthropic commitments to UT Southwestern, Wildenthal said.
"Add in the many bills Ross personally paid to cover the care of indigent or uninsured sick, injured veterans, armed forces members and others, his gifts to Children's Medical Center for work done there by UT Southwestern faculty members and the funds given to Zale Lipshy when it was an independent hospital, and his total contributions to the medical center would surpass well over $100 million," he said.
Perot spent much of his later years focused on making sure U.S. troops received the best medical treatment.
Shortly after the Gulf War ended in 1991, Perot became concerned about the large number of veterans returning from the battlefield with strange neurological symptoms. He donated $2.5 million to seed Dr. Robert Haley's research at UT Southwestern.
In October 2000, Perot joined forces with Sen. Kay Bailey Hutchison to land $5 million in a defense spending to further fund Haley's landmark studies, which led to compelling evidence that the chemical toxin-induced Gulf War syndrome was real.
"Ross instigated the research, and Dr. Haley did it," U.S. ambassador to NATO Hutchison said in an interview. "They took the abuse and never gave up. It was amazing."
The Perot children have followed in their parents' philanthropic footsteps.
In 1981, they made a multimillion-dollar lead gift to establish the Margot Perot Women's and Children's Hospital at Presbyterian Hospital. The gift commemorated their parents' 25th wedding anniversary.
In 2008, the Perot offspring donated $50 million to build the Perot Museum of Nature and Science in honor of their parents.
When Perot was asked in 2016 what he wanted to be remembered for, he shook off the question with: "Aw, I don't worry about that."
That interview with The News would be his last. His parting words: "Texas born. Texas bred. When I die, I'll be Texas dead. Ha!"
A public tribute is being planned.