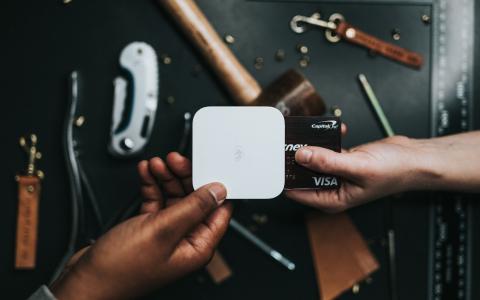 January 15, 2021
Two hours after officially cancelling his $5.3 billion deal with Visa, Zach Perret doesn't sound like a guy who just walked away from a lifechanging transaction (and accompanying amount of liquid wealth).
Visa's agreement to acquire Plaid had kicked off 2020 last January by validating fintech's blockbuster value, and was followed by a flurry of M&A in the industry ahead of the pandemic—including Morgan Stanley's $13 billion acquisition of E*Trade in February, and Intuit's purchase of Credit Karma for a final price of $8.1 billion that same month.
For Plaid's grand exit to fail, scuttled by a Department of Justice antitrust lawsuit that promised to tie the deal up in purgatory for years to come, "is like the most 2020 thing to happen to a little startup," bemoans a person close to the company.
And yet Perret, Plaid's 33-year-old CEO and cofounder, seems to be bursting with optimism, talking at laser-speed about his company's path forward—even after having spent much of the past couple of hours explaining his decision to his 600 or so employees who were "definitely surprised" by the news that one of the biggest deals in fintech history would no longer happen.
"As we look to the future, we've never been more excited about what it holds for Plaid," Perret tells me. "It's going to be a very fun few years."
Of course, in the year since Visa agreed to buy Plaid, which provides the link between your bank account data and many of your favorite fintech apps (from Coinbase to Robinhood to Venmo), the startup's prospects have soared. The pandemic has shifted finance's center of gravity from the bank branch to your home, and particularly your phone: Plaid's customer base ballooned 60% in 2020, to more than 4,000 companies using its software (including Fortune 500 players like PayPal and heavyweights like Square), as well as "hundreds of new banks" connected to its network.
Plus, the DOJ lawsuit raised Plaid's profile considerably by crediting to it an ambition that Plaid itself has yet to articulate, at least publicly. In announcing Tuesday that it had agreed to dismiss its antitrust suit now that the deal is off, the regulator proclaimed in a press release: "Plaid, a successful fintech firm, is developing a payments platform that would challenge Visa's monopoly."
Perret has yet to confirm whether he hopes to turn Plaid into a money-moving company itself—rather than just the backend powering such payments tech— but the possibility revealed by the now-dead deal has already whetted investors' appetites. "Has there been a case where failure increased market value so much?" Kevin Kwok, a former venture capitalist, wrote on Twitter.
For his part, Perret disputes the DOJ's read on Plaid and its relationship with Visa; the two companies say they now plan to move forward as partners in lieu of the acquisition. "We don't see Visa as a competitor nor does Visa see Plaid as a competitor," says Perret. "Plaid does a lot of things that are payment-adjacent, but ultimately our business is focused on financial data."
Still, it's likely that Plaid's market value will increase even beyond the Visa deal's price tag in the coming months—though by what means is an open question. Speculation is already swirling (see below) about whether Plaid would go public via a SPAC, or special purpose acquisition company, though Perret wouldn't comment on whether he's considering that or other listing options. And after the rigmarole with the DOJ, it's hard to imagine either a potential acquirer or the startup itself thinking about entering into an M&A deal anytime soon. Yet going it alone means Plaid will almost certainly seek outside venture funding in the next few months.
"We're in a phase as a business where we're fortunate to be growing really well and we're going to invest in that growth," says Perret. "We're excited to be a standalone company and we're excited to be a fintech and what comes next."
Raising money now shouldn't be much of a problem. Mary Meeker, the renowned Internet investor who led Plaid's most recent funding round in late 2018 (and now heads new venture firm Bond), confirmed her continuing interest in a statement: "We are confident in Zach and the team's ability to lead Plaid as the digitization of finance continues," she wrote, "And we support the company's decision to pursue an independent path in order to fully realize the potential ahead."
Get ready 2021: fintech is coming for you.
This article originally appeared on Fortune.