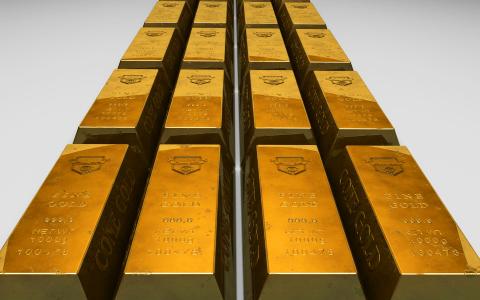 June 1, 2023
(Bloomberg) - Gold still looks too expensive after recent declines, according to a Pimco managing director who says sticky inflation will make it difficult for the Federal Reserve to meaningfully cut rates.
The precious metal fell in May, with prices retreating from just shy of a record early in the month. More losses could be in store, even if it's well-supported over the longer term, according to Greg Sharenow, who manages a portfolio focused on energy and commodities at Pacific Investment Management Co.
Bullion is "modestly over-valued" compared with inflation-linked government bonds, or TIPs, and those are probably better value in multi-asset portfolios for now, he said in an interview. Real bond yields are likely to stay higher for longer, he said, pressuring non-interest bearing gold.
The metal is still more than 20% higher than a low last September, after a rally fueled largely by investors anticipating an end to the Fed's rate hikes. There are still mixed views on when central banks will be able to ease policy, and on whether developed economies can avoid recessions. The passing of a US debt-limit deal in the House removes one risk.
"The biggest challenge one has right now is to figure out the lagged effects of any credit tightening that is coming from some of the central banks," said Sharenow. "The uncertainty band still remains fairly wide."
Mild recessions in developed markets are "more than likely", but while the Fed may be nearing the end of its tightening cycle, that doesn't preclude another hike, the Pimco executive said. Central banks could struggle to bring down rates in the face of deglobalization and so-called "greenflation" as the world shifts from fossil fuels to renewable energy.
Still, the long-term outlook for gold — which Sharenow calls a 25-year duration asset — looks brighter as central banks look to diversify holdings away from dollar assets. There's already been a "tremendous amount of interest" from central banks that have helped support bullion at recent levels, he said.
"The safety and security of gold right now has a high currency to them," he said, "There's a lot of countries that are questioning their dollar reserves."
By Sybilla Gross