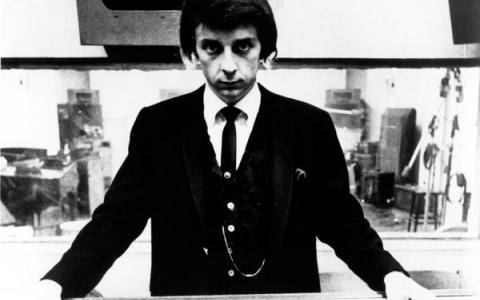 January 19, 2021
Phil Spector passed away Saturday at age 81 after being diagnosed with COVID-19, reports said. The legendary music producer and convicted murderer's net worth was estimated to be $50 million at the time of his death.
Spector is considered one of the most influential producers of all time, having worked on iconic albums and songs of some of the biggest names in music history. He made his mark in the 1960s, producing more than 20 albums that made the Top 40 charts, according to Celebrity Net Worth. 
Among the hit songs Spector produced or helped produce are "Unchained Melody," the Ronettes' "Be My Baby," the Righteous Brothers' "You've Lost That Lovin' Feelin" and John Lennon's "Imagine." He worked with The Beatles, Leonard Cohen, Beach Boys, Bruce Springsteen, Tina Turner and The Ramones, among many others. Due to this, his net worth could actually be bigger if royalties and current inflation rates were to be considered. 
Spector is credited for pioneering the "Wall of Sound" production style, which involves layering instruments and arrangements to create a dense, echoing sound.
The Bronx, New York native won the 1973 Grammy for album of the year for his work on "The Concert for Bangladesh." He was inducted into the Rock and Roll Hall of Fame in 1989 in the non-performers category and the Songwriters Hall of Fame in 1997, solidifying his place in the history of the art-rock genre, CNN reported.
Before becoming a producer, Spector was part of the band The Teddy Bears. Soon, he would form his own record label called Philles Records in 1960. However, despite the illustrious career, his reputation took a dive after he was convicted of second-degree murder in 2009 for the fatal shooting of actress and model Lana Clarkson.
Clarkson was found lifeless in February 2003 in the producer's mansion in Alhambra, California, with a gunshot wound. Reports said the two went home together after meeting at the House of Blues in Los Angeles. Spector was sentenced to 19 years to life in prison and would have been eligible for parole in 2025.
On the personal side, he married Veronica "Ronnie" Bennett in 1968. The two divorced in 1974. Spector tied the knot with Rachelle Short in 2006, but they went their separate ways in 2019.
After his second divorce, Spector's Alhambra mansion was put up for sale for $3.9 million. It was originally listed for $5.5 million, but buyers were not too keen to acquire a property where a crime took place. The property features nine bedrooms, two full kitchens and a view of the San Gabriel Valley, a report from Realtor.com revealed. 
Spector was being treated at a Northern California hospital for COVID-19 before he passed away, an unnamed source "familiar with his medical condition who wasn't authorized to speak publicly on the matter" told the Los Angeles Times.
This article originally appeared on IBT.