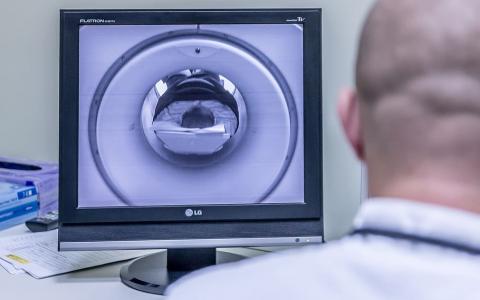 September 19, 2020
(Global X) Telemedicine and Digital Health has received significant attention throughout the ongoing COVID-19 pandemic. With large swaths of the global population under stay-at-home orders, technology-based tools that facilitate remote communication with doctors and enable patient monitoring became critical. 
Some U.S. health care providers report that telehealth visits, defined as consultations in which a patient connects with a doctor via voice or video chat, increased by as much as 175x since the pandemic began. Additionally, the strain the pandemic put on all aspects of the global health care system highlights broader opportunities to modernize health care by more effectively leveraging technology and digitization.
Despite the recent attention directed at this theme, we believe the long-term paradigm shift in health care toward digitization is still in its early stages and is driven by several underlying factors:
Unequal access to health care across demographics and geographies highlights opportunities for technology to expand the industry's reach. To this point, 15.6M excess deaths occurred in low- and middle-income countries in 2016, 55% from inadequate care and 45% from non-utilization of health care.
People are living longer, and populations are getting older. Life expectancy rates grew faster from 2000 to 2016 than in any period since the 1960s. And by 2100, 28% of the global population could be over the age of 60, compared to just 13% in 2017. Older populations have greater health care needs and health care providers will need to innovate to treat those patients effectively and efficiently.
Inefficiency and stagnation in global health care systems result in sub-optimal outcomes for both health providers and patients. The OECD estimates that $1.3 trillion, or 20% of annual health care expenditures in OECD countries comes from systemic inefficiencies that include administrative complexities, pricing failure, redundancies, and fraud.
Increased connectivity makes the delivery of virtual health services possible. Today, there are 4.6 billion active internet users globally.
In our view, these trends are driving significant opportunity in telemedicine and digital health – the market for these technologies reached an estimated $175 billion in 2019 and is expected to grow to over $657 billion by 2026. (MORE)
EDOC: The Global X Telemedicine & Digital Health ETF seeks to invest in companies positioned to benefit from further advances in the field of telemedicine and digital health. This includes companies involved in Telemedicine, Health Care Analytics, Connected Health Care Devices, and Administrative Digitization.