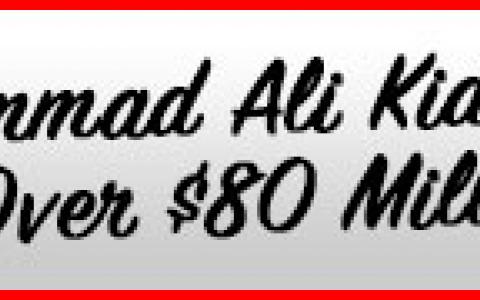 January 8, 2017
Dynastic thunder within the blended family would actually have been much louder if smart advisors hadn't worked so hard to keep the assets under the three-time champion's ultimate control.
By superstar standards, Muhammad Ali's estate was relatively easy to settle. As long as the truce between his nine kids and his widow holds, all that really remains is the venting of grievances and writing the checks.
Of course, those grievances can get mighty fierce, especially with second-generation boxers with grudges to resolve. We're not going to count this one as finished until the last papers are signed.
But when you consider that Ali only died in June and he'd been sick for decades, the efficiency with which the advisors prepared this estate is really something beautiful to behold.
Only superficial disputes
Most of Ali's kids -- children of several different mothers -- aren't friendly with their dad's widow Yolanda or "Lonnie," who they say tried to isolate their father as his Parkinson's disease progressed.
They're raising a stink now because the will reportedly gives Lonnie a double share of the estate.
Only the youngest of the kids, onetime pro baseball hopeful Asaad, is on Lonnie's side. She adopted him as a baby and they have the closest maternal bond.
The others resent her. And since she's apparently taking $12 million from the estate compared to their $6 million apiece, their long-simmering irritation now carries a concrete price tag.
They dislike each other only marginally less, so the odds are good that any unified front against stepmom will dissolve whether they get what they want or not.
Either way, while it's natural not to like all your relatives, the estate plan at least avoids most of the classic wedges that drive dynasties permanently apart.
For one thing, all the kids get an equal share. There are no favorites and no special treatment. In the eyes of the will, everyone is equally talented and equally capable of making their own way in the world.
That's probably how the nine of them managed to achieve even a temporary detente in the first place. Even Asaad has a common cause with his sisters and older brother, while they have no real reason to criticize his position.
As for Yolanda, a double share is actually a lot lower than it would have been naturally. Ali's advisors evidently did their work well, and they did it decades ago, when their client was still in his peak earnings cycle.
Separate property protects the kids
Ali died in Arizona, where he and Lonnie had lived since 2005. While it's possible that he maintained his legal residence elsewhere, let's start with that state's inheritance system first.
Arizona is a community property state so in theory Lonnie could simply claw back her half of the money Ali earned since he married her 30 years ago.
That would definitely include the $50 million Ali earned for selling his personal brand in 2006 as well as the secondary $2 million rights package he cashed out on three years before his death.
Lonnie even helped set up the holding company that held those rights in the first place, so if there was a way to claim that money as community property, she'd be entitled to do so.
However, the fact that she isn't fighting a $12 million settlement makes me think that Ali locked up his assets well before they were married and then kept them separate thereafter.
Otherwise, Lonnie could simply bypass an Arizona will and claim at least $25 million if not a whole lot more. She's got an MBA. She knows exactly what he's worth.
And even if Ali was technically a resident of a state like Kentucky, where he was born and where his nonprofit organizations keep running, she'd be due 30% of his overall wealth.
So with that in mind, the kids might have $12-$13 million extra to split among them because the bulk of Ali's career earnings was never commingled. It translates to around $1.5 million apiece, which can make the difference between upper-middle-class comfort and true luxury for life.
And from what we know of Ali's life, separate assets make a whole lot of sense.
His first marriage dissolved before he really became a world-class champion. The second ended with a $2 million split under Chicago's equitable distribution rules, which means Ali was maybe only worth $4 million at the time.
The third marriage is where things get interesting. His lawyers insisted that his new wife sign a prenuptial contract but Ali refused to enforce it. She ended up with the house, the art collection and maybe half of a $2 million bond portfolio.
He kept the real estate, which tells me that the title on those properties was in too tight a grip for any Los Angeles divorce lawyer or even the notoriously sentimental Ali to loosen.
As a result, the proceeds from the eventual sale of those assets go to the kids, not Lonnie. They also get their piece of his holding companies.
Odds are good their inheritance stake in all these assets was set early on in order to bypass questions of surviving spousal shares. His lawyers really are good.
And as a result, their client's kids don't have the age-old concern that so many blended families face. Dad's last wife doesn't squeeze them out of the family fortune.
Asaad will probably inherit whatever Lonnie leaves behind. But the other eight aren't penalized in the meantime simply because their mothers couldn't stay with Ali.
Tempers may run high over the next few weeks, but nobody can argue that the terms of the will that are being reported aren't fair. That's probably all the greatest boxer of his generation could have hoped for: a little peace.