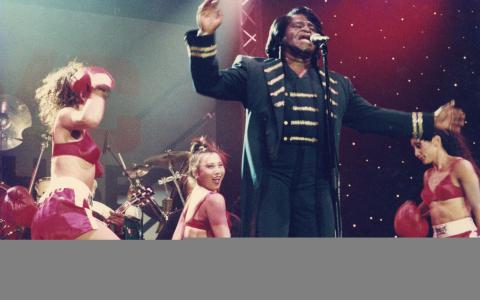 July 20, 2020
James Brown died Christmas Day 2006. But almost 15 years later, litigation over his estate rages on. The Godfather of Soul had bequeathed the majority of his assets to underprivileged students in South Carolina and Georgia, but not a single scholarship has been given, pointed out Donald W. Beatty chief justice of South Carolina's Supreme Court.
Back in June, the South Carolina Supreme Court finally began sorting out the litigation that has been part of Brown's estate since his death. They ruled that the singer had never been legally married to his fourth wife, Tomi Rae Hynie, because she had not annulled a previous marriage.
The decision weakens Hynie's claims to the estate, which has been valued to be worth between $5 million and $100 million, and the first real motion forward in years. According to the New York Times, "the Supreme Court instructed the lower court to "promptly proceed with the probate of Brown's estate in accordance with his estate plan," which called for the creation of a charitable trust to help educate poor children."
In accordance with South Carolina law, Hynie, as the singer's widow, would have had the right under state law to a third of Brown's estate's value, despite whatever it said in his will.
Brown's estate is complicated by the legitimacy of Hynie's previous marriage. She was married in 2001 to Javed Ahmed, a Pakistani man who already had three wives in his native country. Her lawyers have argued that since Mr. Ahmed was a bigamist, their marriage was void. This was an opinion lower courts had upheld, declaring her marriage to Brown as valid.
However, South Carolina's highest court disagreed with the lower court's findings: "All marriages contracted while a party has a living spouse are invalid unless the party's first marriage has been 'declared void' by an order of a competent court," noted the state supreme court. Of course, Hynie's attorneys will be filing "a petition to reconsider and rehear the decision."
Hynie is entitled as spouse to a share of Brown's music copyrights under federal law and has already settled part of her dispute with the estate, agreeing to give 65 percent of any proceeds from her so-called termination rights—copyrights that, though once sold, can return to the songwriter or his heirs after several decades—to the charity.
Brown's will had set aside $2 million to underwrite scholarships for his grandchildren. It designated that his costumes and other household effects were to go to six of his children; the rest of the estate was to go to the charitable trust for the poor, called the "I Feel Good Trust."
The real value of Brown's legacy lies in the "termination rights" to his song publishing, which are not part of the estate. Even if those copyrights have been sold to a music publisher, they can be terminated after several decades and the rights will return to the songwriter or their heirs. From there it is up to them to sell or license the songs.
According to a lawsuit by nine of Brown's children, Hynie, in 2015, sold her share of termination rights in five of Brown's songs to publisher Warner Chappell Music, garnering almost $1.9 million. The lawsuit claims Hynie and her son, James Brown II, of "unlawfully" making deals without informing the other children and grandchildren.
A settlement with Warner Chappell was negotiated and the heirs also transferred their shares and received half of that money, yet the federal lawsuit remains.
South Carolina's highest court's ruling is significant. However, Brown's 2000 will said, "Any heirs who challenged it would be disinherited, several of his children and grandchildren sued after his death," notes the New York Times. Adding, "They asked to remove Mr. Brown's appointed executors, including the accountant David Cannon; the lawyer Albert H. Dallas (known as Buddy); and the former judge Alfred Bradley."
One question remaining is how Hynie's son, James Brown II, will be considered when it comes to being an heir to the estate. Apparently, the nine other heirs are more sympathetic to his claim, though no details are known at this time.
As of this moment, it seems that the will Brown drafted is more likely to be implemented that it has seemed like it would for some time.