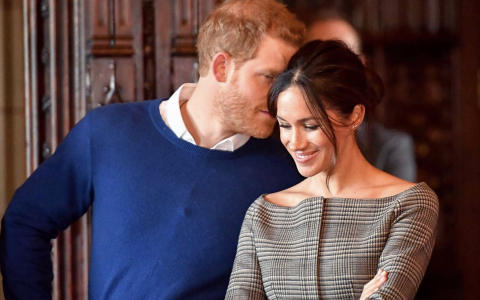 February 6, 2020
Mark Cuban shared a little free financial advice to Prince Harry and Meghan Markle last week. Speaking on TMZ/Fox's upcoming special, "Harry & Megan: The Royals in Crisis," the Dallas Mavericks owner let it be known that he believes the freshly free couple could make "an ungodly amount of money" in their new life in Canada.
"As long as they stay authentic, as long as they limit their projects and don't try to sell everything and anything, then I think they are the new Obamas," remarked Cuban. Adding, "They will have such a valuable brand that they will be able to pick and choose whatever they want to do.... They're gonna be living the dream," Cuban said.
If you're wondering just how much that might be, remember that the former White House residents earned $65 million for their joint book deal with Penguin Random House, according to the Financial Times. Michelle's "Becoming" was the number one selling book of 2018, and there's a good chance that Barak's outpaces that whenever it hits shelves. More importantly, that number doesn't even begin to count the amount the couple has made from speaking engagements and the reported deal they inked with Netflix.
Whether the Sussexes end up penning book deals remains in question. But Ronn Torossian, CEO of 5W Public Relations, told the Daily Mail that the couple are inspired by the former American President and first lady. And Harper's Bazaar stated that it's "extremely likely" Meghan will write a book, since according to the magazine, she has "professed a love of writing in the past--don't forget she was a guest editor for British Vogue in 2019.
So are the royals worth as much as the Obamas? According to celebrity agent and chairman of London-based InterTalent Rights Group Jonathan Shalit, "they are 100% more valuable than the Obamas." The agent told The Associated Press as much and explained, "The Obamas aren't royal. They are."
Even if neither pen a book, the Sussexes are expected to pull in plenty of sums of cash no matter what they end up doing. Netflix and DIsney have both expressed interest in working with the royal couple.
Cuban explained the whirl that is already surround the couple just weeks after leaving their former life behind, "Harry and Meghan are incredibly marketable." Adding, "If either of them came on 'Shark Tank,' I wouldn't even wait for them to pitch. I'd be like 'I'm in. Whatever you want, yes,' because they're so marketable. It would be so easy to develop products and projects for them, with them, and around them." 
Prince Harry is currently expected to have a net worth of around $40 million, while Meghan is closer to $2.2 million. Either way, expect both of their bank accounts to grow significantly in the coming years.