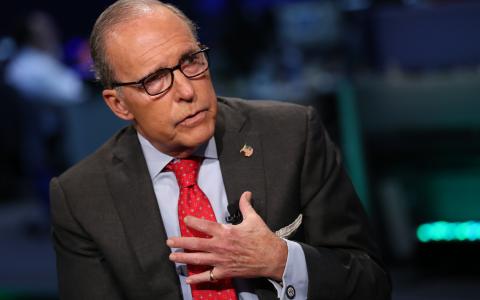 September 21, 2019
(Newsmax) The U.S. economy has the potential for impressive growth, considering the signs that are being presented, National U.S. Economic Council Director Larry Kudlow said Thursday. 
"The trick for us, regarding monetary and all other policies, let's remove any obstacles," Kudlow told Fox Business' Maria Bartiromo for "Mornings With Maria."
"With (fewer) regulations, low taxes the U.S. economy can grow 3% or 4% if we just let it."
Kudlow said he believes the Federal Reserve took a step in the right direction on Wednesday when it dropped the interest rate a quarter-point, but he knows that President Donald Trump wants the Fed to act in an even bolder way. 
Kudlow pointed out that James Bullard, the President of the St. Louis Fed, dissented from the quarter-point cut, calling for a half-point cut instead, and he agrees with him. 
Kudlow also on Thursday noted that the bond market's yield curve is upside down, but that does not mean a recession is on the way. 
'The yield curve point inversion points to a lot of congestion in the markets...the inflation outlook is very benign," said Kudlow. "The price indicators to adjust inflation rates may be at one-and-a-quarter, one-and-a-half percent. The target is two. They have got plenty of room."
He also said here has been a "blowout retail sales number for the U.S. economy" and best numbers for manufacturing production in five or six months."
Technology spending is also "very important," said Kudlow, and the "single biggest, fastest-growing" component of business investment is in intellectual property.