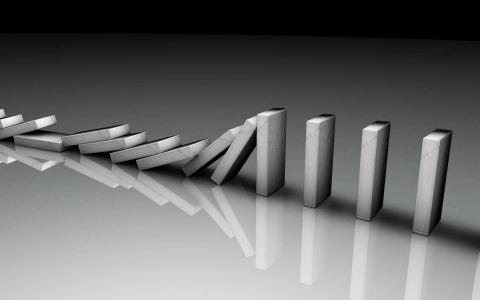 March 15, 2023
(Yahoo!Finance) - BlackRock (BLK) CEO Larry Fink warned in his latest annual letter the Federal Reserve's aggressive rate hikes have "exposed cracks in the financial system" in the wake of last week's stunning collapse of Silicon Valley Bank.
Writing in an annual letter to investors and CEOs on Wednesday, Fink said: "This past week we saw the biggest bank failure in more than 15 years as federal regulators seized Silicon Valley Bank. This is a classic asset-liability mismatch."
"It's too early to know how widespread the damage is," Fink cautioned, referencing both Signature Bank's (SBNY) and Silvergate's (SI) failures as well.
"The regulatory response has so far been swift, and decisive actions have helped stave off contagion risks. But markets remain on edge. Will asset-liability mismatches be the second domino to fall?"
Fink explained aggressive fiscal and monetary policy, which has defined markets since the 2008 financial crisis, has contributed to "sharply higher" levels of inflation not seen since the 1980s.
New inflation data released on Tuesday showed signs of cooling off in February but remained stubbornly high at 6% — well above the Federal Reserve's 2% target.
"To fight this inflation, the Federal Reserve in the past year has raised rates nearly 500 basis points. This is one price we're already paying for years of easy money – and was the first domino to drop."
As bond markets sank 15% last year in the face of higher interest rates, Fink added: "Something else had to give as the fastest pace of rate hikes since the 1980s exposed cracks in the financial system."
Fink predicted banks will now need to pull back on lending and said it's likely there will be stricter capital standards imposed on banks in the wake of SVB's collapse.
"Prior tightening cycles have often led to spectacular financial flameouts," the CEO warned, calling out the 1980s savings and loan crisis and the 1994 bankruptcy of Orange County, California.

"We don't know yet whether the consequences of easy money and regulatory changes will cascade throughout the U.S. regional banking sector (akin to the S&L Crisis) with more seizures and shutdowns coming."
Fink's letter comes a week before the Fed's next policy announcement, set for March 22, at which investors now expect the central bank to raise interest rates by 25 basis points, or 0.25%.
As of early afternoon on Wednesday, markets are pricing in a ~55% chance the Fed raises rates by 25 basis points with a ~45% chance the Fed leaves rates unchanged, according to data from the CME Group.
Last week, investors placed a better-than-50% chance on the Fed raising rates by 50 basis points this month following two days of testimony from Fed Chair Jerome Powell.
Developments from the banking sector over the last week have changed this outlook, with some Wall Street analysts surmising the recent bank failures, coupled with the risk of stoking financial instability, will alter the Federal Reserve's plans.
By Alexandra Canal · Senior Reporter