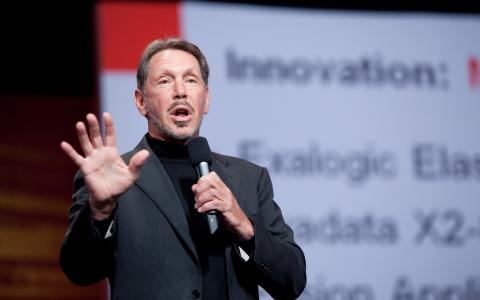 April 1, 2020
As Larry Ellison sits in one of several idyllic bubbles he has created for himself, a lush 249-acre estate in Rancho Mirage, California, the playground of the powerful near Palm Springs, the world begins to fall apart. It's Black Thursday, March 12, 2020: The U.S. stock market has suffered its greatest single-day percentage fall since the 1987 crash, President Trump ordered a ban on visitors traveling from Europe, the NBA's season was suspended, Disney decided to close its theme parks and America's dad, Tom Hanks, announced that he had the coronavirus, the scourge causing all these things. 
And no, not even a desert oasis can offer protection from the deluge. The founder of Oracle has already seen his company's stock drop 11% this day, and now torrents of rain pour down as if on cue. "Last week?" says Ellison, 75, who has been preparing to host 450,000 tennis fans for a tournament that will no longer be. "That was a year ago." 
Ellison has built a $59 billion fortune, the world's fifth-largest, by harnessing data. No surprise that he's already taken preemptive virus measures. Staffers greet guests at his estate with a no-contact thermometer just outside the gates. Those deemed sufficiently temperate pass by bottles of Purell, already a scarce commodity, neatly arranged on a coffee table. Cleaners are everywhere; as we talk in the estate's tennis pavilion, with both clay and hard court surfaces, adjacent to his personal 18-hole golf course, workers in waterproof black attire intermittently squeegee the windowpanes. 
From a corporate perspective, Ellison had similarly tried to inoculate Oracle two hours earlier on the company's quarterly earnings call. Although he stepped down as CEO in 2014, he remains chief technology officer, and more than in name only. "He's really one of the best engineers I've met," says Elon Musk, a close friend. "When we engage on a technical subject, he understands it very quickly, even when it's out of his normal arena, not software." Ellison joined CEO Safra Catz on the call; the pair reported figures that beat Wall Street's estimates, with Ellison rallying listeners with updates on the company's autonomous-database efforts. "There is no human labor," he told analysts. "Therefore, there is no human error." In afterhours trading, Oracle stock began recovering. 
Now, under the dark sky, Ellison turns his thoughts to the larger world. Over the past eight years, he's spent at least half a billion dollars on a Hawaiian island, Lanai, that he has turned into a laboratory for health and wellness powered by data. "Wellness is our product," says Ellison, speaking as if the secret to good health is achieved through processing bytes of raw data—which, for Ellison, it is. He named his wellness company Sensei, the Japanese word for "master," and the sensei in Sensei, according to Ellison, is (you guessed it) data. 
His plans for Lanai and Sensei had originally revolved around creating a data-driven health utopia, powered by clean energy, that could serve as a global prototype. But as with the rest of the world, the coronavirus was prompting a dramatic real-time shift. Within days, Ellison and President Trump were on the phone. Neither side will say who initiated the conversation. 
Read more on Forbes.