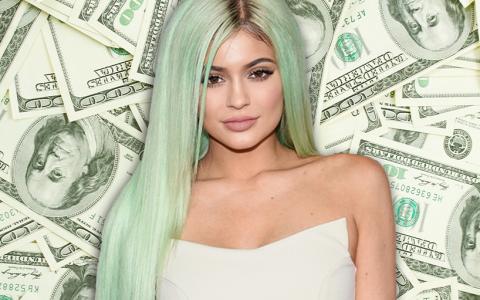 December 9, 2019
There's a lot of talk about how Kylie Jenner, 22, once known as a background character in the Kardashian saga, has graduated to the ranks of bona fide billionaires. But we're a little disappointed.
Jenner started her cosmetic company at age 18 and grew it to the point where we estimated it was worth $900 million a year ago. She owned 90% of the stock and her mother Kris retained the remaining stake.
Of course back then all valuations were notional and on paper only. While a lot of licensed Kardashian-Jenner products have come and gone, all the family-branded fashion and jewelry rarely adds up to more than a veneer on the basic licensing model.
The family owns their name and endorses the products. They get a fee and, on the right contract, a little participation on the equity side. It's nice cash but not exactly a true billionaire-making proposition.
In fact, from time to time I've wondered whether they're actually just tax sinks, essentially vanity companies. Kylie is different because her "vanity company" sold over $300 million in cosmetics last year. That's real scale. It's a real operation comparable to a lot of high-tech unicorn start-ups.
Do the conservative M&A math and Kylie Cosmetics supports a 3X sales multiple — without regard to the profit margins or how much the founder pays herself. That's equity, again the stuff of Silicon Valley fortunes like the ones Snap or Slack built.
Unlike the other licensed Kardashian-Jenner stuff out there where the family earns a slice of someone else's business in exchange for their name and marketing support, Kylie owns this venture outright. 
When established rival Coty paid $600 million in cash for 51% control of the company, Kylie got all of that and her remaining stake was valued at $450 million. She's a full-fledged billionaire now.
But she no longer calls the shots. This is now a Coty subsidiary. Her role will shrink. The company will become less entrepreneurial. Ultimately its connection to millennial social media sizzle will fade.
Even over the last year, the company's implied valuation didn't keep up with the S&P 500. This is not a move to recapitalize and grow faster. 
She took a lot of cash off the table while someone was willing to make an offer. When that happens, wealth doesn't really grow. It stabilizes. 
Don't get me wrong: a $600 million payday is great, especially when you're barely out of college age. Even in Treasury bonds, it turns into $1 million a month in interest, and of course the remaining participation will also pay dividends.
We just aren't expecting Kylie to match Jeff Bezos or other mega-billionaires on the makeup front. Coty won't want to leverage this acquisition to other millennial consumer segments, either, so this isn't going to be a cross-platform social marketing play any more, either.
Will she take this cash and reinvest it into something with more sizzle than Treasury bonds? That's an exciting scenario. Bezos started Amazon with a fraction of that money.
Will she become an incubator of other companies and brands? Again, exciting. That's how you turn $600 million in cash into mega billions over time.
But in that scenario, it's ironic that her original wealth creation machine now looks more likely to be a drag on her route to that mega-billionaire status. 
Look at the Lauders, who tend to get 6-8% richer every year as the family business evolves and the stock climbs. That's healthy appreciation but it's far from the classic Silicon Valley exponential trajectory. 
Estee Lauder is a mature company. So is Coty. But those stocks soared much faster this year than the paper valuation of Kylie's company. Were they eating her lunch? In that scenario, taking the buyout and walking away was the smart strategy.
Even then, however, she could have taken Coty stock for a full buyout and let her entire fortune ride on its new parent's performance.
After all, Coty trades at 1X sales now. It's a cheap stock on that basis. They paid up for Kylie's company but their currency was cash. They're the ones taking a risk and hoping to reap real rewards down the road.