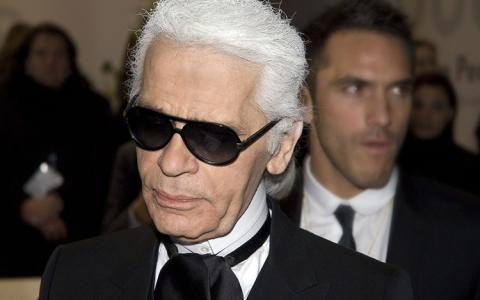 June 9, 2020
When Karl Lagerfeld died in 2019, rumours circulated that his Birman cat, Choupette, was to inherit his $270 million (approx.) fortune.
A year on and the Chanel creative director's estate has yet to be finalised but details have emerged that while Choupette is an heir, she isn't the only one set to inherit a share of his sizeable fortune, and the seven beneficiaries are struggling to access Lagerfeld's assets — that includes property in Paris and Monaco, a bookstore and designer furniture.
Enter: Lucien Frydlender, 87, Lagerfeld's "trusted" accountant for many decades. Tasked with managing the creative director's finances, Frydlender is responsible for distributing the estate according to the will that was drafted by Lagerfeld.
However, according to an investigation by French publication Le Parisienfeatured in Voici magazine, Frydlender has not been taking calls from the beneficiaries, and "after closing his office in September 2019, the former collaborator of Karl Lagerfeld has simply disappeared from radar," raising questions for those involved.
Frydlender's wife has come out defending her husband assuring there's nothing suspicious going and he is not "on an island paradise with a hidden treasure." Instead, she reports he is "very sick".
When Choupette will get her inheritance, and what that will look like, is anyone's guess, but over a year since the death of her owner, Lagerfeld, Chanel and, of course, Choupette fans have been concerned for the pet, that made over $4 million in 2015.
"People came by the store and said how sad they were, and half of it was about Choupette," Caroline Lebar, head of communications for the Karl Lagerfeld brand, admits. "They'd say, 'If she's alone, I'll take her home.'"
But Ms. Lebar promises Choupette is in safe hands, living in Paris with Lagerfeld's former housekeeper Françoise Caçote. "She is in good shape, and is surrounded by love."
The fortunate cat has starred in magazine spreads, had makeup lines named in her honour and is the inspiration for the novelty novel Choupette: The Private Life of a High-Flying Fashion Cat. She has her very own agent and according to The New York Times, at the height of her fame she had two minders, a bodyguard, a doctor and a chef.
This article originally appeared on nine.com.au.