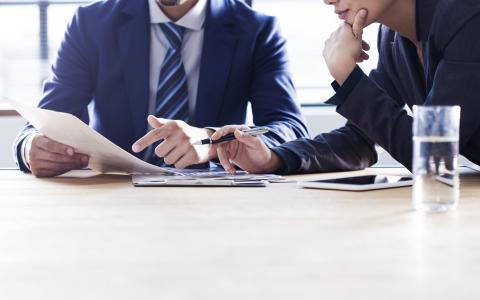 November 4, 2019
Wild interest rate fluctuations made the third quarter a tough time to manage investments supporting annuity obligations.
During a conference call on Thursday, Walter Berman, the chief financial officer of Ameriprise Financial Inc., discussed the 3rd quarter convulsion that affected the performance of securities analysts.
The company is reporting over $500 million in net income for the third quarter on $3.3 billion in revenue, up almost $50 million from the third quarter of last year.
Here's what happened to net flows for annuities, and life insurance product sales:
Variable Annuities: Net outflows of cash fell to $691 million, on a beginning balance of $78 billion, from $826 million in net outflows, on a beginning balance of $78 billion, in the 2018 third quarter.

Fixed Annuities: Net outflows increased to $511 million, on a beginning balance of $8.7 billion, from $199 million in net outflows, on a beginning balance of $9 billion, in the 2018 third quarter.
CEO Jim Cracchiolo expressed positivity during the call, saying, "These are well-managed, highly profitable businesses that deliver strong free cash flow and play an important role in how we serve our clients."
Over the summer, however, rates fell sharply.
"Overall, sales remained stable and helped to replenish the book," explained Cracchiolo. "We're focusing on managing risk appropriately and ensuring we have the right product designed for the environment."
Ameriprise is continuing to strengthen a program that protects the company's variable annuity business against ups and downs in the investment markets, and it's also adjusting some product features to manage risk, Cracchiolo said.
One way an insurer manages the risk associated with an indexed product or a fully variable product is to impose a "cap rate," or a limit on how much of the investment index or investment portfolio gains the customer gets to keep.
Ameriprise has been lowering the cap rates on some indexed universal life products, and it has adjusted variable annuity prices and benefit designs, Cracchiolo said.
For the third quarter, Ameriprise recorded $98 million in gains due to positive changes in assumptions about some aspects of the world, such as long-term care insurance (LTCI) premium rate increases, and LTCI policyholders' increasing willingness to give up policies or accept reduced benefits.
The company recorded $118 million in assumption charges due to concerns about a "significant interest rate dislocation."
During the call, Berman said that interest rates matter to the company because the company's annuity and insurance policy obligations can last for decades. Interest rate changes affect the projected value of the obligations.
Ameriprise has been assuming that, in the long term, rates will average around 5%. As of November 2018, the 10-year Treasury rate stood at 2.84%, but over the last 11 months, the 10-year rate droppedto 1.09%. That's the equivalent of a 60% pay cut on any 10-year Treasury holdings.
According to Berman, Ameriprise is now assuming that getting to 5% will take longer than expected.