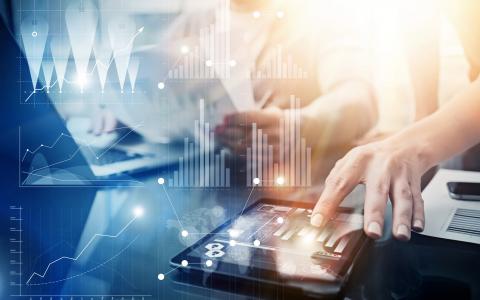 November 9, 2017
The good news?  Your firm has just signed up a major new customer, who wants to move all his assets to your platform from another broker/dealer. The bad news?  You'll have to shepherd his assets through a complex and sometimes nerve-wracking account transfer process. The client won't be able to complete transactions for days, maybe up to a week, and he'll be anxious about the transfer until the money shows up in the new account. Any errors will only make it take longer. 
Today's financial customers are likely to pay bills, manage checking accounts, monitor investments and get investment advice from their laptops and smart phones, thanks to a wide array of apps and web technologies designed for their convenience. But ask them to open a brokerage account with most firms, and all of the sudden, it's back to the 1970s – with page upon page of paper forms, signature boxes and printed disclosures. 
The whole process is clumsy and cumbersome for the customer, and it can be a roadblock for customers and advisors trying to establish new relationships. In addition, the process can be stressful for clients since they may not have access to their funds for several days to a week, and any errors in the transfer form can further delay movement of assets and any subsequent trading activity. 
Financial advisors, for their part, must comply with Know Your Customer regulations as they open and transfer accounts. These regulations require banks and other financial to gather and retain much more information than in the past. For instance, the Customer Identification Program requires financial institutions to retain copies of driver's licenses or passports for its individual customers, and a variety of business documents including articles of incorporation, licenses, partnership agreements, trust instruments and financial statements from its corporate clients. Institutions must also perform and document Customer Due Diligence which enables them to understand each clients' typical transaction patterns so that they can spot anomalies, as well as assessing individual customer risk. 
While there is still a lot of progress to be made, technology can help to streamline this process, making account opening and transfers a seamless electronic process from end to end. Digital systems store information in the cloud where it is safe, readily accessible and easily searchable, whenever you need it. 
Cutting edge back-end technology can mean the difference between smooth, problem-free transfers and account establishment and delays, errors and miscommunications. As you're evaluating technology platforms, particularly those that will serve as a hub for your customer data, look for these value-added features:
Technology built for the modern era:  Some back-end platforms were constructed during the mainframe era and only retrofitted to provide web and mobile-based interfaces. Look for service providers that can seamlessly support web services and APIs from third parties. 
Workflow enabled:  Several people at your firm may be involved in creating or transferring accounts, with different responsibilities for different parts of the process. An integrated platform makes it easy for people to complete their tasks separately, on their own schedules, without having to start the process over again every time a new person takes part. These systems also enable firms to enhance quality control by having separate account creators and approvers to ensure checks and balances.
Web services/API enabled:  Integration is critical. You don't want to have to manually input information that's readily available elsewhere. Web service enabled platforms can pull in data automatically from sources like your customer relationship management software, company website and others.
Model-based account building:  It sounds simple, but every time you open a new account, you should only have to fill in those fields specific to that new account. Everything else should auto fill  based on the account type you are opening. This helps to eliminate user error, keeps account characteristics consistent across accounts, and greatly speeds up the process. 
Account openings and transfers can be a headache if you're using antiquated software, but with the right technology platform the burden of these tasks can be greatly reduced. Innovest offers a seamless, integrated technology platform that has been built on the newest technology and can leverage automation  so that you can concentrate on the important jobs – like winning new clients and serving existing ones. For more information about the Innovest Platform and how it can transform your business, contact us at info@innovestsystems.com or visit our website at www.innovestsystems.com.