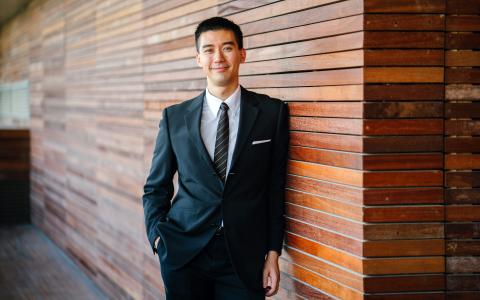 May 5, 2022
(Insurance Business Asia) - As insurance professionals work to provide customers with financial protection against risks and loss-causing events, they are very likely to encounter a wide variety of people. So, it is safe to say that one must be a "people person" to succeed in many insurance jobs.
Stefan Feldmann (pictured above), who was appointed head of HDI Global Asia-Pacific earlier this year, says that engaging with many kinds of people is one of the best parts of his work, and one of the reasons he has remained in the industry for decades.
Insurance Business: Can you tell us how you got into the insurance industry?
Stefan Feldmann: My insurance career began in my hometown of Münster in Germany's northwestern region of Westphalia. I was employed as an apprentice in LVM Versicherung, a mutual insurance company which, similar to HDI Global, had an excellent corporate culture with a very friendly, warm, inclusive and family-oriented atmosphere. Here, I learned the importance of working for employers who value their workers as individuals and provide a strong sense of belonging. I studied insurance business in Cologne before joining Allianz as a liability underwriter. After a few years at Allianz's headquarters in Münich, I accepted my first posting overseas. This was at Allianz in Singapore, where I developed the group's liability business in Asia-Pacific. I set up AGCS Pacific in 2005 and, five years later, was given the opportunity to build the HDI Global brand in Australia.
IB: What do you like the most about being in insurance?
SF: I would say working and interacting with people. We work in a very interesting industry where we constantly deal with all kinds of people. Engagement with colleagues, brokers, clients, ceding companies, all kinds of stakeholders in the different areas – that's what I love about our business.
I'm also proud of the professionalism and dedication of my colleagues and how well they operate and interact as a team. Finding and integrating the right talent as one of the most enjoyable aspects of the job.
IB: How does HDI's recent restructuring in APAC affect the business, as well as your own role?
SF: HDI Global's focus has always been sustainable, profitable growth. The Australian and Singapore offices have consistently delivered this since I took over responsibility in 2010 and 2016, respectively. As a result, we have grown into a sizeable corporate insurance player in Australasia and Southeast Asia. The company is now one of the leading and fastest-growing corporate insurers in the region.
Looking ahead, I see the industry facing a number of challenges such as digitisation, climate change and a shortage of talent. We've been working hard to address those issues for the benefit of both clients and brokers. Together with the local management team, we have developed the slogan "The company you want to be with". This underlines our ambition to provide the career opportunities and culture that will attract the talent it needs to become the leading corporate insurer in Australasia.
IB: What are some of the most memorable challenges you faced in your insurance career?
SF: When I joined HDI at the end of 2010, nobody in Australia and New Zealand knew our brand, our background or what the company stood for. Back then, we started with six employees. Today, we have 82. The premium volume and the underwriting result have grown significantly over the past 10 years.
During the pandemic, a challenge we all share, we organised many events via Zoom, making everyday life in the home office easier for our customers and brokers. There was a virtual cooking session with celebrity chef Colin Fassnidge, a gin and whiskey tasting, musical performances, and even a magic show for the kids who couldn't go to school in lockdown. We saw the crisis as an opportunity to be there for our customers and brokers as a caring partner, going beyond the insurance business. The challenges have also brought us closer together as a team, and we grew extraordinarily in the past financial year, despite the hurdles and difficulties created by COVID.
IB: What keeps you busy outside of work?
SF: I am quite an active person and I usually jump on my bike to commute to work. Sydney is much hillier than many people expect, so this exercise is quite a good workout and clears my head on the way home after a busy day in the office. My wife is also a yoga teacher, and we usually practise yoga together early in the morning.
IB: If you weren't in insurance, what would you be doing?
SF: This is a difficult question, as I do enjoy working in our industry. But if I had to choose, I'd be in the academe. From my university studies in Cologne and when I was working in Munich, I regularly flew to Asia, where I was working on a study of liability business in the region – in South Korea, Indonesia, Thailand and the Philippines. Then, during my time as a liability underwriter based in Singapore, I made many presentations on the concept of third-party liability and particularly product liability in various parts of Asia.
I was once invited to give a lecture at Tonji University in Shanghai about product liability. We expected only a small group of students to be interested in this subject, so only a small lecture room was booked. However, when I arrived at the university, there were about 500 students lining up to attend the lecture, which had to be moved to the Auditorium Maximus. This was quite an enjoyable experience for me, as a young liability underwriter.
IB: What advice would you give to someone working their way up the insurance ladder?
SF: If you work for a company that looks after you, supports you and invests in your career and development, stay with it. Don't jump from job to job. Particularly if you are a young underwriter, claims specialist engineer, or risk engineer, focus on your area and try to be an expert in your field. Whether property, liability, marine or engineering, make one area your home turf. That way you can always fall back on it and say "that's how I started."

By Gabriel Olano 
May 6, 2022