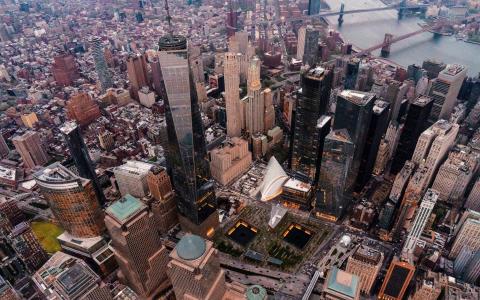 September 19, 2023
(Music Times) - Hugh Jackman is making headlines of a different kind.
He reportedly drastically slashed by $9 million to offload his extravagant three-story Manhattan condo.
This comes just months before the announcement of his impending divorce from wife Deborra-lee Furness after nearly 30 years together.
Friday brought the sad news that after many years of marriage, a joint statement from Hugh and Deborra-lee Jackman, confirmed their separation. Yet, just three months ago, they invested in sorts by reducing the cost of their West Village property to $29.9 million.
When the former couple first listed their five-bedroom, seven-bathroom triplex in 2008, they asked for an impressive $38.9 million. Though that's still quite a steep price tag, it is a significant drop from what they paid for it - $21 million - back when they bought it.
Radar Online uncovered reports revealing that the Jackmans reduced the cost of their home from $34 million in April to its present listing price of $29.9 million by June before surprising everyone with news of their divorce this past September.
Occupying three floors of 176 Perry Street, the stunning 11,000-square-foot home endows its inhabitants with luxurious amenities. Those fortunate enough to reside here are privy to a spacious recreation room and grand terraces on each level, offering breathtaking views over the Hudson River.
On Friday, after having been married for 27 years, it was announced by the couple that they would be parting ways. "We have had the great privilege to share an amazing marital bond for almost three decades," their joint statement read. They went on to say that it was now time to pursue individual growth and parted amicably.
"Our family has been and always will be our highest priority. We undertake this next chapter with gratitude, love, and kindness. We greatly appreciate your understanding in respecting our privacy as our family navigates this life transition."
Hugh Jackman Devastated
The recent separation of Hollywood star Hugh Jackman and his wife of more than two decades, Deborra-Lee Furness, has left the "Wolverine" actor in deep distress.
According to an insider source who spoke to Page Six, Hugh is absolutely "devastated" by the split and feels very sad.
According to a Broadway insider, Hugh and Deborra-Lee's marriage have been broken after many years together. "It happened a while ago," the insider said. "Friends and family knew about it."
Just weeks after their first meeting, the Oscar nominee knew he wanted to wed an actress with whom it had been love at first sight.
Married on April 11, 1996, after less than a year together, things didn't go as planned for parenthood. With multiple miscarriages and unsuccessful IVF treatments, Hugh Jackman and Deborra-lee Furness eventually decided upon adoption.

By Emma Winters
September 17, 2023