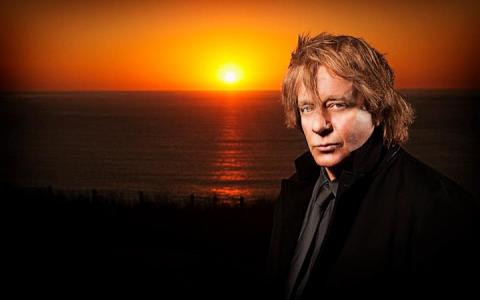 September 17, 2019
(grunge.com) Best known for his hits "Two Tickets to Paradise" and "Take Me Home Tonight," blue-collar rocker Eddie Money passed away on September 13, 2019, at the age of 70.
"The Money Family regrets to announce that Eddie passed away peacefully early this morning," his family said in a statement (via Variety). "It is with heavy hearts that we say goodbye to our loving husband and father. We cannot imagine our world without him. We are grateful that he will live on forever through his music."
Earlier this year, Money revealed on his Real Money reality TV show that he had been diagnosed with stage 4 esophageal cancer. "I thought I was just going in to get a checkup, and he told me I got cancer," he said. "Am I gonna live a long time? Who knows, it's in God's hands," he continued. "But you know what? I'll take every day I can get. Every day above ground is a good day." However, TMZ reports that Money died of complications from a heart valve procedure he underwent a few months ago.
Eddie Money's path to rock stardom was a strange one. The son of an NYPD police officer, the "Walk On Water" singer initially wanted to stay in the family business and actually served on the force for two years before quitting and pursuing his rock and roll dreams (via NBC News). "I would have been a very lenient cop," he told Rolling Stone in 2018.
The cop-turned-rocker struggled with drug addiction during his career, and in the early '80s, his life almost ended. According to People, Money overdosed on fentanyl in 1981, which led to him badly damaging his sciatic nerve. "It was very scary," Money told the publication in 1996. "I was in physical therapy for more than a year." His 1982 album, No Control, was written about the experience.
HOW MUCH EDDIE MONEY'S ESTATE MIGHT BE WORTH
Over the course of his rock career, Money scored 11 Top 30 hits on Billboard's Hot 100 and earned a Grammy nomination for his hit "Take Me Home Tonight."
According to Celebrity Net Worth, Money may have been worth about $20 million at the time of his death. He is survived by his wife and five children, but the directives of his will are not yet clear. As a resident of California since 1968, Money's family won't be subject to a state inheritance or estate tax since the state has neither. Depending on what form his fortune takes (cash, property, his music catalog, etc.) and how much his estate is valued at, Eddie Money's estate could be on the hook for several million dollars in federal estate taxes. The Richest reports that Money sold 5.5 million albums during his career, but it's unclear who owns the rights to the legendary rocker's catalog. Although Money's success peaked in the mid-'80s, he maintained a rabid fan base and made several concert appearances each year in the decade before his death.