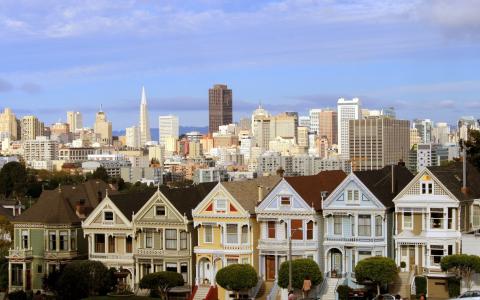 August 31, 2022
(Yahoo!Finance) - Buyer beware: You may want to think carefully about that home purchase now, according to one expert.
"From an affordability perspective, this might be the worst time you could buy because mortgage rates have spiked quite a bit," Chistopher Mayer, co-director of the Paul Milstein Center for Real Estate and professor at Columbia University, told Yahoo Finance Live (video above).
Mortgage rates have jumped by more than 2 percentage points since the start of the year, according to Freddie Mac, and sit at 5.55% as of August 25. While lower than the 5.81% registered in June, recent rate volatility has been enough to stifle demand.
"Rising rates are taking a lot of the steam out of the housing market," Mayer said.
Buyers are getting jittery with some 63,000 home-purchase agreements canceled in July, according to Redfin, equal to 16% of homes that went under contract that month. That's the highest rate of canceled contracts in more than two years and comes as buyers take advantage of slowed demand to gain back some of their negotiating power.
"Home sellers are still hoping to get their home what they would have gotten three or six months ago," Mayer said. "As a buyer part of the reason you're seeing contracts canceled, and homes sitting on the market a lot longer is buyers are looking at these rates and saying, 'I don't want to pay these prices or I can't afford to pay these prices' and sellers are still sticking and that makes it a tough time to be a buyer."
Even real estate investors, who scooped up nearly 1 in 5 homes sold in the U.S. during the height of the home buying frenzy last year, are growing more conservative amid higher borrowing costs.
Investors bought 19.4% of homes sold in the second quarter, Redfin reported, down slightly from 20.1% in the first quarter. That's the first decrease in two years of consecutive increases.
Real estate investors also purchased 87,000 homes in the second quarter, according to a new Redfin report, up 11% from the last quarter but down from a record high of 93,700 purchased in the third quarter of 2021, when rates for mortgages were below 3% and the homebuying frenzy was at its peak.
When crunching the numbers, the typical home investors bought in the second quarter cost a record $474,000, according to Redfin, up from $427,000 a quarter earlier and $423,000 a year ago. Home flippers hoping to make a profit may now feel they've missed out on the hot market as many buyers stay on the sidelines.
"I do think some of those institutional buyers are going to face challenges in the market trying to get rid of them, but I don't think that's going to make it a buyers' market," Mayer said. "It's just going to be a tough market for almost anybody who's looking to sell right now. But it's also a tough market for people looking to buy, which is not a great time for housing."
By Gabriella Cruz-Martinez · Personal Finance Writer