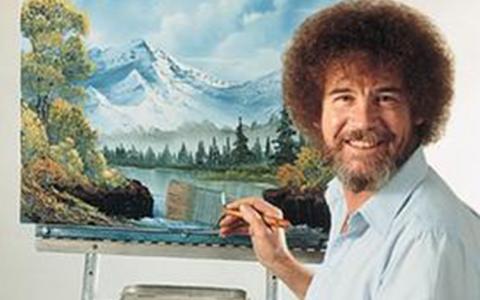 June 28, 2021
Bob Ross definitely didn't make a happy little accident when handling his estate and his likeness after he died in 1995. He made a big mistake.
Like many painters before him, including Van Gogh, Ross's image only blew up years after his untimely death. Now he's a pop culture icon, featured as bobbleheads, Chia pets, and has his own cereal. But there's a reason why we see so much more of Bob Ross than ever before. It came about after tons of legal drama between ownership of Ross's name. In fact, the only solid thing after his death was his estate, which is rare for celebrities of his caliber. Everyone always fights over something.
It's ironic. Ross was a gentle soul, yet the aftermath of his death was not. At least he wasn't around to see what happened. Here's all we know about what happened to Ross's estate, who controls it, and where they are today.
Never Sign Anything
The Daily Beast puts it perfectly. Ross is "a smash hit on social media, where he feels more like a Gen-Z influencer than a once semi-obscure PBS celebrity who rose to fame in the 1980s on the back of his bouffant hairdo, hypnotic singsong baritone, and a timeless message about the beauty of the world around us."
But he wouldn't have become this huge a pop icon if not for Bob Ross Inc. We don't know if that's good or bad.
The messy story that involves Ross's estate's battle with Bob Ross Inc. started when Ross met Bill Alexander, a celebrity painter who had a show on PBS, in 1978. Alexander gave him a job as a traveling art instructor. At one seminar, Ross met the Kowalskis, who were fresh off the death of their son, and who wanted to disappear into painting.
They convinced him to come to D.C. to teach, and eventually, they made a deal; they'd give him a stipend and room and board if he'd teach more classes that they'd arrange in the area.
Eventually, PBS approached Ross to do a show like Alexander's, and Dennis Kapp wanted to make a line of supplies with him too. Soon The Joy of Painting was born. But to look after the supply company with Kapp, Ross and his wife Jane and Annette, and Walt signed documents to create Bob Ross Inc., with all four of them being equal partners.
At the end of the '80s, all four partners were making $85,000 ($180,000 today), and in the early '90s, Ross made around $120,000 ($220,000 now). Ross wanted to branch out, however, and when he did, it all started going downhill.
When Ross's health started to decline, Walt "declared war" when he sent Ross documents saying the Kowalskis owned everything, but they'd agreed that Ross and his heirs would get 1% of revenues for the next decade. Ross never signed anything, and in fact, he quickly changed his will to make it harder for the Kowalskis to steal his name and likeness.
The fast changes to his will included "a clause specifically addressing his name, likeness, and the rest of his intellectual property. All of those rights were to go to Steve and one of Bob's half-brothers." His third wife replaced Annette as the administrator of his estate.
In July 1995, Ross lost his battle to cancer. The Kowalskis didn't attend the funeral; instead, they sent flowers.
Friends Become Enemies
The minute Ross died, Bob Ross Inc. was completely the Kowalskis. But they wanted everything, including name and likeness. Then what John Thamm, one of Ross's good friends, calls "Grand Theft Bob" started.
Steve did not know about the final amendment until 20 years later, until his uncle Jimmie, the estate's executor, told him. When Ross died, he was worth $1.3 million. Half of that was his third part of Bob Ross Inc., and there was also cash, stocks, and property to divide.
The Kowalskis "pounced" on Ross's art supplies and artwork, everything down to the last paintbrush because they essentially thought that they owned Ross, body, and soul. After all, he was just a "work for hire." They also made "claims against the estate for business and personal reimbursements," charging Ross's widow with hefty lawsuits and seeing PBS and the children's show Ross guest-starred on.
In 1997, Jimmie, Ross's brother, settled the lawsuit once and for all, practically handing over everything to the Kowalskis. In 2012, their daughter Joan took over, opening up the realm of merchandising for the company.
But there was still a "grey zone" in how Bob Ross Inc. could truly own Ross's name and likeness. Steve had fallen off the face of the earth after Ross died and couldn't do anything in the painting world with his name.
But after learning about that golden amendment in Ross's will, Steve had had enough and went after Bob Ross Inc. Sadly, Steve didn't win his case against Bob Ross Inc., but Joan struck a deal with him. If he surrendered his rights to Ross's name and likeness, he could print his name on anything he wanted.
The only saving grace was that Steve was able to return as an art instructor. Ironically thanks to Bob Ross Inc., all this time, Ross was bigger than ever, which helped class sizes. Pupils drove up in masses to learn the icon style. Steve gets to run his father's estate, and fans welcomed him back to the painting world with open arms.
It's ironic, though, that even though the Kowalskis got everything, they were the only ones who could have kept Ross's name from disappearing into the ether. As for all of Ross's paintings the Kowalskis seized, they ended up in an unprotected warehouse until the Smithsonian took a collection of them for safekeeping.
This article originally appeared on TheThings.