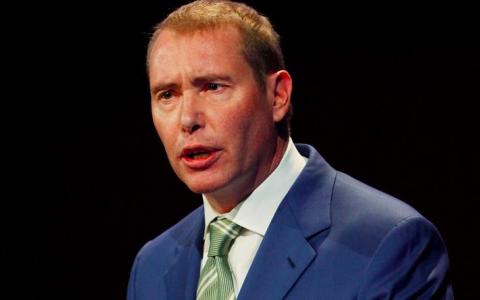 March 24, 2019
(Marketwatch) Caught in a trap. That describes the S&P 500 right now, says Peter Schultz, chief strategist at the Winning Secret newsletter, who believes the 2,800 resistance level that the market has pushed against roughly four times since October needs a real catalyst to break. "And the one everyone's been looking for — a trade deal with China — might be a while in coming."
Schultz finds few reasons to buy right now, especially in a stock market that is "overextended from the December lows and is due for a real pullback — one we're likely to see before new highs."
Try summer for that big move down in equities, says our call of the day from DoubleLine Capital founder Jeffrey Gundlach, who told investors in a webcast on Tuesday that the "stock market was and still is in a bear market."
"I think they'll go negative on a year-to-date basis, probably sometime during the second quarter, early third quarter. I think the Fed will react to that," he said, doubling down on comments he'd made in January about "more zigzag behavior" for stocks.
"We've already had a pretty strong zig. I'm expecting before long a zag," he said, calling the one-year Treasury bond the best "risk-free asset" going right now, as he bets on a recession.
But let's balance the gloom with a bit of cheer, of which there has been a trickle this week. Here's Baird's chief portfolio strategist, Brian Rauscher, and his team in a note to clients Wednesday: "We continue expect any market weakness to be short-duration and shallow, and investors should be opportunistic buyers rather than sellers of the recent rally."
While some are looking for signs of the U.S. falling apart later this year, Baird is looking for growth at the back end of 2019 and an economy normalizing once spring hits. It's playing offense with cyclicals, FAANG stocks — the group comprising Facebook, Amazon, Apple, Netflix and Alphabet's Google — real estate, consumer staples and traditional telecom.
"Spring in sight?" was the title of Deutsche Bank's House View, where a team led by strategist Himanshu Porwal says the first quarter for the U.S. will be bumpy, after which the year brightens up. The House View team is sticking to a year-end S&P 500 forecast of 3,250 — a 9% gain from here, as it sees stocks as able to weather a Fed hike the team sees coming later this year. The key? A better-insulated financial sector.
We'll close out with some more wisdom, on another topic, from Gundlach, who is among those critical of the so-called Modern Monetary Theory — using the Fed's balance sheet to pay for social-safety-net programs — calling it a "crackpot" idea.
"It sounds good to a first-grader, 'Hey, if the economy is growing at a higher nominal rate than the yield in the bond market, then no problem.' But what happens if the economy turns down?"