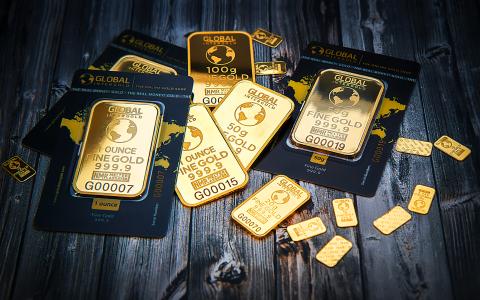 May 12, 2023
(Bloomberg) - Mounting fears over the US debt-ceiling crisis will benefit gold as investors brace for potential chaos in financial markets, according to RBC Capital Markets.
Hopes for a deal to avert a first-ever US default were set back after President Joe Biden and House Speaker Kevin McCarthy postponed a meeting on Friday that had been aimed at resolving the impasse. However, the delay signals that staff-level talks were yielding progress, according to people familiar with the talks.
RBC Capital Markets strategist Christopher Louney said the fraught negotiations had set the stage for a near-term boost to bullion, which is within striking distance of a record high.
"Even assuming a deal is eventually reached, we wouldn't disregard potential growing financial angst as the deadline approaches," he said in a note. "In the near term, we believe gold looks like the best hedge."
In another boost for the precious metal, markets are pricing in multiple US rate cuts later this year, which should support non-interest-bearing gold. Those bets have been reinforced by data this week showing cooling inflation and initial jobless claims reaching the highest since October 2021.
The standoff in Washington is just one among many tailwinds for gold as the Federal Reserve nears the end of its rate-hike cycle, ANZ Banking Group Ltd. analysts Soni Kumari and Daniel Hynes said in a note. Rising geopolitical risks, persistent anxiety over the health of the US banking sector and concerns about an economic slowdown are also boosting its safe-haven appeal, they said.
Against that backdrop, flows into gold-backed exchange-traded funds are likely to stay positive for the rest of this year, the ANZ analysts said. ETF holdings rose the most in the year on Thursday, extending their upswing since early March when the failure of Silicon Valley Bank first spurred worries about US lenders.
Spot gold gained less than 0.1% to $2,015.72 an ounce as of 10:18 a.m. in New York.
By Sybilla Gross
With assistance from Matthew Burgess and Eddie Spence