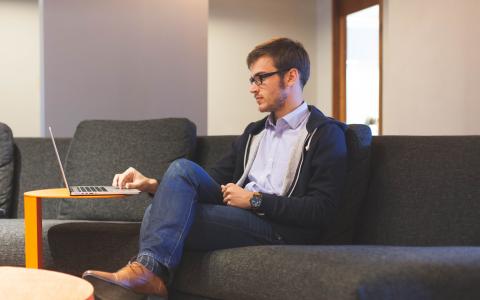 May 26, 2023
(Fortune) - With more and more companies enforcing return-to-office mandates, the impassioned debate around the benefits (and pitfalls) of remote work isn't going anywhere.
Companies from Starbucks to Amazon have faced backlash from their employees after implementing rules that mean staff will have to spend the majority of their working weeks in the office, despite their CEOs insisting that collaborating with colleagues in person fosters creativity and a better working environment.
However, according to Scott Galloway, an NYU Stern marketing professor and host of The Prof G Pod podcast, resistance to a return to the office could be majorly holding workers back.
"You should never be at home," he told an audience at the Wall Street Journal's CEO Council Summit on Wednesday. "That's what I tell young people. Home is for seven hours of sleep and that's it. The amount of time you spend at home is inversely correlated to your success professionally and romantically. You need to be out of the house."
Galloway – who is also the founder of a number of companies including brand consultancy Prophet and e-commerce firm Red Envelope – also insisted that work-life balance "is a myth," adding that success requires an effort level of 110%.
"I don't remember my twenties and thirties, other than work. It cost me my hair. It cost me my first marriage. And it was worth it," he said. "If you expect to be in the top 10% economically, much less the top 1%, buck up. Two decades plus, of nothing but work, that's my experience."
Many high-profile figures in the corporate world have suggested remote work could be damaging to people's careers – with some firms, like JPMorgan and Apple, warning those who don't comply with return-to-office orders could be penalized.
Rich Handler, CEO of investment bank Jefferies, argued in an Instagram post in June that those who show up to the office will also benefit by demonstrating their value to bosses – who may one day be deciding who to lay off. He also insisted that working remotely could be the difference between having a job and forging a career.
The collaboration bias
Handler isn't alone in these assertions, with future-of-work experts touting the benefits of returning to the office for millennial and Gen Z workers.
Caitlin Duffy, director of research at Gartner HR, told Fortune in a call on Thursday that while there were clear benefits of remote work that could actually boost employees' performance, a lot of leaders were concerned about its impact on collaboration, culture and social connections.
"We do find that there is this bias toward assuming collaboration has to be in person, but not all collaboration does," she said. "A lot of organizations found during the switch to remote work that a lot of things they thought had to be done in person can be done really well remotely. So, I think a lot of those concerns tend to be based on sometimes outdated assumptions about how work gets done – and sometimes there's just a need to create new processes or norms that are suited to a hybrid or remote environment, rather than just going back to a fully on site one."
Meanwhile, Bryan Clayton, co-founder and CEO of GreenPal – a digital platform that connects users across the U.S. with landscaping professionals – said it was "absolutely" possible to have a successful career while working remotely.
"As someone who has managed many remote teams, I have witnessed firsthand the tremendous potential and opportunities that remote work brings," he said. "But it's important to note that the success of a remote career depends on various factors, including effective communication, goal alignment, and strong performance management. Setting clear expectations, establishing regular check-ins, and fostering a culture of trust and accountability are essential for ensuring remote team members are well-supported and connected."
Deb Harrison, a consultant who has worked with more than 400 companies including McDonald's and Johnson & Johnson, also argued that remote work provides "an incredible opportunity for a successful career."
"The specific companies and industry, along with the skillset and personality type of the remote worker all contribute to the potential and what the career trajectory will look like," she said.
"I have worked with numerous executives who worked frequently, if not predominantly, remotely and had done on their path to an executive role. Just as with career growth when not working remotely, working remotely and growing in your career takes diligence."
By Chloe Taylor