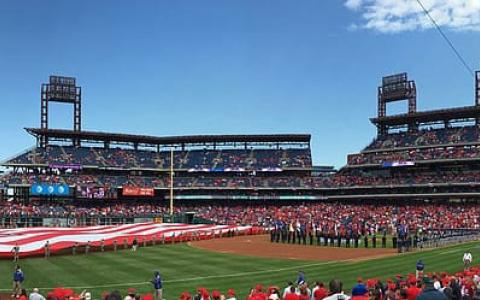 May 9, 2022
(David Wismer / Flexible Plan) I've always been a huge baseball fan—whether as a player myself or following a Major League Baseball (MLB) team.
With the MLB season at risk of significant postponement earlier this year, it has been a pleasure to see the early-season action proceed in pretty normal fashion throughout April.
My "fandom" goes back to about age 6, when I started to collect baseball cards and became a "Phillie Phanatic" (though that character did not yet officially exist). I still have much of my baseball card collection, carefully filed in a binder. Despite my Philadelphia Phillies allegiance, many of the cards I coveted most were those of the stars of the dominant New York Yankees, including Yogi Berra, Whitey Ford, Mickey Mantle, Elston Howard, and Roger Maris.
The Phillies had some great teams when I was growing up, led by the "Whiz Kids" and future Hall of Famers Robin Roberts and Richie Ashburn, but never won the World Series when I was following them. In fact, they played a record 77 consecutive seasons before they won their first World Series in 1980. They are still remembered for one of baseball's most notable collapses in 1964. The team was 90-60 on September 20, with a six-and-a-half-game lead in the pennant race with 12 games to play. The Phillies lost 10 agonizing games in a row and finished one game out of first place.
Fittingly, my family moved to the New York area the next year, where I soon embraced the New York Mets, especially when pitcher Tom Seaver burst on the scene as a rookie in 1967. The Mets won the World Series in 1969 and were forever known as the "Miracle Mets," as that was their first winning year as a major league franchise.
In 1977, the Mets did the unthinkable and traded Seaver midseason. Many fans, myself included, rebelled. From then on, I was a New York Yankees fan, which was not too hard with the never-dull teams that included Reggie Jackson, Ron Guidry, Catfish Hunter, Thurman Munson, and manager Billy Martin. The Yankees won the World Series in 1977 and 1978 before a long decline into the mid-1990s. At that point, amazing success was achieved by teams led by shortstop Derek Jeter and manager Joe Torre. Coincidentally, I ended up working indirectly for the Yankees, doing public relations and advertising work for the team's new broadcasting venture, the YES Network, in 2001 and 2002.
Fast forward to the present-day Yankees team.
The Yankees have not played in a World Series since 2009, when they beat the Phillies for the championship. By Yankee fan standards, that is an inexcusably long period without a championship, let alone a World Series appearance. They have also had too many frustrating and short playoff runs during that period.
The good news is that fan optimism is running high for this season, based on the Yankees' 17-6 record through May 2—the best winning percentage in MLB.
Constructing the right team approach
One of the main complaints about the Yankees for more than a decade has centered on a team lacking overall balance and complementary parts.
Fans and analysts alike have voiced their displeasure with many elements of the team: "Too many right-handed batters." "Poor defense up the middle." "Too much reliance on the bullpen." "Too many power hitters who strike out and hit for low average." "Poor situational hitting."
Without going into all the details, the Yankees made several major changes for this season, and some key players have come back from injuries. Many—but not all—of the previous weaknesses appear to have been addressed, with a more cohesive team that can win games with both power and finesse across all disciplines.
To paraphrase longtime Yankees radio announcer John Sterling, "That is what great teams do. They always have someone stepping up and picking up the rest of the team." If five players are playing just OK, another four will start performing superbly. It is a pretty well-balanced team in that respect, where periods of individual inconsistency do not end up hurting the overall winning record of the team. The sum of the parts overcomes individual performance during the course of the season.
Having the right "team" for an investment portfolio
As I was working on this week's article, I was struck by the similarity between the Yankees' story and some principles of sound portfolio construction.
I think this is particularly important in a year like 2022, with many macro headwinds, volatile markets, and—according to Barron's—the worst four-month S&P 500 start to a year since 1939. (However, the author also points out that "there have been 25 four-month periods since 1992 when the S&P 500 dropped 10% or more.")
Financial advisers we have interviewed for Proactive Advisor Magazine frequently talk about using a combination of actively managed strategies that are meant to work together (with different performance characteristics) as a cohesive portfolio over full market cycles.
As one adviser puts it, "A cornerstone of my active management approach is offering a very wide potential combination of diversified strategies. In line with this overall risk-managed active approach, l will generally use several different noncorrelated strategies, in several different asset classes. While not every strategy 'will fire on all cylinders' at the same time, that is exactly the point."
Flexible Plan Investments' president, Jerry Wagner, has often written about this same aspect of diversification. He has said, "If every strategy in a portfolio is going up or down at the same time, there is a high probability that the portfolio is not properly diversified."
The ultimate point? As our adviser noted, when strategies are "objectively quantified" and work in combination in a well-diversified portfolio, "emotion and ego can be put aside for the most part, and clients can more freely allow their strategies to perform as designed, without constant second-guessing."
While it is always difficult for baseball fans, and investors, to not get caught up in the emotion of day-to-day action, it is a "long season" for both. All that really counts is achieving their respective end objectives.