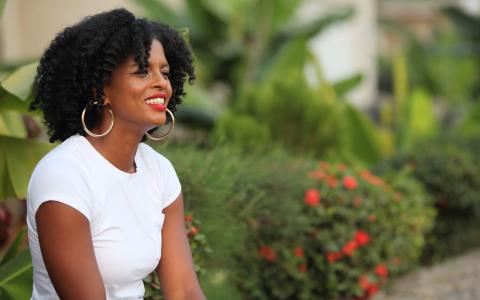 June 30, 2020
There's a "gaping hole" when it comes to financial advisor diversity and the culture needs a complete "overhaul," argues RIA Anna N'Jie-Konte in an interview with ThinkAdvisor.
From corporate culture to hiring practices, the industry is deeply in need of "rehabbing" according to the 32-year-old advisor. She believes the financial services industry has failed black America, "The lack of diversity in both the staff and client base is abysmal. It's the elephant in the room."
N'Jie-Konte is an Afro-Latin advisor who previously worked at RBC Wealth Management and AllianceBernstein before starting her own RIA Dare to Dream Financial Planning, in Silver Spring, Maryland, close to D.C., last year.
She is the daughter of accountants and grew up in New York City. Her father came to the US from Africa and her mother is from Puerto Rico. Today, she's helping lead the charge of change within the financial advisor industry.
Her new firm is aimed at the often overlooked demographic of single millennial women of color in their 30s and 40s. And despite only being in business since September 2019, she already has over a dozen clients with $5 million in assets under management. And that's without taking any of her previous clients with her.
In the interview, N'Jie-Konte points to firms' upper management as the ones who need to make "a concerted effort" when it comes to changes in hiring practices and nurturing protocols. She sees the wealth management world still stuck in an "old boys' club" hiring approach, which is too focused on older white males and nepotism.
"The industry needs to be revamped. Doing business as an old boys' club can't continue if they want a diversified industry in any way, shape or form," she explains. 
While at RBC, she was the only black female advisor in the firm's D.C. office. At AllianceBernstein, there wasn't a single black financial advisor at their Manhattan office.
"The [objective] is twofold: getting people in the door, and once you find the talent and hire them, making sure they feel welcome and aren't discriminated against," explains N'Jie-Konte.  "Senior leadership has to be behind that 100%; otherwise it won't work. They have to make a more concerted effort to go out and find black advisors or potential advisors where they are."
She also has suggestions as to where firms should begin to look: "Black colleges and universities, such as Morehouse, Spelman and Howard, have really great business schools. Some even have financial planning programs. I'd like to see paid internship programs with [firms] and some of these schools. Many of them have career fairs. That would go a long way to at least bring the profession to these communities as a viable option."
It's a move that should make the financial services industry more diverse in terms of both advisors and clients. "A lot of black and brown folks support their extended families. I've seen white advisors come down on clients for that, saying they're supporting someone too much. But this is a nonnegotiable issue for these clients," explains N'Jie-Konte. : So it's hard for a black client to have a real candid conversation with a white advisor because the [FA] might come across as judging them. For example, if they have a sister with a drug problem, they may [generalize widespread drug problems among] black people. So it's very important that a black client feels they're in a safe place and can have these vulnerable conversations."