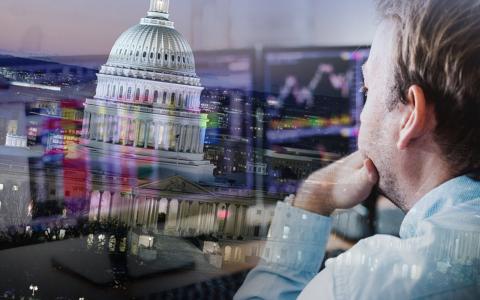 May 25, 2023
(Bloomberg) - Federal Reserve policymakers suggested that they viewed with concern the partisan standoff over the debt limit, with "a number" of them saying earlier this month the central bank should be ready to act to preserve financial stability if needed.
Those signals were included in minutes of the Fed's May 2-3 policy meeting, released on Wednesday.
"Many participants mentioned that it is essential that the debt limit be raised in a timely manner to avoid the risk of severely adverse dislocations in the financial system and the broader economy," the Fed said in the release.
Republican lawmakers and the Biden administration remain at loggerheads over boosting the debt limit, as they were when the Fed met. Negotiators have so far been unable to agree on conditions, with GOP members demanding sweeping spending cuts Democrats oppose and the Democrats urging revenue measures that Republicans reject.
Chair Jerome Powell has in public repeatedly said that "no one should assume that the Fed can protect the economy" if the Treasury can't make good on all federal obligations.
Fed's Tools
But the minutes suggested that the Fed might not stand idle.
"A number of participants emphasized that the Federal Reserve should maintain readiness to use its liquidity tools, as well as its microprudential and macroprudential regulatory and supervisory tools, to mitigate future financial-stability risks," the minutes showed.
While the minutes didn't detail the tools involved, transcripts of Federal Open Market Committee meetings in 2011 and 2013 debt-limit showdowns unveiled discussions of a menu of potential options.
Those included using repurchases to inject liquidity, and even the possibility of buying or swapping Treasury securities that had been subjected to a technical default — with interest or principal not having been paid on time. Powell in 2013 viewed that extreme step as "loathsome" — while stopping short of saying that he'd reject such maneuvers.
Treasury Secretary Janet Yellen repeated on Wednesday her warning that the government risks running out of sufficient cash as soon as June 1. Speaking at a Wall Street Journal event, she declined to specify whether her department would prioritize maintaining payments on US Treasury securities.
The operations of the government bond market were another topic of discussion among Fed officials earlier this month. Treasuries form the world's biggest bond market, and serve as a benchmark for borrowing costs the world over.
"A few participants noted the importance of orderly functioning of the market for US Treasury securities or stressed the importance of the appropriate authorities continuing to address issues related to the resilience of the market," the minutes showed.
By Christopher Anstey