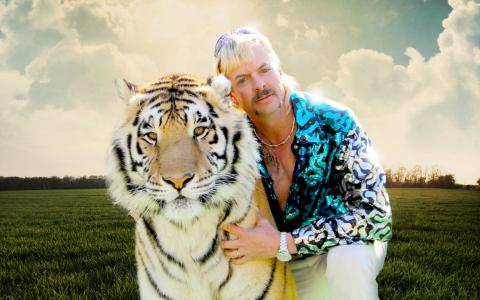 August 11, 2020
The surviving daughters of Don Lewis, a Tampa man who went missing 23 years ago this month, have filed a lawsuit in Hillsborough County court against Tiger King subjects Kenny Farr and Carole Baskin along with a woman listed as a witness on Lewis' will.
But it's not a lawsuit for money.
"It's a lawsuit for equity," said Jacksonville based lawyer John M. Phillips, who specializes in personal injury and wrongful death cases and is representing Lewis' family in the action.
More specifically, Phillips filed a "pure bill of discovery," a rarely-used move which demands that the defendants turn over information they might have about the Lewis case for possible use in later lawsuits.
Speaking at a news conference Monday morning at Tampa's Riverhills Church of God, Phillips said it could mean depositions and subpoenas to determine who exactly the family will sue in the future, and how. The complaint demands the defendants turn over electronic device data, diaries and investigative material related to Lewis.
Phillips said Baskin is "invited to the table" to come forward with information on Lewis willingly.
"Generally you announce a $150 million lawsuit and how we're going to get justice," Phillips said. "And we are going to do all of that, in time. But our office wants to invite reason, to invite civil conversation where it can be had."
If not, Phillips said, "I'm a lawyer. I sue people. We'll go that route too. Make no mistake, if the family's offer for civility is rejected, if the insults continue, the next step is to bring justice, because justice is love."
Baskin was married to Lewis when he disappeared. Farr worked as a handyman for Lewis for years, and continued working for Baskin after Lewis was gone.
The third defendant in the suit, Susan A. Bradshaw, is listed as a witness on Lewis' will and durable power of attorney. Bradshaw told the Tampa Bay Times in 2005 that Baskin asked her to testify that she was there for the will signing when she was not.
Phillips said his firm is also conducting an independent investigation into Lewis' disappearance.
"We may or may not have have hopped a fence yesterday just to try to investigate and find out if, you know, if this was a place where Don Lewis could have been buried," Phillips said in an interview with HLN on Sunday.
Phillips was joined on stage by Lewis' grown daughters, Donna L. Pettis, Lynda L. Sanchez, Gale Rathbone, and Lewis' longtime assistant, Anne McQueen, who is also named as a plaintiff.
"Amazingly our little family tragedy has become your tragedy," Rathbone said, speaking about the attention from the hit Netflix series, Tiger King, which featured the Lewis case. "For 23 years I have gone to bed at night knowing the only chance I have of seeing him again is in my dreams. ... Hopefully one day soon we, and you, will know the truth."
Cory A. Baird, a Tampa-based personal injury and wrongful death lawyer, who is not involved in the case, said that pure bills of discovery are rare — he has filed maybe two in the past two decades. He said that while the bill is technically a lawsuit, they are typically a precursor to a more traditional lawsuit for monetary damages.
"Bills of discovery are typically creatures of the past," Baird said. "The standard way you do it is you file your lawsuit, and then you have your discovery. But in this case they're unsure the types of claims they might have, and they're unsure of the defendants, so they're trying to gather evidence."
A wrongful death lawsuit could prove difficult because of how old the evidence is. Witnesses, Baird said, can have trouble remembering what they had for breakfast, let alone things they discussed 23 years ago.
Phillips said his firm's investigation has already turned up new information, though he isn't ready to discuss it publicly.
A judge will now determine if the bill of pure discovery moves forward. The family's attorney will have to convince them the suit wasn't filed as a "fishing expedition," simply digging for evidence they aren't aware of, or being used to harass the defendants.
Jack "Ripper" Smith, an amateur investigator who has served as a spokesperson for Lewis' daughters, called on someone to come forward with information that solves the mystery to claim a $100,000 reward.
Rathbone called Smith a "warrior for justice" who has given her family hope. She said the family worked for weeks raising the $100,000, which was eventually guaranteed by an anonymous donor. Four billboardsadvertising the reward, along with a tip line at (646) 450-6530, went up in Tampa on Saturday.
"We're hoping that with these funds," she said, "someone will have the courage to come forward."
Kaitlyn Statile, a criminal defense lawyer with the firm Carlson Meissner Hart & Hayslett, took the stage to offer to represent any witnesses who come forward for free.
"We will aggressively defend you," Statile said. Hillsborough sheriff Chad Chronister has said that a deal for immunity could be on the table if a witness comes forward.
Lewis was never found after his wife reported him missing on Aug. 17, 1997, a day before a scheduled trip to Costa Rica. He was declared legally dead in 2002.
Interest in Lewis' case got a boost when it was featured in the hit Netflix series Tiger King, which centered on the feud between Baskin and Oklahoma zookeeper Joe Exotic. Lewis and Baskin founded Wildlife on Easy Street, a big cat sanctuary Baskin still operates under the name Big Cat Rescue.
Lewis' daughters have expressed suspicion that Baskin, who has since remarried, was somehow involved in his disappearance. Baskin has fervently denied it and questioned the credibility of Tiger King.
Chronister has said that he believes Lewis was murdered, though the sheriff's office has no evidence to consider anyone a suspect.
This article originally appeared on the Tamp Bay Times.