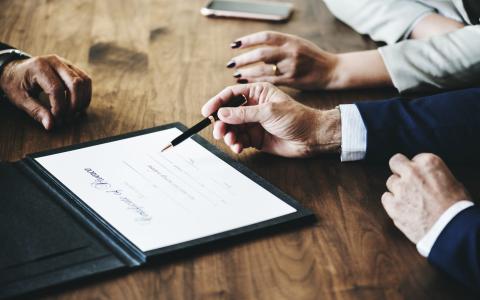 November 7, 2022
(The Times Hub) - On October 28, the figure of the NFL Tom Brady and renowned model Gisele Bündchen confirmed their divorce after 13 years of marriage.
Before marrying in 2009 after three years of dating, American athlete Tom Brady and Brazilian top model Gisele Bündchen signed "an inflexible prenuptial agreement" that allowed their divorce to be resolved quickly.
Although the player of the Tampa Bay Buccaneers, 45, like the supermodel, 42, are incredibly wealthy separately, the prenuptial agreement allowed for a quick division of their assets.
"There were a golden prenuptial agreement established before they were married in 2009. They both have their own separate business ventures, so the separation of their estate wasn't that complicated in the end. The only other major factor was dividing up their massive property portfolio," a source close to the former couple told Page Six.
Brady is estimated to be It will stay with the $17 million mansion currently under construction in the "billionaires' bunker" on Indian Creek Island in Miami. They bought the property in 2020 and demolished it.
The New York Post reported that prior to their divorce, Bündchen quietly purchased her own Miami Beach home, a modest three-bedroom, three-bathroom property for $1.25 million.
Meanwhile, Bündchen , 42, would also keep her home on Costa Rica's Nicoya Peninsula, where she regularly vacations with her children.
Gisele Bündchen bought this house in the Surfside neighborhood of Miami for $1.25 million. Given that she bought it 5 months before her divorce, speculation leads one to believe that she knew then that separation was her only option (The Grosby Group)
Her huge property portfolio also includes a house in the Bahamas, another in the exclusive Yellowstone Club in Montana and an apartment in New York City, where Bündchen stayed in the midst of their separation. Sources say he will likely use this property as an office and has also bought another larger house in the area.
While the divorce papers are confidential, the US press has reported that they will share custody of his children Benjamin, 12, and Vivian, 9. Brady also has a 15-year-old son, Jack, with actress Bridget Moynahan.
Gisele Bündchen leaving her lawyer's office in Florida ( The Grosby Group)
Brady has an estimated net worth of $333 million, while Bündchen, who was the world's highest-paid model, has her own fortune of $400 million.
After months of living apart, last week Brady and Bündchen, who married in February 2009 in a private ceremony in Santa Monica, confirmed that they were now divorced after 13 years of marriage.< /p>
It may interest you: Tom Brady spoke about his divorce from Gisele Bündchen for the first time
The model filed for divorce in Glades County, Florida, on Friday, and the dissolution of their marriage was immediately finalized. Brady did not contest the filing.
The source added that the terms of the separation and division of their real estate investment were established prior to the divorce filing.
"Each spouse is restored to single and unmarried status," the divorce document said. In addition, it indicated that the former couple agreed to joint custody of their children.
What they said when announcing their divorce
Tom Brady and Gisele Bündchen confirmed their divorce after 13 years marriage (Reuters)
In recent months, rumors about the future of marriage of Brady and Bündchen announced an imminent separation. Finally, the couple decided to end their relationship and both confirmed that they were already divorced.
"My wife and I have finalized our divorce after 13 years of marriage", Said the NFL player through a publication on his Instagram account. "We came to this decision amicably and with gratitude for the time we spent together. We are blessed with beautiful and wonderful children, Benjamin and Vivian, who will continue to be the center of our world in every way," Brady said.
"Doing so is, of course, painful and difficult, as it is for many people who go through the same thing every day around the world. However, we only wish the best for each other as we pursue the new chapters of our lives yet to be written, "he added.
Bündchen also opted for social networks to communicate the separation and expressed: "The decision to end a marriage is never easy, but we have been separating and although, of course, it is difficult to go through something like that, I feel blessed for the time that we had together and I only wish Tom the best always."
The crisis between the American football star and the Brazilian model was unleashed by Brady's decision to continue playing and not respect the agreement that they had to retire to spend more time with his family. "This is a very violent sport. I have children and I would like him to be more present," the Brazilian top model told Elle magazine.
The 45-year-old Tampa Bay Buccaneers player had announced his retirement of activity in February this year. However, just two months later, she changed her position and chose to continue for one more season.
"I did my part, which is to be there for my husband," the businesswoman told the outlet.
You may be interested: Gisele Bündchen spoke about her crisis with Tom Brady: "I wish he was more present
Bündchen has been open about putting her own career on the back burner while Brady was playing for the New England Patriots and the Tampa Bay Buccaneers.
In 2020 in a radio interview with Howard Stern, the athlete had already recognized that not everything was perfect between them and that they had managed to overcome difficult moments.
"Two years ago, Gisele wasn't satisfied with our marriage. She needed a change. She told me that even if the situation worked for me, it wasn't the same for her. You have to work on both sides to make it sustainable," Brady acknowledged.
Quarterback Tom Brady (12) talks with his coached during Tampa's game against the Carolina Panthers at Bank of America Stadium (Jim Dedmon-USA TODAY Sports)
On Monday's episode of his Sirius XM show Let's Go!, Brady spoke for the first time about this difficult time. He stated that he has to "give everything he can to the team" while facing personal challenges after he and Bündchen parted ways.
The Tampa Bay Buccaneers quarterback said, "I think there are a lot of professionals in life who go through things that they deal with at work and at home. Obviously the good news is that it's a very friendly situation and I'm really focused on two things, taking care of my family and secondly doing the best job possible to win games."
"So, that's what the pros do. You focus on work when it's time to work, and then when you get home, you focus on the priorities that are at home. All you can do is the best you can do. That's what I'll do. I will continue to do so as long as I am working and as long as I am a father," Brady added.
He explained that facing his divorce "in front of a lot of people" presents another level of difficulty, adding: "We all have our unique challenges in life. We're all human. We do the best we can. I have amazing parents who have always taught me the right way to do things. I want to be a great father to my children and always try to do things the right way," Brady continued. "
And to deal with the things in your life that have challenges, you have to deal with them in the best possible way. So, I always want to be able to keep my head up in and out of the field, and I'm going to try to keep doing that while I'm here."
By Magictr