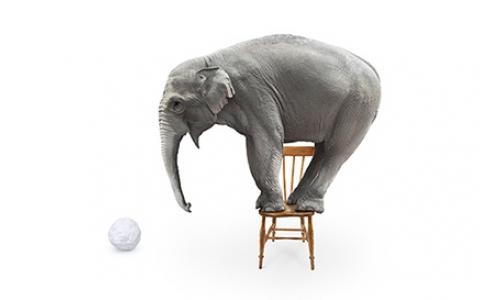 May 6, 2019
It's often difficult to talk about taxes to your clients. But thanks to a new whitepaper published by Covisum, a leading advisor software provider the conversation can become a lot easier.
The Elephant and The Snowball white paper published by Covisum tackles the challenges financial advisors face when discussing "tax advice." Using the well known colloquialism "the elephant in the room" and the metaphor of the snowball, Covisum's founder and president, Joe Elasser, enlightens financial advisors about their changing landscape and future responsibilities.
As the white paper explains, financial advisors avoid giving tax advice because federal regulations limit who can provide tax advice. Federal law, however, is vague in its definition of this term and it can be argued that any financial advice could be tax advice. If financial advisors unwittingly give bad
tax advice, it is possible that they can be sued for doing so. Furthermore, advisor's must fulfill their fiduciary duty. To do this, they must "explain to clients what is and what is not tax advice and recommend that clients consult with a CPA or Enrolled Agent prior to any transaction that may have significant tax implications." This is the elephant in the room.
In order for advisors to show their value to potential clients, they can have them visualize a snowball. Here, the metaphor works to explain how harvesting a single dollar from the wrong place or at the wrong time can have serious and expensive implications, "creating tax impacts dramatically higher than the client would expect."
Advisors can help their clients visualize these pitfalls by using a Tax Map, which uses a graph to visually identify where clients fall on the tax rate landscape. This will help their clients see the challenges advisors consider, which are often ones clients would not be aware of.
Because of the fiduciary rule, advisors will no longer be able to claim ignorance of tax consequences. Being aware of the significant impact of interactions between multiple income sources and their resulting taxes is in the best interest of financial advisors and their clients.
Advisors looking for help in showing their clients how marginal income tax rates can greatly affect their retirement plans can turn to Tax Clarity software. According to Covisum, the software "engages prospects and clients so that they understand the value of working with a financial advisor to carefully plan their retirement income, manage withdrawals and minimize income taxes."
You can download it for FREE, by clicking here