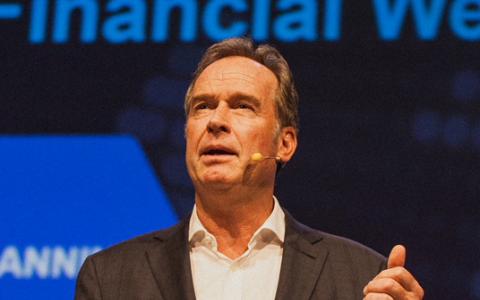 October 4, 2019
(Crain's Chicago Business) Envestnet CEO Judson Bergman and his wife were killed in a San Francisco car crash early Thursday morning.
The Associated Press reports the accident happened when a car driving the wrong direction on U.S. Highway 101 struck a taxi carrying Bergman, 62, and his wife, Mary Miller-Bergman, 57. Four people died at the scene, including the couple, the taxi driver and the wrong-way driver, according to the AP and a California Highway Patrol spokesman.
Bergman revolutionized the financial services technology sector and fueled a wave of independent financial advisers when he founded Envestnet in 1999.
"It is with immeasurable sadness that we share the news that Judson Bergman, our chairman and chief executive officer, passed away today in San Francisco in an automobile accident," the company said in a statement issued early today. "Mr. Bergman's wife, Mary Miller, also sadly perished in this tragedy. On behalf of our board of directors, management team and employees, we extend our deepest sympathies to Jud and Mary's family. As Envestnet's founder, Jud was a remarkable leader whose vision, brilliance and drive built the foundation for Envestnet's success."
Envestnet has appointed Bill Crager as interim CEO. Crager has been president of the company since 2002, and has also served as chief executive of its Envestnet Wealth Solutions unit. It also appointed its lead independent director, Ross Chapin, as interim chairman of the board.
Bergman, who had been Envestnet's chairman as well as CEO, founded the Chicago company after leaving his post as the head of mutual funds at Nuveen Investments. He had pitched the business idea that became Envestnet to Nuveen, but the fixed-income fund behemoth wasn't interested in backing the venture, so he set out on his own to create software tools that would help financial advisers break away from big institutions and set up their own shops.
"I was a reluctant entrepreneur," Bergman said in an interview with Crain's for a 2014 story about his company's growth. He explained that he was in his early 40s, after having built a career at Nuveen over 17 years, and was supporting a wife and four kids. "There was never an 'aha' moment, just a growing conviction that this was a good thing to do."
His idea proved prescient, and Envestnet grew into a major Chicago fintech firm, acquiring other companies along the way as it built extensive performance-tracking, portfolio-rebalancing, administrative and other software services for adviser clients and large institutions such as Fidelity.
Since its  2010 IPO, the profitable company's revenue rose to $812 million last year and its stock has created a nearly $3 billion market capitalization. It had 3,920 employees as of the end of last year, with 1,429 in the U.S. and most of the rest in India, according to the company's annual filing with the Securities & Exchange Commission. Last year Crain's named Envestnet, which trades on the New York Stock Exchange, one of the Chicago area's 50 fastest-growing businesses. 
Bergman was at the forefront of a "revolution" in the financial services technology arena, said Joshua Rogers, the CEO of Chicago-based Arete Wealth Advisors. "He definitely deserved the success he had on the business front, but he was always humble," Rogers said of his friend, golf buddy and business associate. Rogers and his wife socialized with Bergman and Miller-Bergman, whom he called an "absolutely lovely" person.
Miller-Bergman was the founder and managing partner of Chicago-based Hanover Hill Wealth Advisors. She earned her bachelor's degree in finance from the University of Illinois at Champaign-Urbana and an MBA from the University of Chicago.
Bergman was a Minnesota native who graduated from Wheaton College with a bachelor's degree in English, and later got an MBA from Columbia University.
He gained a reputation as a bit of a non-conventional CEO who used words like "gnarly" during analyst conference calls and quoted Bob Dylan in presentations at annual client summits. 
Bergman and his late first wife, Susan, seeded Envestnet but later turned to venture-capital firms, including Edgewater Funds and Apex Venture Partners in Chicago, for more funding. Those investment firms cashed out, and the company was largely owned by institutional investors, with Bergman as a minority owner. 
Susan, with whom he had four children, was diagnosed with brain cancer in 2002 and died in 2006. They had been married 27 years. When he later married Miller-Bergman, she brought three of her own kids to their family.
During the 2014 interview with Crain's, he was eager to brag about the kids. Two of his children, Elliot and Natalie Bergman—a member of Crain's 20 In Their 20s class of 2016—formed the band Wild Belle, which has opened for big musical names like Beck. They may have taken after their father. In addition to being an entrepreneur, he said he considered himself a "hack guitarist."