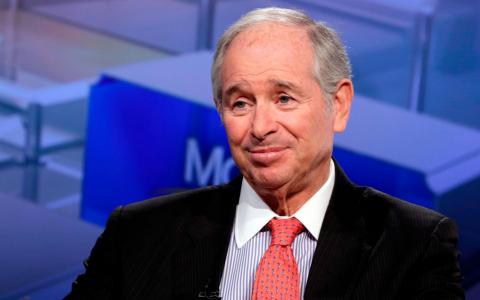 October 8, 2019
(Financial News) Even billionaires have problems that money cannot solve. Today, Stephen Schwarzman's is traffic.
The chairman, chief executive and co-founder of Blackstone arrives 15 minutes late for our meeting at the private equity giant's London headquarters in Mayfair.
"So many cars on the road," says the 72-year-old, whose personal wealth is north of $18bn, according to Forbes. "It's a real problem, sorry."
Schwarzman, who set up Blackstone with Peter Peterson, the former chairman of now-defunct US bank Lehman Brothers, is in town to promote his new book What It Takes: Lessons in the Pursuit of Excellence.
One of the lessons cited in the book — essentially a how-to guide to being rich and successful — is punctuality. Page 55 reads: "Be on time. Punctuality is the first indicator of how much thought and preparation you have put into an interview."
Schwarzman apologises again, adding: "Have you read the book?"
Lots of people have. The great and the good have lined up to provide endorsements, including Jack Welch, the former chief executive of General Electric; Ray Dalio, the co-chairman of investment company Bridgewater Associates; and Henry Kissinger, the former US secretary of state.
Even Mark Carney, the governor of the Bank of England, has taken the time to provide a quote for the front cover ("This story literally has what it takes") — a striking move for the head of an independent British institution, which further illustrates Schwarzman's pull.
"Mark told me he has never ever endorsed a book in his career," says the American businessman, who hails from Philadelphia. "I have known him for some time. I sent him the book and he said: 'This is terrific, I'm very happy to say what I think.' You saw what he wrote. I was very happy about that."
Schwarzman is used to rubbing shoulders with the most influential people in politics and finance. After Donald Trump was elected president in 2016, Schwarzman became head of his short-lived advisory council, which included Larry Fink, the chief executive of BlackRock, and Jamie Dimon, the chairman of JPMorgan. The group was disbanded in 2017 in the wake of the president's controversial remarks about a white supremacist rally in Charlottesville, Virginia.
Reports suggest Schwarzman's relationship with Trump, who he has known for more than 40 years, has become frayed. Schwarzman had to distance himself last week from comments made by the president about the son of former vice-president Joe Biden. Trump is facing an impeachment inquiry after urging Ukraine to investigate a family member of the veteran Democrat, who is running for president.
Would Schwarzman like to see Trump get another term in the White House? "It isn't relevant what I think," he says, sidestepping the question. "We have now, much like you in the UK, real divided politics. It looks today, on the Democratic side, that we have Joe Biden and then Elizabeth Warren and Bernie Sanders. And on the Republican side, there is really only Donald Trump.
"Like any election outcome, it all depends on who somebody is running against. The Democrats will be running against Trump, but they as a group are going further and further left. The further they go left, the more difficult it will be for the Democrats to win."
We return to safer ground: the nuts and bolts of the private equity market. Schwarzman and Peterson launched Blackstone in 1985 following daily breakfasts at New York's Mayfair Hotel, where he and the former Lehman Brothers chief executive hashed out their plan to create a business that would eventually become the biggest and most influential private equity firm in the world.
In 1987 they raised their first fund at $800m. Today, Blackstone has $545bn in assets, with its biggest vehicle, Blackstone Capital Partners VIII, raising an eye-watering $26bn, making it the largest buyout fund ever.
"When we started the firm we had $400,000 — $200,000 from me, $200,000 from my partner, Pete, and last week the company was [valued at] $60bn," he says.
It raises the question of whether there is too much money sloshing around the market and whether that cash can be put to good use. "I've been asked that since 1992," he says. "The returns have stayed pretty good over the last 25-30 years regardless of peaks of markets and real collapses.
"When you are managing more money, the way historically we've always dealt with that is you just do bigger deals. We have never found, despite that question over the decades, that the amount of capital per se is the issue.
"The nice thing about our industry is that you don't have to invest the money for six years. If you think things are high, you don't have to play, you can wait. For those of us who have been doing this for most of our careers, we are used to cycles, it doesn't bother us."
This is not a bubble compared with 2006/07, he adds. "That was a bubble. I said it was a bubble then, and it was. Prices now are relatively high, but there is not that frenzy that happens, because the people who manage the capital have been through the global financial crisis, and once you've lived through that you are not anxious for a repeat."
In the book Schwarzman writes that he does not "feel a day over 38", the age he was when he launched Blackstone. It is true that sitting across the table, Schwarzman has a youthful energy about him for a man born in 1947 but the book, which was two years in the making, certainly has the feel of a farewell tour.
"No, not at all," he says flatly, and we are ushered out of the room ahead of his next meeting.
CV: Stephen Schwarzman
Born 
February 14, 1947
Education 
1972: MBA, Harvard Business School 
1969: BA, Yale University
Career 
2016-2017: Chairman, US president's business advisory council 
1985-present: Chairman, chief executive and co-founder, Blackstone Group 
1972-1984: Various positions, latterly in M&A, Lehman Brothers 
1969: US Army Reserve 
1969: Donaldson, Lufkin & Jenrette