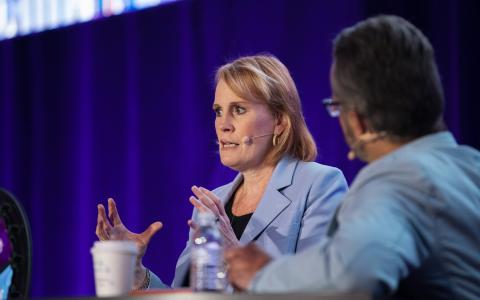 November 4, 2019
(Yahoo! Finance) A revolution is coming that promises to change the way millions of Americans save for retirement by guaranteeing income that lasts a lifetime after you call it quits.
Anne Ackerley told Yahoo Finance's On the Move the current system fails to help retirees after they exit 401(k) plans . "Basically when you retire, you have this lump sum and we sort of say go figure it out." BlackRock is part of the Funding our Future project to save retirement and Ackerley, who is head of the retirement group at BlackRock, said money managers can and should offer their clients something better.
BlackRock is the world's largest asset manager with $6.84 trillion under management, a lot of it 401(k) money. Ackerley said one simple option about to hit 401(k) plans are annuities embedded alongside the bond and equity funds in which employees choose to invest their paycheck savings.
"So you've heard of target dates," Ackerley said. "They're age based asset allocated funds. We're going to put the annuity into that. And so in fact, you make one investment and you'll get some liquid assets and the annuity."
The end result would be a 401(k) plan that allows an employee to save via traditional market investments but also fund an annuity which at retirement would guarantee income for life much like a traditional pension.
Private sector pension plans used to provide lifetime income for retirees and as recently as 1998, 59% of Fortune 500 companies offered them to employees. Today, fewer than 16% offer a pension.
401(k) or defined contribution (DC) plans have replaced pensions as the primary retirement savings vehicle in the private sector. The U.S. Department of Labor reports about 65 million Americans actively participate in a 401(k) plan. Those workers contribute money every pay cycle that is invested in a 401(k) plan's stock and bond funds.
But according to BlackRock, the average participant lacks "...the investment expertise to manage decades of retirement savings. And left on their own many employees failed to save adequately."
Worried about retirement
A recent BlackRock survey found 62% of 401(k) participants worry their investments won't generate enough money to cover their retirement and many have unrealistic expectations about how much income their 401(k) investments will payout and how long they will last.
"It's important to remember that many Baby Boomers accumulated their retirement assets during the extended bull markets of the 1990s and may have unrealistic expectations of 'normal' returns," according to BlackRock.
Ackerley said most people have no idea what to do with the money they have saved in a 401(k) when they retire or how to make those savings last the rest of their lives.
"You don't know how long you're going to live, don't know what your expenses are going to be," she said.
401(k) investments in equities or bonds can grow over several years to provide income at retirement but they can also suffer losses because they are subject to market highs and lows. An annuity is different although critics call them confusing and expensive.
"First, we think we need to offer people a simple cheap form of guaranteed income through their 401(K)s because that's where their money already is," according to Ackerley.
New law to make it possible
Congress is considering legislation that would make it easier for employers to include an annuity option for employees. The House of Representatives passed the Setting Every Community Up for Retirement Enhancement Act or the Secure Act last May. It would make it easier for a 401(k) provider to partner with an insurance company to sell annuities within the 401(k). The bill awaits action in the Senate.