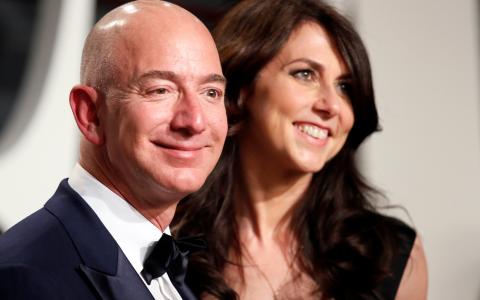 April 8, 2019
Handing over 25% of his controlling Amazon stake stings. But the stakes are much higher now that the world's biggest fortune is up for grabs.
When the richest person on the planet keeps drawing a target on his own back, budgets to run interference can rise to astronomical levels. That's where Jeff Bezos has found himself.
He got married without a prenuptial contract and then kept all of his Amazon stock as personal property, not moving it into a trust where everyone from the IRS to the divorce lawyers could get at it.
The first choice is understandable. Back when he was just a hedge fund guy, people expected him to aim at mere millionaire status, so even a theoretical split wasn't going to run up huge numbers.
But after he gambled on building a corporate empire and won, there was still plenty of time to transfer the stock, for tax purposes if nothing else.
Either way, settling 25% of Amazon on his ex-wife MacKenzie is really a light price to pay, even though it means carving at least $35 billion off his net worth.
He still has 59 million shares, a 12% stake in the company as well as voting rights on all of her stock for as long as she owns it. That locks up control for the time being, which is nice.
After all, he kept the privately held ventures that arguably matter most to him: the rocket company, the Washington Post. Cutting them up wasn't really a long-term option. 
MacKenzie's brief statement doesn't go into detail on the houses or the cash. Bezos has been selling about $1 billion a year in Amazon stock, so they definitely have bank accounts to split.
She might end up with 25% of the stock and 95% of the liquidity. While we don't know, it makes a whole lot of sense.
Amazon doesn't do dividends so she'd need to start selling to pay the bills. And since selling dilutes Bezos, he'd be giving up long-term control over those votes all the same. 
Time to get serious
I can't help but notice that Bezos' mistress just filed for divorce as well. If he wants to protect his remaining $108 billion in Amazon stock and eliminate the risk of marital history repeating, now is the time.
He could put his shares into a trust and protect them from estate taxes to come or even a theoretical "wealth tax" if the political landscape tilts in that direction.
A prenuptial arrangement is definitely required for all future marriages. No matter how complicated, the paperwork will only cost him a fraction of the $35 billion he just gave up.
That's one of the perpetual lessons of our celebrity coverage here at the Wealth Advisor. It's all about the way wealth scales.
When there's only a million-dollar fortune at stake, the fees for world-class advice take a bigger bite out of the outcome.
But at Bezos' level, a few thousand dollars or even $100,000 is barely a rounding error. It's literally part of the cost of doing billionaire business. And if the paperwork is more complicated, it's unlikely to be 100,000 times as expensive.
That's the difference between the Bezos fortune and what a mere millionaire needs to protect. A millionaire like Bezos thought he would be back at the hedge fund can skip the prenup and roll the dice. A mega-billionaire can't.
This is also the time to lock down succession planning. Keeping the votes on MacKenzie's stock only kicks the question down the road. It doesn't resolve anything permanently.
How long does Bezos want to run Amazon? He's 55 now so the ceiling there might be another two or three decades. 
Burning $1 billion a year would take him down to around 9% of the company if he's still there in 2050, which is still enough to forestall any takeover attempts that can't bring at least $70 billion to the fight.
And that assumes that MacKenzie dumps all of her stock over that period. If Bezos keeps those votes, his protective wall gets even higher.
Of course another divorce of this scale would demolish that wall, opening the boardroom door to activist funds looking to raise a ruckus. 
In the here and now, of course, the company depends on his vision. Nobody wants to force him out because the stock will probably be worth a whole lot less with him gone. There's little value to unlock in a struggle.
Maybe that changes sometime between now and 2050. Maybe his priorities change and he decides to spend more time with the rockets, politics and other pursuits.
That's fine. It will probably be a gradual process of pulling away from the day-to-day Amazon world while the best executives he has rise to fill the gap. 
We've seen it happen endless times. Someone like Larry Ellison builds a company, gravitates toward yachts and mansions, the company goes its own way.
Sooner or later, Bezos will either go that way or feet first. That's his choice. His advisors' only concern should be making sure he gets to be the one to make that decision in the future.
Speaking of which, he's apparently making strange enemies. There wouldn't even have been a divorce if spy agencies overseas hadn't hacked his messages and sent them to the media to embarrass him.
Think of what his personal security bills must be like now. Protecting the $100 billion man isn't like hedging a $100 billion portfolio. There's no slice of risk that makes the frontier more efficient under disaster conditions.
In a real existential threat situation, Bezos can and should break the bank to ensure his personal safety. 
Facebook spends $10 million a year to protect Mark Zuckerberg. That's a rounding error on what Bezos would even generate in an interest-bearing checking account.
And it's worth it.